I thought I'd seen Ridley Scott's LEGEND back in the '80s, but none of this shit seemed familiar so maybe not. I was never into the hobbity shit and to this day I have no clue why Mr. Scott thinks that unicorns are something that should be used in a medium other than wallpaper for a little girl's room, so it makes sense that I wouldn't have gotten around to this one before.
But Mr. Scott has made some good ones over the years and a couple of you once tried to convince me it was acceptable for adult men to watch this, plus they got it on a new blu-ray. So today was the day. The day of Legend.

The blu-ray has the director's cut and the theatrical. I chose director's, not because I wanted to see Scott's original vision but because I thought that was the one that had the Tangerine Dream soundtrack. When I heard the music I thought oh, for some reason Tangerine Dream are getting uppity and doing a normal soundtrack on this one. Nope, turns out those guys were the studio's idea, the original director's cut is a Jerry Goldsmith score more like you'd expect in a normal movie.
(By the way, have you ever noticed that Tangerine Dream specializes in one word title movies? They did LEGEND, THIEF and SORCERER.)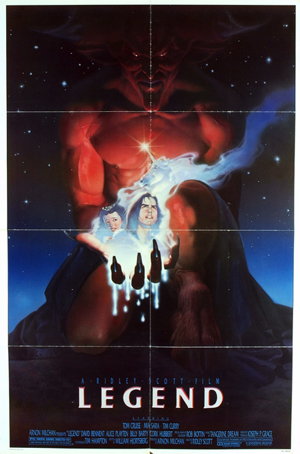 Anyway, LEGEND is the legend of this young gal named Princess Lilly (Mia Sara) who, as far as we see in the movie, has no responsibilities other than frolicking (this was before reality shows and sex tapes). She hangs out with some sort of a Peter Pan dude named Jack (Tom Cruise) who lives in the forest. She wants him to teach her how to talk to rabbits, but instead he shows her where the unicorns are. Unfortunately he's too much of a sissy to prevent her from running over and touching a unicorn even though he knows that it may cause the end of the world. He just says "No, please!" and doesn't even wave his hands in front of her let alone tackle her. She's like 15, I think he should try when the world is at stake. I got some problems with this Jack character.
One thing I do like is that they don't explain all the backstories and everything. They already know each other, we don't have to see them meet, nobody's surprised by magical elves and crap. But I have to admit that because it didn't explain things I was a little confused, I thought Jack was supposed to be some sort of magic friend that she meets with, like the goth girl had Beetlejuice, Wendy had Peter Pan, Big Bird had Snuffleupagus or that white kid had Richard Pryor. But later "The Gump" (a shirtless little kid playing an adult) calls Jack "forest child," so I guess he's just supposed to be a feral kid, like Mowgli, Tarzan or Jason. (I wonder if Jason knows where the unicorns are? He might. I definitely think he speaks rabbit.)
The bad guy is called "Darkness" (Tim Curry). In my version they never show him until the last third or so of the movie, so he's just a goofy lowered voice making evil speeches to a goblin in a big spooky cave type place. At the end, as you've seen in the photos, he's a shirtless devil monster guy (an amazing makeup job by THE THING genius Rob Bottin), and just so he has something to do he tries to marry Lilly, the same gal as Jack (and Ferris Bueller) wants to marry. But mainly Darkness is not concerned about relationships, he has a plan to destroy all the light, and the way to do that obviously is to send a little goblin guy and a pig man to go find the two last unicorns and chop their fuckin horns off. I mean, I don't have to explain this to you all. You know the science. You know about unicorn horns and their effect on the sunlight.

Because Princess Lilly fucked up and touched unicorn (again, I blame Jack for this) they do indeed de-horn one of the beloved horses that blade runners dream about. But not both of them. So the movie is a quest for either the bad goblins to chop off the other horn or the good goblins to stop the bad goblins from chopping off the other horn. And they give Jack a sword so he can fight Darkness. But he never figures out how to swing the sword. He's no Beastmaster.
In one sense this has all the flaws of every shitty fantasy movie that came out in the '80s. Just like DRAGON SLAYER and THE DARK CRYSTAL the hero is a charisma-free limpdick. He's so passive he can't even stop the girl from touching the unicorn (I cannot emphasize this enough) and he only ever does anything when peer pressured by a bunch of little gnome guys, including one played by Billy Barty named "Screwball." And as great of a monster as Darkness is, he is not exactly an active villain either. He literally stands in one room the whole time, sending a little goblin to do his dirty work. And the goblin is incompetent and counts on the help of a little pigman and another little person in armor who turns out to be a traitor. I mean, it's straight up embarrassing that Jack can't handle this threat. Hint: kick them, or put them in a bag.
I'm not exaggerating when I say that one of the two coolest things he does in the movie is kneel down in front of a unicorn, crying, and beg it to forgive him. In his defense he does come up with the cool way they kill the Darkness (bouncing sunlight off a series of reflective surfaces) which would've been a great climax to a breezy 80 minute movie.
Which is one of the other ways it's like all the other shitty fantasy movies: the story farts along like a lazy fish half-trying to swim through mud. It has some cool ideas but no drive or momentum at all. In BEASTMASTER that's because the producers wanted it to be longer and they padded all the scenes with shots that were supposed to be cut out. This is the exact opposite: the studio wanted it shorter so Scott added it all back in.
Really makes me appreciate CONAN THE BARBARIAN. From what I remember that's one of the only fantasy movies of the era that has a great, active hero and an exciting, fast-paced story. It would be funny to see how Conan would deal with this adventure. I'm sure he would've enjoyed eating the pig man.
Some of these little-people-in-goblin-makeup-with-electronically-highered-voices are pretty cheesy, especially when there's long scenes of them talking to each other and it's obviously all lip-synched. But in the post LORD OF THE RINGS movie era it's nice to see one like this, where it's all real sets and people in costumes and makeup. I'm not against all the elaborate digital creations we got now, but it's refreshing to see it all standing there in front of the camera and know it's real. Even the snow is live on set.
Despite all the serious drawbacks I mentioned, there are ways that this truly does elevate the genre and stand out from the others. Mainly in the way you'd hope for from the guy who just directed ALIEN and BLADE RUNNER: the fucking thing looks amazing. Wikipedia says they modelled it on old Walt Disney movies, but to me it looks more like some kind of romantical fantasy paintings. Especially in the beginning before shit gets evil it's these pretty forests full of flowers and toadstools, sunbeams and dandelion seeds floating in the air, or tiny snowflakes. Lots of wide shots of these fantastical locations and it turns out it was built on a giant soundstage, man-made trees with real plants growing around them, real birds and shit flying around. I had no idea.
And a couple cool monsters, not just Darkness but there's some kind of a sea hag thing that comes out of the swamp, wacked out Crypt Keeper eyes staring, evil swamp titties hanging. I liked that crazy bitch.
The production value alone makes it unique, because most '80s fantasy movies were low budget Italian productions shot in deserts and recycled castle sets. And this is the only one shot like a gorgeous art movie. There honestly is not another of this type of old fashioned fantasy movie that looks nearly as good as this one. Plenty that are more fun to watch, but not that are better to look at. I sure wish they could combine the two, but since they didn't, at least this is still a notable movie for the achievements of the designers, builders, lighters and camera operators.
The director's cut is about a half an hour longer than the theatrical, which is interesting because it seems like it should be about 40 minutes shorter. The theatrical transfer is also brighter because it comes from a better negative. But the transfer I watched looks good too in my opinion, a more grainy interpretation. Watching some of the shorter cut I did like the Tangerine Dream keyboard score, but I'm not sure I dig all the changes, such as the corny text at the beginning to explain about all stupid magic shit in the movie. It sounds worse when you put it in sentences.
Let's be clear, as far as Ridley Scott movies go this is no ALIEN, as far as movies with "legend" in the title go this is no FIST OF LEGEND. It's another movie that I didn't quite enjoy but can definitely respect as a unique specimen, like a unicorn or a crazy swamp bitch. They don't make 'em like this ever. I'd love to see a more entertaining movie that looked this good.
trivia: Indiana Jones stunt double and fellow Titan Books author Vic Armstrong is credited as "Unicorn Master."
This entry was posted on Wednesday, June 1st, 2011 at 1:03 am and is filed under
Fantasy/Swords
,
Reviews
. You can follow any responses to this entry through the
RSS 2.0
feed. You can skip to the end and leave a response. Pinging is currently not allowed.