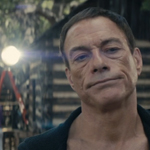 JEAN-CLAUDE VAN JOHNSON is a new 30 minute comedy pilot starring Jean-Claude Van Damme. You can watch it for free on Amazon – if it gets picked up as a series (if you like it, please fill out their feedback form and let them know) it will be available on Amazon Prime. Yeah, I don't have that either, and I just looked it up and maybe they don't put these shows (their most popular one is Transparent) on disc like Netflix does. But it is my solemn vow that if they make this into a full show and refused to put it in a useful format I will still pay to download it or go over to a friend's house or whatever it is us old men are supposed to do now to watch these computer streams that they have now instead of real tv shows and movies.
If you're like me – and I know you are – you take this shit seriously, and therefore are skeptical when you hear "Jean-Claude Van Damme plays himself in a comedy called JEAN-CLAUDE VAN JOHNSON." It sounds like it could be some How Did This Get Made? type shit – smug, smarmy, snark making fun of the movies we love for being old and absurd and joyful and awesome. I picture some kind of meta-action movie parody by people who only know action movies from other parodies of action movies, like how that movie THE FINAL GIRL is to slasher movies. Something for people who read BLOODSPORT as below them because in fact it is beyond them.
That's not what this is! I'm so happy to say that this is a really smart and well-made pilot by people who understand and take full advantage of Van Damme's acting strengths. It uses his persona and body of work for absurdity, but not, in my opinion, in a mocking way. In fact, the episode's most despicable douchebag – a vaping, hipster movie director – proves his utter cluelessness by telling Jean-Claude that "that '80s style of fighting, the style that you're known for, with the kicking and the spinning, and the splits with the guys coming at you one at a time… it's not realistic. And we all know that now. You know?" This is not a show for people who agree with that guy. It's for people who know that guy deserves a spin kick to the giant scarf area.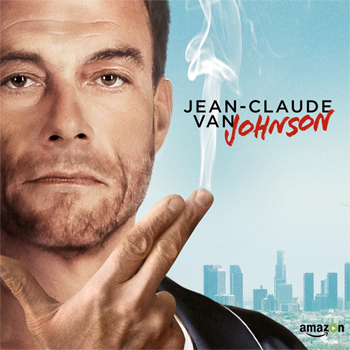 I say it's not mocking in my opinion because, to be fair, it is clearly an in-on-the-joke-self-parody type deal. It does get laughs from Van Damme's self obsession (he has JCVD monogrammed on virtually everything he owns) and at times from him and others talking in a goofy way about his movies being awesome. And I'm sure some non-fans will see him as a bit of a buffoon. But at the very least it can be interpreted two ways, because personally I know that his movies are awesome and I hope this is true that he lives in a house filled with posters of himself and talks proudly about TIMECOP. To me this JCVD character is more cool than silly.
The premise is that a heartbroken, bored, retired Van Damme ("real retired, not Nicolas Cage retired") decides to return to movies, but only as a cover for returning to his other job as a secret black ops badass, code named Johnson. He receives assignments from his Hollywood agent (Phylicia Rashad!) and briefings and disguises from his onset hairstylist (Kat Foster), who is also his ex. He has to manipulate the movie shoot to allow for sneaking out to infiltrate drug warehouses and shit. It's like JCVD meets Burn Notice. Or maybe Get Smart, since it's a comedy, but it's not that goofy. Tonally it reminds me a little bit of Ash vs. Evil Dead (which I really like), undeniably a comedy with an emphasis on jokes and silliness, but it does treat the story sort of seriously, looks and sounds cinematic (score by Joseph Trapanese of THE RAID 1 and 2), and has legit action in it. It's definitely in line with the other work of director Peter Atencio, who did KEANU and many great Key & Peele sketches.
In fact, maybe its attitude relates in a way to Key & Peele's most famous characters, the doormen who are obsessed with "Liam Neesons." Yes, those guys are goofballs, and we are laughing at them, but partly because we relate to them, because we agree that Liam Neeson is awesome. Like, those guys clearly wouldn't do that sketch if they thought it was stupid to enjoy Liam Neeson movies.
In the pilot, anyway, Van Damme's type of movies are spared from any serious disrespect, since the new project he takes on is not a typical Van Damme vehicle, but a (I thought) really funny mockery of the worst type of bullshit that comes out of the studios. This is the first thing I've seen that makes a joke of The Black List, and I missed it the first time but if you look closely this still tells us everything we need to know about the stupid movie he ends up making.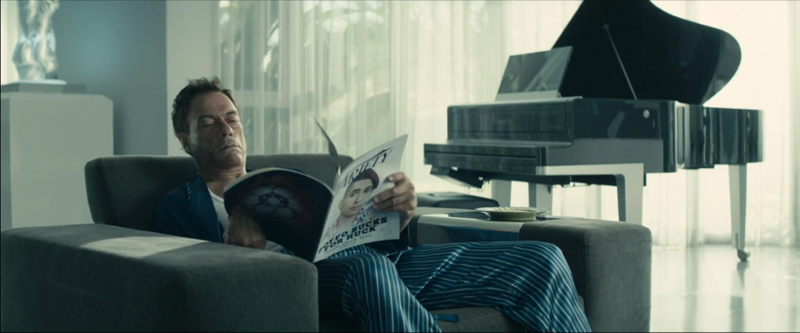 Surprisingly the script is not by some comedy dude, it's actually credited to Dave Callaham, who wrote DOOM and THE EXPENDABLES. Good for him.
But most of all good for Van-Damme. I know I'm not alone in noticing a late-career renaissance brewing for him in the last several years. While my man Seagal's work has been deteriorating, Van Damme has been getting deeper and more interesting as an actor. Not all of his recent DTV movies are great, but between the self-aware JCVD, the two excellent Hyams UNIVERSAL SOLDIERs and turns like the one as the villain in ENEMIES CLOSER (review coming soon), he has shown a hunger to try new and interesting challenges and, most surprisingly, a wider range as an actor than we would've ever expected from the star of KICKBOXER. The former three take advantage of his weathered features and his ability to convey heartbreaking melancholy with very few words (or in one case a long, tearful, personal monologue). In the latter he shows a great comic gift, being funny and ridiculous with acute timing and not a hint of self-consciousness.
JEAN-CLAUDE VAN JOHNSON takes advantage of all of those things. While it's mostly a joke machine, it ends on a sincere note of regret. I hope he gets a chance to continue from there.
And I think he will. I can't claim to have my finger on the pulse of anything, but it seems to me like this has the potential to be a cult hit and maybe even minor cultural phenomenon. The danger in that is for Van Damme to turn into Leslie Nielsen and not be able to make Jean-Claude Van Damme movies anymore, because people would think of him as such a comedy guy that they would laugh at them. But I feel pretty good about that not happening. Young people may know of Van Damme from this show, but they won't be able to watch the show without knowing that he's the star of BLOODSPORT, TIMECOP, etc. And hopefully some of them will get the idea that yeah, actually those movies are pretty awesome.
Note: Daniel Bernhardt, star of the BLOODSPORT sequels, apparently does stunts in this. They should have him play himself in it in my opinion.
This entry was posted on Friday, August 19th, 2016 at 2:59 pm and is filed under
Action
,
Comedy/Laffs
,
Reviews
. You can follow any responses to this entry through the
RSS 2.0
feed. You can skip to the end and leave a response. Pinging is currently not allowed.