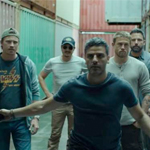 TRIPLE FRONTIER is last week's straight-to-Netflix-no-theaters release from director J.C. Chandor (MARGIN CALL, ALL IS LOST, A MOST VIOLENT YEAR). This one is higher profile than most such releases because it floated around various big name directors and studios before Netflix bought it with the bottomless money supply their CEO famously received by catching a magic fish, and it stars Oscar Isaac (SUCKER PUNCH), Ben Affleck (ELEKTRA, director's cut only), Charlie Hunnam (KING ARTHUR: LEGEND OF THE SWORD), Garrett Hedlund (TRON LEGACY) Pedro Pascal (THE GREAT WALL) and Adria Arjona (PACIFIC RIM UPRISING). It's such a big deal for the company that they made the uncharacteristic choice of promoting its existence!
Isaac plays Santiago "Pope" Garcia, an American advising the Colombian military in violent raids on drug gangs. His informant/sometime-girlfriend Yovanna (Arjona) claims to know the location of a jungle fortress where cartel boss Lorea (Reynaldo Gallegos, MONKEY TROUBLE) hides out with all his money. So Pope goes back to the states to recruit some of his old retired spec ops buddies as a team to go in and do reconnaissance and pocket a percentage of the money the police ultimately seize.
At least that's what he says until they get there, and then it becomes clear that the police don't know anything about it yet. He wants his buddies to do a heist with him. Ah, shit, Pope. Are you kidding me with this shit?
The reason this one was on my radar is I remember when it was supposed to be Kathryn Bigelow's followup to ZERO DARK THIRTY. She and Mark Boal have their names on it as executive producers, and Boal still has screenplay credit along with Chandor. I don't know what Bigelow's version would've been like, but Chandor's feels less capital-I-Important than Bigelow's last three films, leaning a little bit heavier on a standard genre template, while reflecting much of her seems-heavily-researched-and-authentic feel. So, somewhere on the spectrum between best picture winner THE HURT LOCKER and best picture you ever saw POINT BREAK.
You know me, I like a good extended recruiting-the-team sequence, from HIT! to UNCOMMON VALOR to OCEAN'S ELEVEN. Here I guess it's more of a buttering-up-the-team sequence. We have a group of guys who are already kind of a family, but they're off doing their own things. He starts with William "Ironhead" Miller (Hunnam), who spends his days making speeches about duty and PTSD to new recruits. Seems like he's a longshot, but he says he's in if the even bigger longshot "Redfly" is. That's Tom Davis (Affleck), their old captain, now trying to pay bills for an ex-wife and a daughter (Maddy Wary) who resents him. Redfly is trying to sell real estate when Pope finds him, he says he's out of the business but asks Pope if he's going to "the fight," so they all discuss it further at Ironhead's brother Ben (Hedlund)'s low-level MMA bout. Francisco "Catfish" Morales (Pascal) shows up too and hey, getting paid to get together with old friends for a vacation to Mexico doesn't sound so bad.
The subtle original thing about this is the casual way it combines military and crime movies, showing a not-so-distinct line between them. The heroes are all good people, actual heroes, who sacrificed for their countries and didn't turn evil or anything. But post-military life leads to using all their skills for "security" and mercenary work leads to… this. Mission creep. At least in their case. Yet they stay sympathetic all the way through.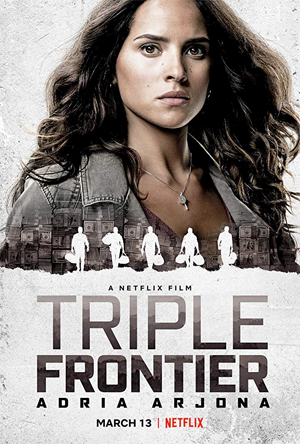 I like the more nuanced way it deals with the "we gave it all for our country and this is how they treat us?" motivation familiar from bad guys in everything from UNDER SIEGE to DEN OF THIEVES. Pope tries to use that line of reasoning to get his friends on board and they pretty much all call bullshit on it. "Fuck you, 'Nothing to show for it'." But for Redfly the temptation of the money that could solve so many of his problems combines with a realization that the only time his life felt like it was going right was when he was shooting people. "I miss this," he admits.
ANNOUNCEMENT: GONNA BE PRETTY SPOILERY FOR THE REST OF THE REVIEW
There's a feeling from the beginning that Pope is kind of full of shit and everyone is aware that they're giving in to his charms, otherwise how could they forgive him for misleading them into this? And yet he doesn't ever become the bad guy. During the heist, when he convinces them to do one more sweep for Lorea rather than the one more load of money Redfly is asking for, it's clear that money really was not his motive. I guess this is another testament to Isaac's talent for characters who can be read multiple ways, like in DRIVE when he really is a nice guy but it seems like he might be pretending to be nice as a threat to the guy who got close to his wife while he was in prison.
Redfly is the one they all seem to idolize. It feels like maybe they're doing it partly just for one last chance to be on his team. Pope is in charge, but whenever Redfly switches over to Captain mode they defer to his leadership. Then they see him crack. As they're smashing open the walls and finding more and more money, he's like a junkie. At first they're all giggling and yahooing at their fortune, but a few minutes later they're like what the fuck is this guy's problem? We need to leave. And that's their hero.
It's pretty standard for heist movies to illustrate the dangers of breaking one's code. They always have some rule and they break it this one time and it fucks up everything. In this one it's a special ops rule applied to a heist – they've never known Redfly to miss a "hard out." Everybody on the team makes some bad choice that makes things worse and someone else blames them for it before realizing really it's on all of them. Because in this story the real problem was choosing loyalty to their brothers or to providing for their family over a higher morality. Each little step they hesitate because they know they're crossing a line, but they talk themselves or each other into it, come up with a justification. And each line they cross puts them in a position of crossing another worse one, and you can see it on their faces that they know which way they're being pulled.
Part of the reason the movie works well on me is because they're all very good and convincing as a team. You can see how they come alive when they go into action, each very comfortable in their expertise and ability to improvise, calm when they have to shoot somebody, choke somebody out or light something on fire. They have a rapport (including bro stuff like pounding each other on the back or arm or with something they're handing to each other) and share a style of humor and know how to coordinate with each other's movements. But of course also things go horribly wrong and later they get at each other's throats, but that never quite overpowers the brotherhood they have. They've been through it all together so they're not shy about hugging and saying "I love you" and knowing it's not bullshit.
I MEAN, REALLY SPOILERY.
This sounds like one of those things you just say, but my heart really was beating fast during the robbery, especially during the parts where they haven't run into any problems and seem to have the run of the place. Chandor gives them plenty of time to fuck around knowing the whole time you're worried that they're not taking this seriously enough. And the whole journey home is full of intense confrontations and complications, mostly not the standard shit. I love that how much the money weighs and how high the helicopter can fly with that weight is an important part of the plot. Another weird bit is the chaotic car chase with teenagers hired by Lorea's gang. Like, not scary teenagers, they really look like kids, and there's the haunting sound of young screams in an otherwise cool car crash scene.
Also for some reason there's a bunch of Metallica in the movie. I think it's what the bros were into listening to in war zones, maybe. It works. I like it.
Though the story starts with Pope, everyone's always reacting to what Redfly does, including starting to lose his shit, so he's kind of the messy heart of the whole thing. Affleck holds it well, surely in a very different way than original choice Tom Hanks would've. I'm even impressed by Affleck's build for the movie, which looks kind of doughy compared to the unrealistic standards set by super hero fitness regimes (including his own), but resembles some of the real life SEALs. He has two scenes where he rattles off strategies and plans that I didn't entirely buy as coming off the top of his head. They'd play fine in a normal heightened world, but I think they clash slightly with this more reality-based character.
Hunnam has one of the more compelling performances I've seen from him even though his accent drifts quite a bit. I couldn't tell if the sort of California surfer sound was intended to be goofy, but I dig the oddness of it. Not the obvious choice.
I've seen Pascal in a couple movies (THE GREAT WALL, THE EQUALIZER 2, IF BEALE STREET COULD TALK) where he didn't make much of an impression on me, but here he was a highlight as the guy who's most flippant about taking part in the job, as if it's on a whim, but becomes the most outraged at everyone's lack of discipline. But the fact that they get mad and then make up, rather than entirely turning on each other, is their saving grace.
One thing that's unusual for a heist movie is that even as the mission spirals out of control, causing worse and worse moral lapses, with increasing danger and death, the team doesn't turn greedier. At many different steps of the journey they willingly give up some of their earnings – to lighten the load on the helicopter, to pay off some villagers they fuck over, to stay warm at night! – and they rarely complain about it. You can feel the pain of getting way more money than expected and then ending up with less, but they're not gonna let you see them cry about it. Ultimately they realize they have to dump almost all of the money and instead it becomes a fight to escape with the more important cargo – their friend's body. Back home, when it's time to collect their share, each of them decides to give it up, so that Redfly's ex-wife who only let him into the garage and daughter who seemed to hate him can become millionaires.
(I do think Ironhead having the coordinates to where they dumped the money, though very satisfying for the end of a standard heist movie, takes away some of the purity of them willingly giving up their take.)
I don't know what the consensus is, I've seen some complaints, but I really think TRIPLE FRONTIER is a good one. Seems to me it'll be satisfying for most people who just want to see a heist/crime movie, but it's able to do that with a seriousness about the consequences of violence and immorality. It walks the tightrope of seeming kinda highbrow but not at the expense of being enjoyable. Like, if you're a fan of SICARIO but it's too heavy to watch today, maybe it's a TRIPLE FRONTIER day. If it were able to have a future on video and cable I think it would catch on over time, but we can't have everything. So if you have a Netflix subscription check out TRIPLE FRONTIER before you forget it exists.