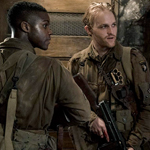 For me OVERLORD was the definition of a time killer, because I needed to be out of my apartment for fumigation at 10 and at work by 3 and the movie I actually wanted to see wasn't playing in a time slot that worked for that, but this was. So happy Veteran's Day, OVERLORD, and thank you for your service in filling that window with okay-though-arguably-making-light-of-the-real-atrocities-of-WWII entertainment.
This is a Bad Robot (J.J. Abrams) production of that old usually-low-budget-horror saw of the soldiers who come across monsters, zombies or demons created or summoned by Nazi mad scientists or occultists. In this case they're doing a Universal Soldier, trying to turn dead bodies into soldiers. Of course in this case they're using their own victims. I guess that's positive that they don't have enough people who believe in their insidious ideology – they have to manufacture them.
The movie spends most of its time on the regular American non-super soldiers, and this is its strength. The night before D-Day, a team of army paratroopers is sent to destroy a German radio tower in an old church, but their plane is shot down and they have to hide out and make alternate plans. The lead is Private Boyce (Jovan Adepo, FENCES, mother!), whose warrior status is questioned due to unusually high levels of compassion. Your standard war movie loud-mouthed Italian-American New Yorker (John Magaro, THE BRAVE ONE, MY SOUL TO TAKE) tries to humiliate Boyce by telling a story that instead makes him seem more heroic and interesting.
He's a good, quiet presence, though his spotlight is often stolen by the cynical tough guy Corporal Ford, played by Wyatt Russell (WE ARE WHAT WE ARE, COLD IN JULY, INGRID GOES WEST), channeling his dad's action hero mode more than his usual flaky goofball roles.
Remember in SOLDIER how they show Kurt Russell as a kid and you go holy shit that kid really does look like Kurt Russell and then you see on the credits that it's Kurt Russell's son and that's why? Well, that is the reason in the future I will be saying "Wyatt Russell (SOLDIER)."
Also did you notice that OVERLORD rhymes with OVERBOARD, a movie starring Wyatt's parents? That's weird. For more information on Wyatt Russell, check out the BIG TROUBLE IN LITTLE CHINA commentary track (I think that's the right one), in which Kurt and John Carpenter get off track and keep talking about his kid's hockey team.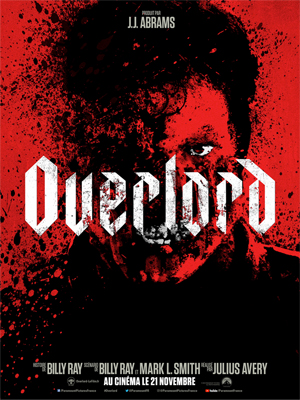 So anyway this squad gets stranded behind enemy lines, but they still intend to fulfill their mission of blowing up the tower to aid in the impending air attack. And they quickly learn that the church is also the site of mysterious activities. Experiments, maybe.
They also meet Chloe (Mathilde Ollivier, UNTITLED FEMALE DRIVEN WW II SPY THRILLER), an at first reluctant, ultimately sympathetic local who hides them in her attic for the few hours before they can attack. Maybe I imagined it, but I thought they said her last name was Laurent, which made me think the writers (BILLY RAY [COLOR OF NIGHT] and Mark L. Smith [VACANCY, THE REVENANT]) had INGLOURIOUS BASTERDS on their minds. I know I did. I also thought about BLACK BOOK during the intense thriller sequences of the Americans hiding and watching, trying to resist the urge to intervene as sadistic SS officers including Captain Wafner (Pilou Asbaek, LUCY, BEN-HUR, THE GREAT WALL, GHOST IN THE SHELL) come in to torment Chloe and her little brother Paul (Gianny Taufer). By the way, they live with an aunt, barely seen, and looking like a monster due to a Nazi procedure. I only knew from the credits that she was played by THEY LIVE's Meg Foster. [update: and then I only knew from Bevan Shortridge on Twitter that it's not the same Meg Foster from THEY LIVE.]
Unfortunately I found the horror aspects less compelling than the war movie ones. But there's some good atmosphere and some well executed sequences, though. There's a sequence where Boyce needs to hide and jumps into what turns out to be a truck full of dead bodies. And then he gets driven in and it's one of those sequences I enjoy where the hero is basically getting a tour of all the horrible shit he's not supposed to know about.
I guess I just wish it went crazier, though. The makeup and digital effects are well done, but ultimately we're talking some pretty generic disfigured-super-strength guys, even though an earlier scene where they found some weird animal remains in the forest seemed to imply something cooler. I guess I prefer the similar but more over-the-top characters in the RESIDENT EVIL series. And even a low budget version of this subgenre like FRANKENSTEIN'S ARMY can stand out by putting effort and imagination into the monsters. I don't get why this bigger budget version doesn't seem to be trying very hard.
I was happy to see Bokeem Woodbine (PANTHER, THE ROCK, THE BIG HIT, BLACK DYNAMITE, THE BUTCHER, RIDDICK, SPIDER-MAN: HOMECOMING) in here, of course playing a macho yelling sergeant guy. So he gets to take a few chomps at the scenery. (SPOILER) But I wish he was playing a guy who survives most of the movie.
I did like the (SPOILER) gung ho ending, where they pretty much saved the human race and then they go right back into regular presumably non-mad-science-related battle. Sure, got rid of those mutant creatures, but they're not gonna go home before they get Hitler!
By the way, if you saw the trailer that was set to AC/DC or something and wondered if this was a KNIGHT'S TALE type deal with an unconventional combination of period story and rock 'n roll, the answer is no. The end credits, though, uses fonts and art inspired by WWII propaganda over a blues-inspired Nas song called "Bridging the Gap." The aesthetic juxtaposition would be easy to understand if the song related to the movie, but this is all Nas talking about his childhood in Queensbridge and his father Olu Dara Jones (who sings the chorus) teaching him to love the blues. The song – which was already used in A PROPHET and CADILLAC RECORDS – sounds good blasting in a movie theater, but I have gone over the lyrics and I have no clue what made them use it in this movie. Did they upload the wrong file or something?
Director Julius Avery previously did a bunch of shorts and the 2014 crime movie SON OF A GUN. Next he's supposed to do FLASH GORDON.