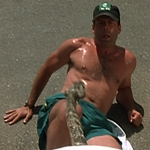 I know Valentine's Day is a made-up greeting card company holiday, but that doesn't mean I can't celebrate by watching the notoriously bad Bruce Willis sex movie that you guys voted #1 in the outlawvern.com "Review Suggestions" feature. If my movie watching happens to match up with the agendas of Hershey's Chocolate and the local florists then so be it. It seemed right anyway.
I never saw this before. Of course I knew its reputation. It won "Worst Picture" from those Razzies assholes but also Best Sex Scenes of All Time from those Maxim assholes. So I was surprised when I watched the opening scene. A woman is getting dressed and putting on makeup. She's very manic and keeps freaking out and having a fit. She messily smears lipstick all over her mouth. She gets her purse and starts to put a handgun in it, for protection I assume. But then she hesitates, thinks about it, puts it in her mouth instead. Real suddenly, as if on a whim.
But then she decides not to blow her brains out. She decides to give the gun a blowjob. And that's where director Richard Rush (THE STUNT MAN) decided to put his director's credit. If I had known it was gonna be nuts like this I would've watched this a long time ago.
Bruce plays Dr. Bill Capa, a New York psychologist, and the gun-fellater is his patient. Unfortunately she's too much for him – during a session that he doesn't seem to be taking very seriously she suddenly hurls herself through his window, which is high up in a skyscraper. He looks down at all the panic and blood, and suddenly loses the ability to see the color red. I guess that's what the title means. It comes up a couple more times, but isn't important to the plot. It reminds me of John Woo's BLACKJACK, where trauma causes Dolph Lundgren to be afraid of the color white. But that's more relevant to the movie because later he has a fight in a dairy and he gets milk poured on him and milk is white so it's like liquid Kryptonite.
Of course this whole thing fucks Dr. Bill up, so he quits his practice and like John McClane he flies from New York to L.A. He goes to stay with colleague, college buddy and author of the best-selling self-help book Way To Go Dr. Bob Moore (Scott Bakula, LORD OF ILLUSIONS).
When Bill meets Bob at his office he sort of gets tricked into sitting in with a support group. He protests that he's not qualified to help anymore, and doesn't seem to get that actually he could be one of the patients. But soon Bob will be horribly murdered, and Dr. Bill will be the group's only connection to him, and they'll convince him to take over as their doctor, living in his late friend's mansion, driving his fancy cars. Meanwhile, he's meeting with goofball police detective Martinez (Ruben Blades) and trying to figure out if somebody in the group was the killer.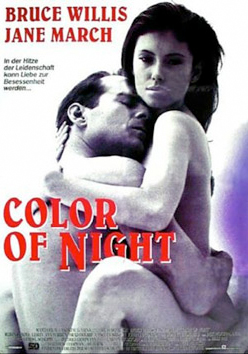 Oh yeah, and the sex. One day he's rear-ended in Dr. Bob's Mercedes by a mysterious young girl named Rose (Jane March). She says she doesn't have insurance and he doesn't get her address but later she shows up at the mansion and after one date they have a long softcore sex sequence involving saxophone, swimming pools, many positions and Bruce making a loud orgasm grunt that you wouldn't usually get in a mainstream movie. In the next scene he's in a suit but she's naked and she made him dinner, but instead of eating it it cuts to them in the shower and the same Cinemax music playing again. Reminded me of that comically overlong kissing scene in BIG TOP PEE-WEE. The neverending sex scene. (At least in this director's cut, which by the way is 2 hours and 19 minutes long!)
That's the famous part of the movie, but it's not what makes it interesting. In no way is it a straightforward, normal erotic thriller. It's a weird mix of genres. Rush also directed FREEBIE AND THE BEAN, a buddy cop movie where he seemed to put at least one odd little quirk into every scene, and this is like that too. Even the sex scenes get weird: there's one where they're in the bath tub together and he's driving a remote control tank over her breasts. He almost gets run over while cringing from a rattlesnake, Kevin J. O'Connor is involved in some weird S&M stuff, Lesley Ann Warren is a nympho and peeping tom, Brad Dourif is always counting things, Lance Henriksen has a mustache, Scott Bakula's stunt double does a show-offy wheelie when they go bicycling together.
Then in the climax it suddenly turns all gothic, with the doctor and another character climbing up a tower, hanging over a special effects shot while the orchestra thunders and lightning strikes. Almost like the end of BATMAN. I'm not sure if it's supposed to be funny or not when the girl is gonna kill herself, then he talks her out of it, but a sudden gust of wind blows her off anyway.
Blades is the cop who Dr. Bill can't really trust, but who he builds a rapport with. This is normally a serious character, with maybe a grim sense of humor at most, a guy who keeps coming in and threatening the hero to push him along in his journey. But here he's a completely comic character, and even gets an after-the-credits ad-lib line. One scene of expository dialogue takes place at his huge backyard birthday barbecue with traditional Mexican music playing. Suddenly a police helicopter shines a searchlight on the revelers, like they're being harassed, but then a woman (officer? stripper?) hangs from the side of the copter, pulls off her pants and shakes her ass around for everybody.
And yeah, this is the director of FREEBIE AND THE BEAN and THE STUNT MAN this quirky noir story suddenly erupts into car chases a couple times. One gets pretty out of control, with a car carrier getting damaged and dumping its cargo into traffic. And he gets in one of his trademarks, little jokes about random extras doing weird things as they almost get run over (there's a guy sitting on a bench who gets up and stands on the bench to get out of the way).
It also gets stylistically weird. When he first meets Rose it seems like the camera is trying to tell us that she's not even real. As they sit at a table together we never see them in the same shot, only separately or her reflected in a mirror over his shoulder. Throughout the movie whenever he sees her approaching him he says things to himself like "Here she comes. Weightless. Hanging from the sky." Not voiceover, actually speaking out loud, to give us this idea that she's unreal.
In fact there is something going on here, because every other character including the late Dr. Bob talks about some special woman in their life, some woman we never see, so it's pretty obvious that (SPOILER) Rose is fucking every one of these people. And there's this other thing that's obvious, I don't want to give it away, but… ah hell. There is a character who is introduced as a teenage boy who is quite clearly played by an adult woman. But even with that easy-to-spot piece of information the final reveal of what's going on is convoluted enough that I didn't guess what it was gonna be.
It's kind of like a not-as-good, goofier DePalma movie, it has some of that RAISING CAIN off-kilterness. It also made me think of I KNOW WHO KILLED ME. One of those movies where it's hard to draw the line between trying to be crazy and actually made by crazy people. I kinda feel like it's misunderstood, except I can't claim to understand it.
Billy Ray is credited with the story. He went on to write another Bruce movie, HART'S WAR, as well as semi-respectable non-Bruce pictures such as STATE OF PLAY and THE HUNGER GAMES. The other writer, Matthew Chapman, did RUNAWAY JURY and the Tony Kaye movie BLACK WATER TRANSIT. Neither shows signs of doing anything this wacky again. Maybe they got it out of their system, or maybe it was the Rush influence. Rush hasn't directed anything since except for that weird documentary about the making of THE STUNT MAN.
This was a weird time for Bruce, too. It's hard to believe that in 1994 he released this and NORTH, but also NOBODY'S FOOL and PULP FICTION. I would've guessed it was a little earlier than that. It obviously feels more dated than PULP FICTION does. This is not him in action hero mode, he's not really a tough guy. He's educated, he wears glasses sometimes, he doesn't mention being from Jersey. The wiseassery is present, but fairly minimal. He's kind of the '80s California ideal of manliness, a guy who lives in a mansion, wears sunglasses and likes to go bicycling or jogging with his shirt off. He does do whispery cuteness with a girl, like he does with Fabian in PULP. Maybe that was something he was into that year.
I don't know man. I think I kinda like this movie? I definitely recommend the experience. I wonder if this means I gotta watch NORTH and BONFIRE OF THE VANITIES now.