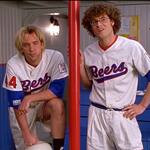 Okay, I'm not gonna look up who it was, and I forgive you, but somebody asked me to include BASEKETBALL in this series, and I'm a people pleaser, so I watched it. I hope you're happy.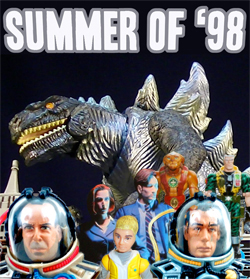 You see, the idea of BASEKETBALL is that it's like baseball, and yet also it's like basketball. That's why it's called baseketball. The first syllable is the first syllable of the word "baseball" and the second and third syllables are the second and third syllables of the word "basketball." But the thing is those are usually two totally different sports. That's why combining them into one is silly silly laughs for everyone. It makes no sense!
Okay, to be fair, this was not originally intended as a topic for a movie. Apparently director David Zucker and friends made up the sport and played it for ten years and it became a big thing in their neighborhood ("inspired by a true story" say the production notes), and maybe he looked into the abyss and the abyss looked back at him so he thought it was acceptable as an idea for a movie. Or maybe he just wanted a movie for his friends to watch.
I'm very surprised that there are actual rules to the sport, because they were never clear to me in the movie. There's a small court and you try to shoot hoops but somehow it has to do with the bases and home runs also. The main part of it is that one player tries to shoot a basket and a player from the other team, rather than defending them, tries to do a "psyche out" which involves saying something about fucking their mom or doing something gross like squirting milk out of their nipples or whatever. So basically it's a template for doing that kind of stuff over and over again.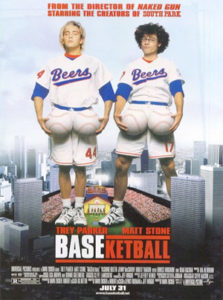 The weird notable thing about the movie is that it stars South Park creators Trey Parker and Matt Stone, or, as the production notes put it, ""the auspicious joining of two generations of comedy leaders is a movie event of a fairly unprecedented nature." It's their only for-hire acting gig, though they reportedly suggested jokes, and there's a funny montage song that's written and sung by Parker. The two had made the low budget live action movies CANNIBAL! THE MUSICAL and ORGAZMO, but South Park wasn't even on the air yet when they signed on for the movie. By the time it came out they were in their second season and had become a cultural phenomenon, raising a generation of cynical political incorrectness worshippers and militant apathetics who would help hand the country over to Trump and destroy America [citation needed].
Beer swilling asshole loser dickweed pals Joe "Coop" Cooper (Parker) and Doug Remer (Stone) invent the game of baseketball because they're just dudes and bros who love to drink beer but are not athletic but got good at shooting hoops and made up a game that doesn't require them to run around. They play it in their driveway and it attracts so much attention that a businessman (Ernest Borgnine, EMPEROR OF THE NORTH) finances turning it into an actual professional sport, and they become superstars.
The movie seems to be sincere about its nostalgia for an alleged more innocent time in sports history, when young Coop worshipped Reggie Jackson and caught one of his home runs. An omniscient narrator (Stephen McHattie, THE TALL MAN) complains about mercenary free agent athletes selling themselves to the highest bidder, teams changing cities for more money, corporate sponsored arenas and, maybe just to set up a joke, the "vulgar grandstanding" of post-touchdown dancing. (I'm sure if it was now he'd have some choice words about the outrage of respectfully kneeling during the national anthem.)
All this stuff that was actually happening in the real world caused the people in the world of the movie to be so fed up they stopped watching sports. Wishful thinking I guess. But it's sort of the theme of the movie that the two fight about whether to sell out and let the league allow this kind of stuff or stay true to the purity of the innocence of the, or, you know, the code of honor or whatever. So there's a schism. In KNIGHTRIDERS terms, Coop is Ed Harris and Remer is Tom Savini.
Some of the humor is that Man Show kind of stuff that's just "ha ha, you know how we men are, we're lazy and we love beer and we like looking at boobs, ha ha." So their team is called the Beers and the cheerleaders are, like, stripper types who wear leather bustiers and carry riding crops. As far as lowbrow jokes about Coop and Remer being gross pervert losers go, I'd say one of the best is during the opening credits when they go to a popular girl they knew in high school's party uninvited and snoop around the house.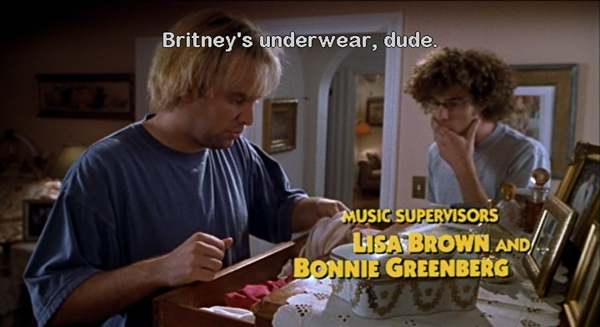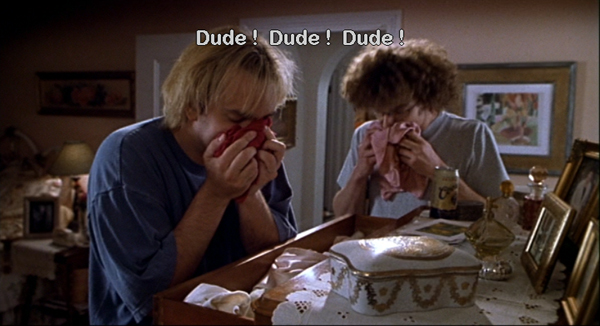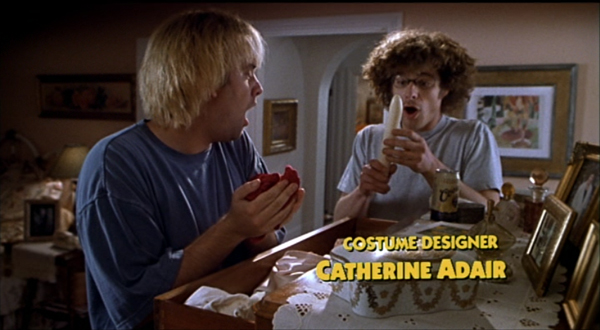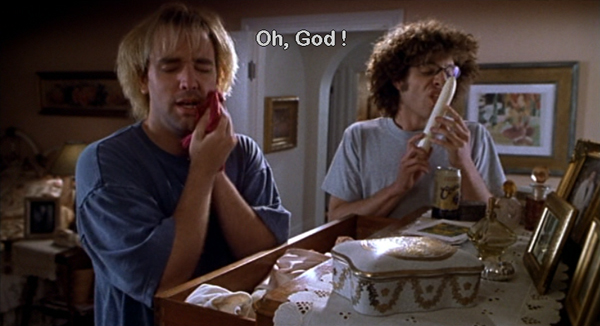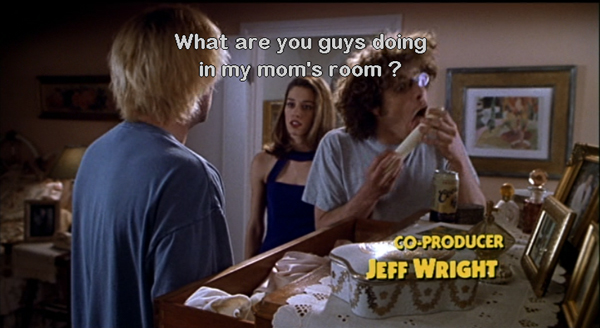 At the party they make up baseketball in order to have a sport they can beat the more athletic dudes at. There's a short guy named Squeak (Dian Bachar, "Nervous Tech," GALAXY QUEST) who they get fired from his job turning off their gas and let him sleep in a cardboard box in their house. They let him be on their team and "they're always rippin' on" him and he's a pretty good foil for them.
As is traditional for this type of comedy, a super hot and saintly woman for no reason falls for one of the loser dipshits, so that the audience can feel uncomfortable wondering how much they're really expected to pretend like they give a shit about these characters. In this case it's Baywatch star Yasmine Bleeth as the head of a Make a Wish type foundation who introduces him to Joey (Trevor Einhorn, Mad Men), a kid with cancer who idolizes him. And then she mostly doesn't notice when they're being assholes.
Jenny McCarthy (SCREAM 3) is on the cover of some releases of the movie, but she's in a smaller part as Borgnine's gold digger widow who sleeps with the bad guy (Robert Vaughn, THE MAGNIFICENT SEVEN) to try to get money. Her big joke is when he asks her to "lay some carpet" and then she's moaning but the camera pulls out and she's literally pushing nails into carpet. At the end he's being a jerk and she says "I just realized I can't stand you. You can kiss these puppies goodbye!" (gesturing to boobs) and that's not really a joke so I guess we're supposed to just be excited to see her stick it to the bad guy.
I've noted the homophobic jokes in most of the other comedies of the summer. In this one there's a team called The Ferries who are handsome buff gay guys. Coop gets called out by the ref and claims "Oh come on, that wasn't a gay joke, that was an Australian joke!," so there's at least an acknowledgment that you shouldn't make fun of people for being gay. But also there's that joke where Squeak gets drunk and makes eyes at a trans woman or crossdresser and they all make fun of him because he doesn't know and also it makes Remer puke at one point (but he's hung over).
There's also a scene where they bury the hatchet and then graphically make out. Obviously this is supposed to make us go "eeeww!" but also their willingness to do it suggests that they do not technically have the phobia. Other comedic daring includes unflattering shirtlessness and showing their bare asses.
Dated references: a nurse says a kid "smells like Robert Downey, Jr.," because this is when people thought of him for his addiction and not for being Iron Man.
For the most part the jokes are not my style, but harmlessly stupid. The most painful part is a pretty long slapstick sequence where they think Joey is dying and they decide that they're doctors and try to do surgery on him. There are jokes like
1. they shock Squeak and smoke comes out of his ears and then he flies into a "soiled laundry" chute
2. Coop imitates Scotty from Star Trek
3. Coop has bedpans on his feet
4. He causes him and a nurse to get shocked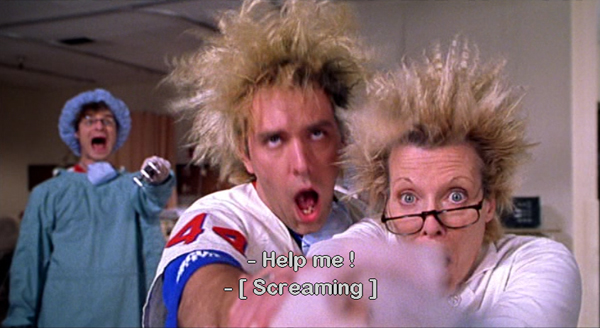 It's surprising how long they allow this scene to keep going.
As in the more beloved Zucker movies, there are many deadpan performances from usually-serious character actors and some sports celebrities. Bob Costas and Al Michaels are heavily featured doing commentary during all the games, and AIRPLANE!'s Robert Stack and Kareem Abdul Jabbar and NAKED GUN's Reggie Jackson all appear as themselves.
If I had to choose a joke that caught me off guard and made me laugh, it's actually right at the end when Coop's childhood hero Reggie Jackson brings him his game winning ball and says he still has two of his home runs but "some wretched little shit got the third one."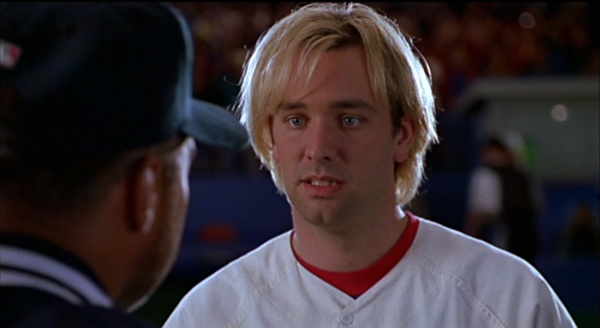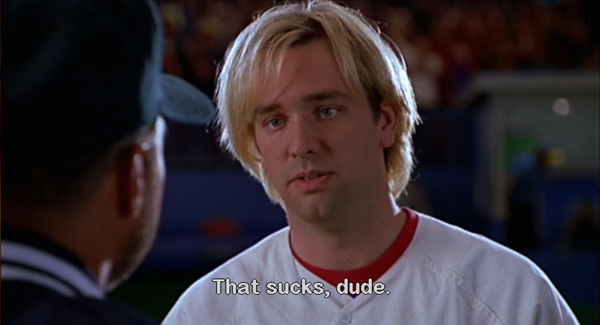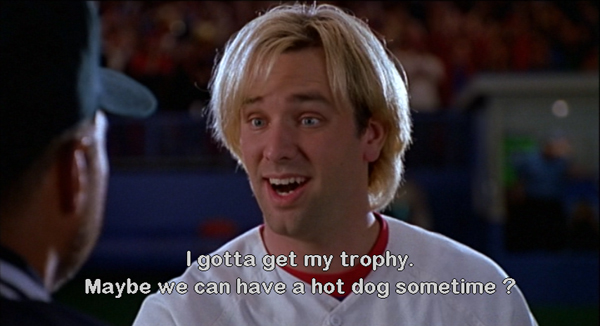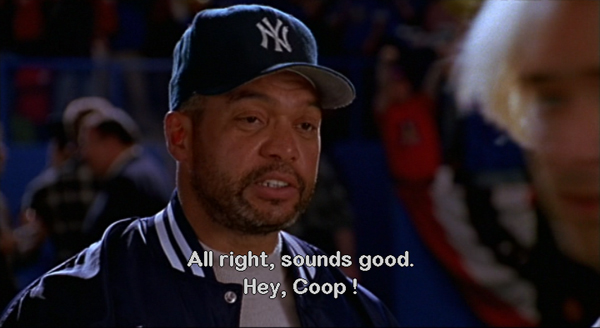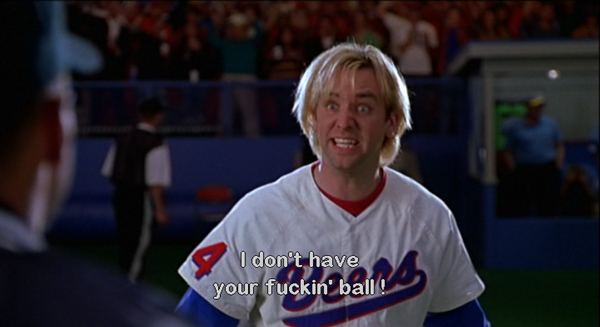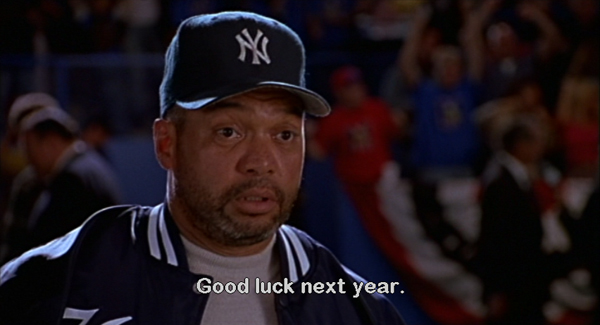 Here is by far the most and only important thing about this movie and the reason I'm glad I saw it. You may remember me pointing out that that both DIRTY WORK and DOCTOR DOLITTLE had references to ROCKY III. BASEKETBALL does not, but it does have this joke involving Mr. T: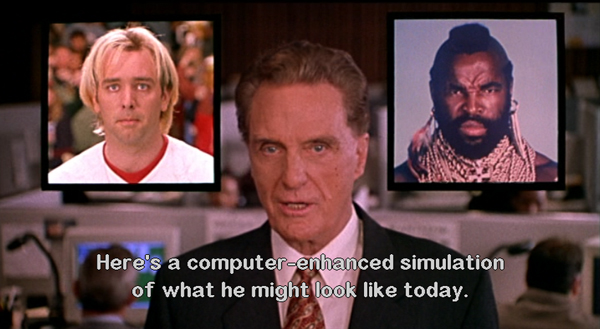 Speaking of DIRTY WORK, I would consider that to be the far supierior cheesy lowbrow joke-a-minute comedy of the Summer of '98. And when it comes to regular schmoes making lowbrow joke-a-minute comedies about so-called guy humor, the classic is obviously THERE'S SOMETHING ABOUT MARY. The First Amendment allows for us to have a BASEKETBALL available in that same summer, but that doesn't mean you have to watch it.
According to the press kit type information included as an extra on the DVD, Bachar was roommates with Parker and Stone until '97 and "Trey and Matt love to give me serious grief and get a reaction from me. But I give some back. Besides, I don't have cable, so I don't watch South Park, which drives them crazy." They knew him from Colorado University and put him in their previous live action movies.
BASEKETBALL was written by the team of Zucker & Robert LoCash (CB4) & Lewis Friedman (mostly an awards show writer, including The Guy's Choice Awards) & Jeff Wright (RUPERT PATTERSON WANTS TO BE A SUPER HERO). Ten years later – following the more normal MY BOSS'S DAUGHTER starring Ashton Kutcher and SCARY MOVIE 3-4 – Zucker would put a nail in the coffin of the argument that conservatives can be funny by directing AN AMERICAN CAROL, the, uh, satire(?) where he blames Michael Moore (played by Chris Farley's brother) for 9-11.
As Parker's bleached hair indicates, BASEKETBALL is the most white ska of any of the '98 movies I've been watching. The band Reel Big Fish performs in more than one scene and there are also songs by Cherry Poppin' Daddies, The Ernies and Smashmouth. The DVD includes a video for a Reel Big Fish cover of a-ha's "Take On Me" where the band play janitors at a stadium who fall asleep and dream about playing baseketball, interspersed with them playing their instruments and occasionally clips from the movie of Parker and Stone getting kicked in the balls and hit with eggs stuff.
I knew this wasn't necessarily a giant smash movie, but I was surprised how seriously it tanked. Put it this way: it opened at #11, behind JANE AUSTEN'S MAFIA's second week! In its own week two BASEKETBALL got squashed by MULAN in its eighth week. In the end it made $7 million, approximately one dollar for each failed gag during the hospital slapstick sequence.
So it really was just Zucker's friends who saw it. And now that I watched it I have to be one of his friends too. I guess I'll just ask him questions about THE KENTUCKY FRIED MOVIE and try to avoid politics.
This entry was posted on Tuesday, September 4th, 2018 at 11:46 am and is filed under
Comedy/Laffs
,
Reviews
. You can follow any responses to this entry through the
RSS 2.0
feed. You can skip to the end and leave a response. Pinging is currently not allowed.