Everybody knows Isaac Hayes's music for SHAFT, but he also scored TRUCK TURNER. And while he was at it he decided to also star as Truck Turner. Why not? I guess at one point it was gonna be Robert Mitchum, which would've made for a really weird blaxploitation movie.
Under Hayes's super-funky theme song the movie opens with a montage of vintage L.A. lowlife spots: liquor stores, blood banks, pawn shops, a corner where a bunch of old drunks have an awkward slap fight until a cop breaks it up. And I'm pretty sure those are real dudes. The montage also shows the signs for more than ten bail bonds places, which shows that our man Truck has alot of competition.
Hayes is Mack "Truck" Turner, former NFL player turned bounty hunter. He's a unique blaxploitation hero because he combines the untouchable superfly type with a complete loser. He's a bad motherfucker, and can handle any situation, but he pisses off his friends, he's a total slob and he literally smells like pee. His partner's middle class wife hates his guts, and with good reason, it turns out. We first see Truck asleep in his little apartment surrounded by empty beer cans and garbage from McDonalds, some pizza joint and Dinah's Fried Chicken. He has a football trophy, a lovingly displayed copy of The Immortal Otis Redding, and one shirt which he realizes his cat pissed on. But he wears it anyway.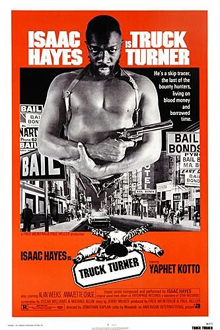 He has a really hot girlfriend (Annazette Chase), but his colleagues tease him about it because she's a klepto, and currently incarcerated. When she gets out he forgets to meet her, then goes to pick her up with beer on his breath and dirt all over his shirt. She says bitterly that he just wants to buy her beer and screw her, so to sweeten the pot he buys her some fried chicken first. She nibbles on it awkwardly, then gives in when he starts kissing her. It's straight out of one of those books with Fabio on the cover, man. What a smoothie.
Even when he brings her shopping to butter her up (and play a trick on her) it's at the discount store. That's one thing I really like about this movie. It's not all limos and fur coats, it's small time.
Another thing I like, it has lots of funny dialogue. When he goes to an Air Force base to pick up a child rapist the officer he has to talk to starts talking up the prisoner's war record. "Look, Major," Truck says. "I didn't bring no violin."
When he gets back to the bail bonds joint and a guy says, "You guys back already?" he deadpans, "Nah."
Or when they're going in to try to pick up this pimp named Gator (Paul Harris), he says "Let's try to take him alive, okay?"
His partner asks, "How hard?" and Truck says, "Don't strain yourself."
There's also some good laughs that just come from good edits. Like when his prisoner says "You're a big man while I got these cuffs on," and it smash cuts to the guy in a field with no cuffs on, Truck punching the shit out of him.
And there's some weird shit in here too. Always gotta be some weird shit for flavor. There's a white pimp who wears a cowboy shirt and a rhinestone-covered eyepatch. And there's a pimp funeral where one of the mourners is a ho with a rainbow afro. And there's a crazy scene where a topless white ho stabs a guy with scissors. I'm not sure but I think she might be the ho that Scatman Crothers refers to as "Stalingrad Crude." I don't know, that might be somebody else he's talking about. This girl doesn't really look like a Stalingrad.
And here's a SPOILER but holy shit, they hang Truck's cat! That's some cold shit. I wonder if that's where they got the idea for hanging the koala in THE ADVENTURES OF FORD FAIRLANE.
Movies of this genre can get dull if they don't deliver enough action. This one doesn't disappoint. There's a good car chase, some shootings, some punchings, and a great climactic shootout in a hospital, a decade and a half before HARD BOILED. But instead of the hero carrying a baby to save it the villain carries a little boy as a human shield. Which I'm against.
Another bit I like is during a big chase Gator runs into a bar and hands everybody there fifty dollar bills to beat up the guys that come in behind him (Truck and his partner), and even though he sneaks out the back they really put some effort into it. They follow the honor system. I think that's admirable. I think. And that might explain alot of these scenes where dudes get beat up by everybody in the bar, it might be missing the part where somebody hands out money to them.
There are two great performances by two great villains. Villain number one is Star Trek's Nichelle Nichols playing a foul-mouthed madam who puts a bounty on Truck's head after he kills her man Gator. It's so weird to see Uhura talking so much shit. She just drips with hatred everytime she spits out that n-word. It's crazy.
But the main villain is Harvard Blue, a rival of Gator who tries to take Truck out in a bid for control of all Los Angeles prostitution. He's played as a cold-blooded snake by the great Yaphet Kotto. I know people like to laugh at a pimp and his crazy clothes and all that, but Blue is not that kind of pimp. He's just a scary one. You don't laugh at his clothes, you get creeped out by the dead look in his eyes. Just watching you at home you feel like he's gonna beat you with a coathanger and you're gonna give him all your money.
Kotto is the second name on the credits so I kept waiting for him. He actually doesn't show up until 45 minutes in, and he has a classic entrance. He pulls up in a car during Gator's funeral, gets out, walks up to the coffin, spits on the corpse's face, then turns around and leaves. Not only that but it's shot from inside the coffin. This is one of the first movies with a dead pimp POV shot. And still one of the best.
Like alot of blaxploitation heroes Truck does some questionable shit. Despite his success with romancing his girl, Truck is not the same smooth lover that recorded the album Hot Buttered Soul. He just doesn't know how to be a good boyfriend. I definitely side with him in the sneaky way he protects his girl, but I feel that he could have improved communication in his relationships or something.
More importantly that was fucked up when he called his buddy in the middle of the night and told him to go check on the office and got him killed. Shit, Truck. And you wonder why his wife hates you?
Great movie though. It's written by Oscar Williams (BLACKBELT JONES) and Michael Allin (ENTER THE DRAGON, FLASH GORDON) and directed by Jonathan Kaplan (NIGHT CALL NURSES, Law & Order: Special Victims Unit episodes).