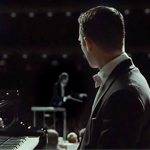 GRAND PIANO is a tight little thriller, the kind of thing I would have to call snappy, crackling, popping or perhaps krispy if I had the vocabulary. It's a cool premise, well-executed, and then it gets the fuck out in around 80 minutes not including credits. And get this: it's THE PIANO on speed! Picture that. Great idea, right?
Oh, I'm sorry, no, I meant it's SPEED on a piano! Elijah Wood (FLIPPER) plays a disgraced world's-greatest-concert-pianist, reluctantly pushed by his movie star wife (Kerry Bishé, ARGO, RED STATE) into a high profile, high pressure performance in tribute to his eccentric, recently deceased mentor. He's already ready to shit out all his insides on stage and then in the middle of the performance he finds threatening notes on his sheet music and a crazy sniper starts threatening him over a headset. (The credits tipped me off that it was [SPOILER?] John Cusack, but the voice is immediately recognizable anyway. Actually, I don't know if I've seen him play an evil mastermind before, and he's a natural. Usually you're supposed to love him for his asshole qualities, in this one he's just being more honest.)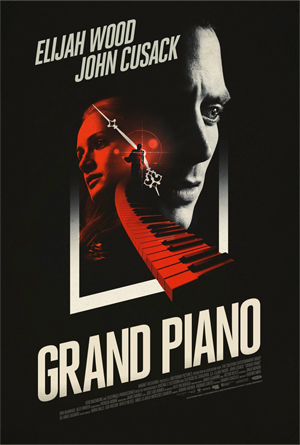 Anyway, Wood's character Thomas is told if he plays a single note wrong then he and/or his wife are gonna get shot. That's tough because this is notoriously difficult music he's playing, and now this madman wants to switch it up and have him also play his mentor's "unplayable piece," which Thomas infamously flubbed five years ago, destroying his career, life and confidence. And this time he has the added pressure of impending death. Oh, and he doesn't have the sheet music.
The reason for the threat is a nice piece of absurdity: the piano contains the key to a fortune, locked inside a mechanism that can only be unlocked by playing the last four bars of this piece that only the dead owner and possibly this student could ever pull off. There's a line of dialogue implying that the villain is a pianist in his own right, but he knows he could never do it himself.
Not that these are a similar type of movie or anything, but I think the filmatists may have studied DIE HARD. It has a very efficient DIE HARD type set up period with Wood's character Thomas coming in to Chicago on a plane, getting picked up by a limo (sadly not driven by Argyle or anyone of his stature) and talking to his wife on the phone, the middle of an ongoing discussion where we can guess the earlier parts. We quickly and organically get info or hints about his worries, his backstory, his relationship with his wife, his wife's relationship with her visiting sister (Tamsin Egerton) and brother-in-law/sister's-boyfriend/I-wasn't-sure (Allen Leech), his conductor (Don McManus, Justified, KILLSHOT, THE 6TH DAY) and a security guy (Alex Winter), so while he's dealing with this hostage situation alone on stage we've got a cast of characters and different subplots subtly woven in.
At first I was wondering why the guy has to threaten Thomas. Isn't that just gonna make him more likely to screw up? But then I realized he needs to scare him into doing that "unplayable" piece, not originally on the docket. If he'd already planned to play it nobody would've been hurt, it could've been a movie about a guy playing piano and then at the end John Cusack runs out on stage and grabs the key that falls out of the piano. It would've been less suspenseful and more of a puzzler.
The whole thing reminds me of my thriller NATIONAL PASTIME. It's about a disgraced pitcher who has to throw a perfect game or they'll kill the president. Or to stop a nuclear war. I'm still working on it. Call me, Hollywood.
Hats off to Wood for finding these small, interesting movies to do. You got a guy who was a child star, then was the lead in that huge fantasy trilogy, then where do you go from there? He's still small and young looking, he's not gonna get the roles Chris Hemsworth or Chris Pine or Chris Evans are up for. Although, with these trainers and hormones they have in Hollywood now, who the fuck knows. But he finds movies like this and MANIAC and he puts his own spin on them. He seems like a guy with good taste.
Director Eugenio Mira is a Spaniard, only a few years older than Wood. He's directed a handful of other small movies since 2000 but also worked as a composer, most notably on TIMECRIMES. The writer, Damien Chazelle, wrote and directed WHIPLASH, the Miles Teller/J.K. Simmons drummer movie that everybody loved at Sundance or one of those festivals this year. I'll have to keep an eye out for both of them.