June 19, 1998
MULAN is the Disney animated feature of summer '98. It's another Broadway-style musical loosely based on an old tale, in this case the legend of Chinese warrior Hua Mulan, as described in The Ballad of Mulan. Fa Mulan – voiced by Ming-Na Wen (STREET FIGHTER), singing voice Lea Salonga (NINJA KIDS) – is a young woman in Han dynasty China in the midst of training to be a great warrior. Oh, whoops, that's a typo – in the midst of training to be a great wife. She gets all painted up and tries to walk in confining clothes and know all the etiquette for tea drinking and what not. But she's not up to it, even has to write notes on her hand before a test, and completely fucks it up.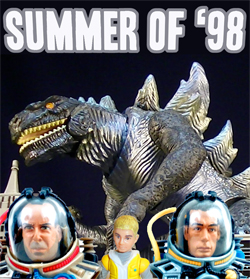 Luckily there is another option. The Huns are invading and every family must provide a man or boy to fight in the army. The only male in her family is her dad Fa Zhou (Soon-Tek Oh, STEELE JUSTICE, DEATH WISH 4), a war vet who is all for going again but he's an old man who can barely walk and she's sure he's gonna get fuckin killed in like two seconds so at night she steals his armor and conscription notice and runs off to pretend to be a dude and fight in the army on his behalf.
Which she's actually worse at than being feminine. There's lots of, you know, humor about how she says something in a normal voice and then says "er, I mean" and repeats it in a not even remotely convincing fake-masculine voice. She starts to pick up other things like to spit and do gross things to be accepted as a man. It's like JUST ONE OF THE GUYS I guess but when they see her boobs it's off screen.
One element that's not in most of the other gender-switch romps: a small, shit-talking dragon named Mushu (Eddie Murphy, DOLEMITE IS MY NAME). Mulan's grandma (June Foray [Rocky & Bullwinkle], singing voice of Marni Nixon [host of a local show I watched as a kid called Boomerang]) prays to her ancestors, who appear as ghosts and send Mushu to summon "the great stone dragon" to protect Mulan, but he accidentally breaks it so he pretends to be her guardian and tries to bullshit his way through this mess, Axel Foley style.
I don't find Mushu as funny as I'm clearly supposed to, but he's decent as far as these comic relief animal characters go, and probly my favorite part of the movie. Murphy made me laugh a few times, making "dishonor on you" sound like dragon for "fuck you," for example, and the way they animate him as a sort of wobbly snake with legs makes for much more interesting physical acting than the other characters.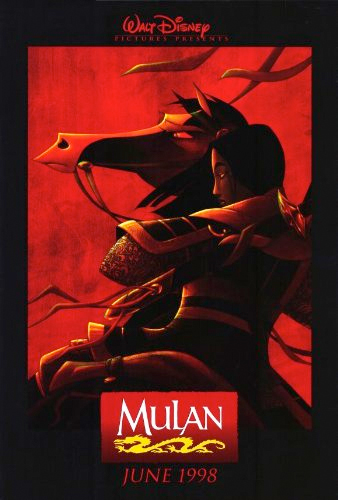 Unfortunately there's another comic relief animal character, a cricket named Cri-Kee (come on dude, you cannot convince me that is an authentic Chinese cricket name). He doesn't talk but he's totally unnecessary, given to Mulan for luck and then they have to make up explanations for where she's carrying him just so he can cause unfunny slapstick sequences like in the movie's worst scene, where he causes Mulan to humiliate the comically fat matchmaker (Miriam Margolyes, END OF DAYS) by spilling tea on her and painting a goatee on her face.
I was not entirely surprised to learn that the both of these characters were sort of pushed on the crew by executives. Roy E. Disney convinced them to add a dragon, and the cricket is mostly Michael Eisner's fault. Disney legend Joe Grant created the little bug, but lead animator Barry Temple admits the directors "felt Cri-Kee was a character who wasn't necessary to tell the story, which is true."
Anyway, there is training and eventually they fight or whatever, it's hard to remember. I know she caused an avalanche to stop some of the Huns. The end. I wish I could pinpoint better what's so underwhelming to me about this movie. I suppose it's that they don't really go full into the period military epic that the story suggests, and then the standard elements like the songs, the comedy, the father-daughter melodrama and especially the animation all seem uninspired compared to other Disney movies, including POCAHONTAS.
The directors are Tony Bancroft (animator going back to BEAUTY AND THE BEAST, but has not directed any other Disney movies) and Barry Cook (the Roger Rabbit short Trail Mix-Up, ARTHUR CHRISTMAS). Stephen Schwartz (POCAHONTAS) was hired to write the songs, and even took a research trip to China, but quit after being hassled for also accepting a job on Dreamworks' PRINCE OF EGYPT. The three songs he'd written were abandoned. They replaced him with Matthew Wilder (a Bette Midler backup singer who produces for Hannah Montana and shit) and David Zippel (HERCULES), and I suppose their songs are memorable, because I remembered them, but personally I don't like any of them. The big showstopper tune "I'll Make A Man Out of You" is sung by Donnie Osmond, for christ's sake. I guess the most influential song was "Reflection," because the end credits version, sung by a former Mickey Mouse Club cast member, made it to #19 on Billboard's adult contemporary charts, got the singer a contract with RCA Records and later appeared on her debut album, Christina Aguilera.
Earlier in the summer we saw how Warner Bros. Feature Animation tried (and spectacularly failed) to steal Disney's thunder in the animated musical game. MULAN is the real deal… pretty much. It follows the same Disney formula that WB were trying to copy, at least, and the two movies ended up having a few similarities. Both have a female protagonist whose parents want her to do feminine things, but she wants to be a warrior and gets a chance to sneak off and do battle with a sword. Both are fixated on honoring their fathers. Both have a wimpy, comedian-voiced dragon comic relief sidekick. Both, obviously, prove themselves in battle and are finally accepted by their loved ones and allowed to own weapons. There's also a falcon in this one, but it belongs to the bad guy, so it's not the terartagonist.
MULAN is more elegantly animated and more competently structured than QUEST FOR CAMELOT, and is beloved by the generation that grew up with it. Though it wasn't a hit on the level of Disney's early '90s favorites like ALADDIN and BEAUTY AND THE BEAST, it was the #7 movie at the box office in 1998 and made more money than its Disney predecessors THE HUNCHBACK OF NOTRE DAME and HERCULES. But I have to say, it didn't really appeal to me much then and it hasn't grown on me.
I don't know if this is related, but it was not created at the same Disney studio as THE LITTLE MERMAID and shit. Instead it was made at Walt Disney Feature Animation Florida, which opened in 1989 as a theme park attraction devised by CEO Eisner. Located on the backlot of the Disney-MGM Studios, park guests could watch these poor zoo animals behind glass as they created the Roger Rabbit shorts Tummy Trouble, Roller Coaster Rabbit and Trail Mix-Up. To promote upcoming features they'd also be seen doing little chunks of them: 10 minutes of THE RESCUERS DOWN UNDER, 22 minutes of THE LION KING, 18 minutes of POCAHONTAS, etc. MULAN was the first of only three features produced entirely at the Florida studio, the others being LILO & STITCH and BROTHER BEAR.
Maybe that's why the animation, other than a couple shots of a devastated village and a CGI crowd outside of the emperor's palace, feels small and underwhelming compared to previous Disney movies. The subject matter calls for the grandeur of a Zhang Yimou epic, but they settle for better-than-a-TV-cartoon. I don't care for a few of the designs, particularly Mulan's sheep dog with dots for eyes, a character who's more crudely cartoony than the others but not (to me) in a stylish way.
On the positive side there are some nice, restrained colors and her horse has a sharp look to it.
My favorite scene is the montage of Mulan cutting her hair (with a sword, of course) and putting on her dad's armor to run away and join the army as a male. The angles and edits are all clearly modeled after live action filmatism, and the bombastic keyboard/drum machine scoring would sound at home in an '80s or '90s Hong Kong action movie. I read that this was called "Sequence Six" and had replaced a musical number. It was originally cut to the score of an unnamed live action movie and was a breakthrough in the production that led to what they considered more of a silent movie approach, using visual storytelling without the crutch of dialogue or lyrics. (But I didn't notice any other big sequences like that.)
There are some pretty cool shots of the army practicing kicks and punches together, and Mulan does a little bit of kung fu, but the fairly simplistic character designs don't allow for very sophisticated movements or poses.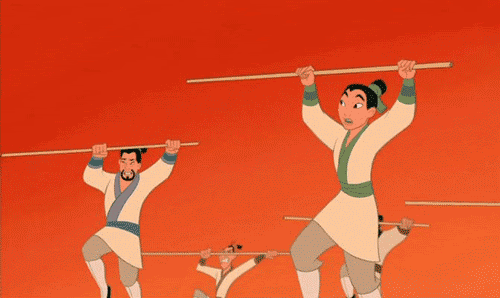 I do appreciate that the climactic fight, though not particularly exciting, takes place partly on a rooftop, a nod to Chinese cinematic tradition.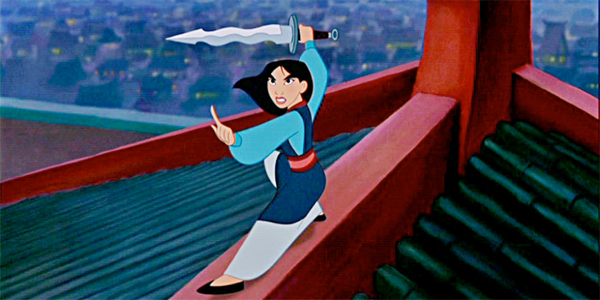 As in QUEST FOR CAMELOT, the best designed character is the broad-shouldered villain. Shan Yu is a Hun warlord voiced by Miguel Ferrer (THE NIGHT FLIER). He's generally draped in shadows, his pupils are yellow and his eyeballs are black instead of white. In the scenes with just him and his men the entire frame is colored with grey, black, and beige. His tank-like body probly has 5 or 6 times the mass of Mulan's, but in one scene he nimbly hangs upside down like a monkey.
Despite all these strengths, I couldn't say much about his personality outside of being evil. If you went around for a couple hours asking people to list every Disney villain they could think of I bet you wouldn't find one person that said Shan Yu, and if so there's a reason for that.
At the end all the sudden the cricket is wearing sunglasses playing drums and I thought "oh jesus" but then they try to appease me by having him be playing a new Stevie Wonder song called "True To Your Heart." Then I realized it was Stevie with the boy band 98°, but luckily it mostly sounds like Stevie. So, you know, it's a little bit of a reward for getting through to the end.
I wasn't the only one who didn't think MULAN was that good, but I cannot say I was in good company. One critic was homophobic radio kook, future universally unpopular governor of Indiana and conspirator against the United States Mike Pence, who wrote on the The Mike Pence Show websight, "I suspect that some mischievious liberal at Disney assumes that Mulan's story will cause a quiet change in the next generation's attitude about women in combat and they just might be right. (Just think about how often we think of Bambi every time the subject of deer hunting comes into the mainstream media debate.)"
(Because we all know how often "the subject of deer hunting comes into the mainstream media debate.")
Pence cites the Tailhook scandal as proof that the victims of that sexual harassment should not be allowed in the military with the perpetrators. Then, in classical Pencian sexual frustration he laments "that young, nubile, 18 year old men and women were actually being HOUSED together during basic training" when "Housing, in close quarters, young men and women (in some cases married to non-military personnel) at the height of their physical and sexual potential is the height of stupidity."
I think if twenty-years-older Pence – whose administration has launched a cruel and purposeless ban on trans soldiers – were to take time out from ducking the spotlight in hopes that people forget he was the head of the Trump transition team and should be in jail to write an updated moronic take on MULAN, he would focus on the movie's gentle nudge at gender roles. None of the characters qualify as what we now know as trans, but Mulan has to pass as male to do what she wants in life, and her pals later take a turn dressing as women to achieve a military objective and they seem very comfortable with it. It's nothing revolutionary, but it's at least showing that it's not embarrassing to not conform to traditional ideas of how men and women should dress. So I hope Pence is able to check out the movie again and pretend to be very upset about it before he faces justice.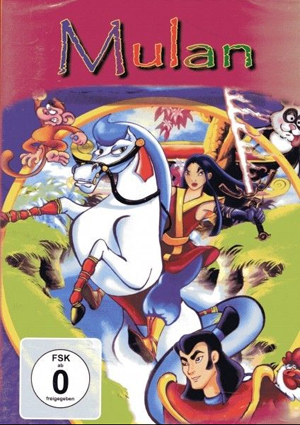 As is traditional for Disney animation, MULAN received a big merchandising push, including posable action figures, McDonalds Happy Meal toys, fashion dolls with combable hair, plush animal dolls, etc. It also inspired at least three straight to video knockoffs in 1998: MU LAN (from Australia), THE LEGEND OF MULAN (from the Netherlands), and THE SECRET OF MULAN (from the makers of THE SECRET OF ANASTASIA , THE SECRET OF THE HUNCHBACK and THE SECRET OF A SCANNER DARKLY [I wish]). And I noticed another one on ebay just called MULAN (left), but I have no information about it, so it could be the same as one of the other ones I listed or it could be from a different year. It seems to have a monkey, a panda and a chicken involved somehow. In SECRET's interpretation, Mulan is a caterpillar.
Disney's human version of Mulan is officially designated a Disney Princess, though she is not any sort of royalty in the story. She returned in 2004 for the DTV sequel MULAN II. Much of the voice cast stayed the same, but Eddie Murphy was replaced by voice impersonator Mark Moseley, who reportedly also did some of Murphy's lines for The P.J.s and definitely voices his total-ripoff-of-Mushu-donkey-character in the SHREK video games. Moseley is also known for the novelty song "Ronnie's Rap" by "Ron & the D.C. Crew."
The sequel did not go over well, but it didn't ruin the movie's good name. Like ALICE IN WONDERLAND, THE JUNGLE BOOK, BEAUTY AND THE BEAST, DUMBO, THE LION KING and ALADDIN, the studio is about to reimagine MULAN in a live action sort-of-remake. The director is Niki Caro (WHALE RIDER) and the cast includes Jet Li, Donnie Yen and Gong Li, but from the details released it doesn't sound like there's a Mushu or anything else specifically taken from the animated version.
There were a couple surprising names I noticed in the credits. First of all, Conan Lee, the martial artist from NINJA IN THE DRAGON'S DEN, TIGER ON BEAT and LETHAL WEAPON 4 is listed in "additional voices." Much weirder than that, though: Alan Ormsby was one of several writers credited for "additional story material." Yes, the co-director of DERANGED, star of CHILDREN SHOULDN'T PLAY WITH DEAD THINGS, and writer of PORKY'S II, POPCORN and THE SUBSTITUTE apparently helped out with a G-rated Disney movie.
Anyway, Disney's MULAN – from the makers of PORKY'S II may be the best animated feature of summer 1998, but I don't consider it one of the great Disney movies. Still, I think it's a good thing that they made it. An interesting thing about Disney animation is watching them get more progressive and inclusive through years of baby steps. As I often like to remind people, when BEAUTY AND THE BEAST came out it was considered a huge breakthrough that Belle read books. They always end up offending people anyway, but I think they make a genuine effort to improve their depictions of women and to reflect genuine elements of the cultures they're representing.
If Mulan was going to be an American kid's sole idea of Chinese history that would be a shame, obviously. The women besides Mulan don't end up looking so good, they only care about finding husbands. On the other hand, take a look at this clip from that Disney movie they discussed in THE LAST DAYS OF DISCO, LADY AND THE TRAMP:
First thought: WOW, that scene is such a galactic leap ahead of anything in MULAN when it comes to animated performances and visual design, even though it was made 43 years earlier. Second thought: the unflatteringly exaggerated teeth, eyes and accents of those cats were pretty much the sum of East Asian portrayals in Disney animated features before MULAN came along. The "Asian characters" Disney wiki  includes the ones from MULAN, both human and animal characters from THE JUNGLE BOOK, and some more recent characters, like somebody from BIG HERO 6. They have Edna Mode from THE INCREDIBLES, which I didn't think was correct but it turns out Brad Bird says she's German-Japanese.
But that was later, and it's a pretty big step to go from those cats to a movie of all Chinese characters, with the majority of roles voiced by Asian-American actors. I'm not sure if it did or should bother anybody that many of the supporting players – Gedde Watanabe, Pat Morita, George Takei, James Shigeta – are of Japanese descent, or that Soon Tek-Oh is Korean-American. It's still an impressive lineup. I have to respect the effort.
This entry was posted on Tuesday, July 10th, 2018 at 10:54 am and is filed under
Cartoons and Shit
,
Reviews
. You can follow any responses to this entry through the
RSS 2.0
feed. You can skip to the end and leave a response. Pinging is currently not allowed.