Today I have a Steve Soderbergh double feature. I got his new one, THE INFORMANT! followed by his previous one, THE GIRLFRIEND EXPERIENCE.
Twenty years after SEX, LIES AND VIDEOTAPE and Steve Soderbergh is still experimenting up a storm. This year he's alternating a low budget improvised drama starring a porn star (more on that later) with this big studio comedy starring Matt Damon. But as far as Soderbergh's commercial movies go THE INFORMANT! is on the weirder end. He takes the true story of a corporate crime whistleblower who helped the FBI crack open a huge price fixing scandal, but he plays it as a broad comedy.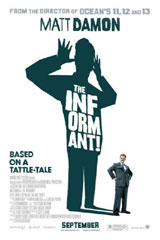 It does have the elements of a more serious movie – a huge ensemble cast, lots of businessmen, criminals and federal agents in their suits, talking in their offices, in clandestine meeting spots. It has plenty of too-complex-for-me-to-follow procedural detail about the production of lysine, the methods of price fixing and the way the FBI and the Justice Department work together to find evidence strong enough to hold up in court. But then he uses this goofy upbeat soundtrack by Marvin Hamlisch  and casts a whole bunch of comedians to play straight men: the cast includes Joel McHale, Patton Oswalt, Paul F. Tompkins, Tom Papa, Tony Hale from ARRESTED DEVELOPMENT, Andrew Daly from EASTBOUND AND DOWN, Scott Adsit from 30 ROCK, Biff from BACK TO THE FUTURE, and both Smothers Brothers. And I'm not joking, they're both in it in different scenes.
Those guys all play it seriously though, while Damon gets to be really funny as Mark Whitacre, the biochemist turned corporate criminal turned snitch. I mean we're kind of conditioned to laugh when the dude from BOURNE IDENTITY gets chubby, grows a terrible mustache and wears bad ties, wire rimmed glasses and various old man windbreakers. But the character is not some schlubby Erin Brockovich. I think the FBI first just assumes he's a moron, and slowly realizes he's nuts. Alot of the laughs come from the luck he has in pulling off his undercover work despite being completely incompetent – for example, the scene where the FBI agents watch helplessly on a spy camera while he opens up his briefcase right in front of his targets to mess with the recording device inside. And none of them notice.
I also love little odd things he says. When he needs to adjust his microphone during a shady meeting in Japan he doesn't say he has to go to the bathroom, he says, "Excuse me, I have to take a comfort break." He keeps mentioning John Grisham, Tom Cruise in THE FIRM, and how things are "straight out of a Crichton novel!"
Then there's this voiceover device that reminded me a little bit of AMERICAN PSYCHO – he keeps narrating but instead of offering some helpful insights half the time it's some inane shit about ties being on sale or something. At the beginning when he's explaining the lysine business at first it seems like an important explanation for the story, then it kind of drifts away into some guy boring you with work talk. Even when he's kind of on topic with what's going on sometimes he's talking about something really goofy, like his theories about a polar bear's understanding of his nose being the only part of his body that's not white.
These voiceovers are amusing but start to outstay their welcome – and then suddenly Soderbergh uses it to pull a pretty cool trick. In a conversation we keep hearing Mark's lies go through his head before he says them. Then when he's asked why he keeps lying we hear the honest answer before the phony one. For some reason it reminded me of that part in MISSION: IMPOSSIBLE where the images show what Tom Cruise is figuring out really happened while his voiceover is him telling the bad guy what he wants to hear.
Clancy Brown plays a lawyer, but you don't see too much of him. Scott Bakula is the standout of the non-comedians as a decent FBI agent who seems to feel a twinge of guilt about letting this nut dig himself into a hole for their investigation. But, you know, not that much, because he shouldn't. I really liked seeing him in this role. I think it's time for a comebakula. I also thought Melanie Lynskey (the other HEAVENLY CREATURE) was really good as Whitacre's loyal but more-reasonable-than-him wife.
It's an entertaining movie, lots of laughs, well made, and an interesting story. But actually it was an interesting enough story that more than anything it made me want to read the book to find out the real story. A lesser Soderbergh effort, but a good one.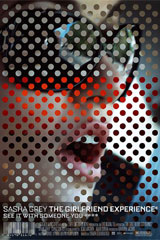 THE GIRLFRIEND EXPERIENCE
(note: not 3-D IMAX EXPERIENCE, just regular EXPERIENCE)
First thing's first – this is much different from the other Sasha Grey movies you've seen, like FUCK SLAVES or SASHA GREY'S ANATOMY. I don't just mean because there's none of that S&M or butt stuff. I mean no sex or nudity at all. And not that it was cut out, like in the R-rated cut of PIRATES II: STAGNETTI'S REVENGE, but it never was there at all. Seems like a risky way to do a porno, but people jerk off to all kinds of weird shit, I guess.
The pornos I would compare this to most would not be ASS EATERS UNANIMOUS 19, BUTTMAN'S STRETCH CLASS 2 or even THIS AIN'T STAR TREK. It's actually more in line with Steve Soderbergh's other improvised digital experiments like FULL FRONTAL (also not hardcore) and BUBBLE, low budget affairs from what for now on everyone should always call Soderbergh's Strictly 4 My Homiez series. Actually most of all it reminded me of the TV shows he produced with George Clooney, UNSCRIPTED and K STREET, which I think are his most successful uses of this style so far. It's non-actors having actual conversations, low on plot, not scripted, edited together from lots of footage, like a documentary. When he starts out I don't think he has much of an idea how or where they'll end up, he's just freestyling, taking a director's walkabout. He takes a topic, a theme, a place, and he riffs on it. So he doesn't really make a point, he just explores.
This one centers around an upscale New York City escort (Grey). She's meeting with her regular clients, rich guys who pay big bucks for kissing, conversations and dates along with their sex. Meanwhile, she has an actual boyfriend named Chris (Chris Santos) who's a personal trainer, so as it cuts back and forth between them you see how both careers are based on somewhat forced or artificial relationships. They're both kind of hoping to make connections with their clients but they're also trying to get money, so how could it ever happen? Both of them have to fit in with rich people – Chris goes on a Vegas trip with a stockbroker client and his buddies. And this all takes place during the '08 election, at the start of the financial crisis, so they all have their opinions on that and have to show off about it.
The most memorable part of the movie involves the sleaziest character I've seen in a while, The Erotic Connoisseur. He's a hairy, arrogant prick who lives in a warehouse in the back of his elderly dad's furniture store. He convinces her to give him a freebie on the theory that a positive review on his websight will allow her to raise her rates. Then he gives her a bad review. The funniest part is his bragging about a "junket" to Dubai he's planning. They'll all fly first class and there'll be cocaine and "all kinds of yummy stuff." I mean, this is the worst guy ever. And the punchline is when I saw the credits and realized it was Glenn Kenny, the critic from Premiere Magazine when it still existed, before they started sending me fuckin Us Magazine instead.
I'm not sure how you're supposed to feel about Grey's character, which is fine, but I'm also not sure how I do feel about her. She's sympathetic, but not really likable. Her reasons for doing what she does aren't explored (she just says she didn't want to take her father's money). She seems to do very well but also is kind of gullible with people taking or trying to take advantage of her. Approving or disapproving of what she does seems kind of beside the point. It seems more relevant that she has a business just like anyone else and has to work with web designers and promotion and shit. And probly gets more hits than I do.
Well, I gotta say, as much as I'd rather look at a pretty girl than a middle aged KFC manager, I thought BUBBLE was kind of more interesting. And K STREET, maybe because it had more time to get into detail and starred James Carville and Mary Matalin as themselves, was a better look at the rich fuckers who ruin our lives over there. Also I really didn't understand the significance of when it ended – to me the edit from movie to credits seemed like an arbitrary pressing of a button. But it was probly over my head.
Still, I think THE GIRLFRIEND EXPERIENCE serves its purpose in the Strictly 4 My Homiez series. It's worth watching once and it recharges his batteries so he'll still have energy when he starts shooting his kickass spy movie with Gina Carano.
This entry was posted on Sunday, September 20th, 2009 at 7:35 pm and is filed under
Comedy/Laffs
,
Drama
,
Reviews
. You can follow any responses to this entry through the
RSS 2.0
feed. You can skip to the end and leave a response. Pinging is currently not allowed.