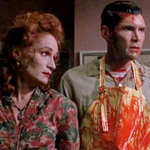 "Your father is one sick mother, you know that? Actually, your mother's one sick mother too."
I like THE PEOPLE UNDER THE STAIRS because it's Wes Craven's feverish impressionist portrait of American economic inequality circa 1991. It lacks the precise metaphoric aim and pulp effectiveness of THEY LIVE, but it's Craven's version of that same type of genre-film-as-angry-shout-at-The-Man.
In fact, one of the villains is even credited as "The Man" (Everett McGill, UNDER SIEGE 2: DARK TERRITORY). He and "The Woman" (Wendy Robie, THE GLIMMER MAN) own a big old house inherited from their family, living off of the rent from the "half of the ghetto" that they own. One of their tenants is our 13 year old protagonist Poindexter Williams (Brandon Adams, GHOST IN THE MACHINE – and this kid looks really familiar for some reason), who goes by the nickname Fool after the Tarot card of some joker trapped between a fire and a cliff. That's where he is now, because at his back is having to pay triple rent or get kicked out of the apartment so the Man and Woman can razed it and build condos, at his front is his sister's friend Spencer (Ving Rhames, FORCE OF EXECUTION) trying to pressure him into breaking into the slum lords' house to steal gold coins they can use to pay the rent and for mom's cancer treatment.
When I've been priced out of apartments or seen beloved local businesses pushed out to be replaced by condos or a Chase Bank or a CVS, I always wonder if the people behind it even notice that they're fucking us over. Does some deep down part of them understand that they are assholes who are pushing people out of their homes and destroying the culture of a neighborhood, making life worse for people they'll never meet face to face? Or are they just clueless self-absorbed people who see the numbers and don't even think about the human beings that are impacted?
Well, in this case they do think about the people. And they hate them. We cut to their living room one evening as The Man uses the n-word and The Woman dreams about owning buildings for "clean people." It's a ghoulish parody of a family discussion that plays like a cross between a nice fireside chat and that scene at the beginning of A NIGHTMARE ON ELM STREET where Freddy builds his glove.
Hey, if people want to live better they need to pull themselves up by their bootstraps and work hard just like these people did, right? Well, the property and the house – which Fool says has room for ten families in it – and the furniture and everything were all inherited. I'm sure they feel that somebody somewhere far back worked really hard to give them the right to look down on the people whose misery they profit from. But you can see why Spencer would think that stealing back was justified and the only solution to the problem and why poor Fool would find himself helping the big tough guy break into this scary place by being small enough to climb through a doggy door.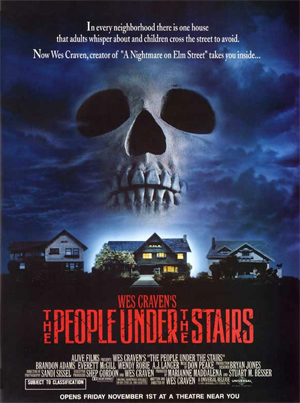 Spencer thinks he's bad, but he aint' bad, he ain't nothin. I mean, sh'mon. Oh shit – that's where I recognize this kid Brandon Adams from! He's in Michael Jackson's MOONWALKER as little Michael in "Badder," the BUGSY MALONE style all-kid remake of the BAD video. He doesn't do any dancing in this one, because he never goes into a subway station or anything. But he represents a youthful innocence in the middle of all this madness, whether it's the crackhouse-like situation in his building or the horrific crimes he discovers going on inside the house he breaks into. He goes there as a thief, ends up as a savior, like sort of happens in that other Tarot-inspired movie, HOLY MOUNTAIN.
The most traditional tension in the movie comes from the break-in. Fool doesn't really want to be there, but he's trespassing in this big empty house, tip toeing quietly, hoping no one is home. And he discovers that someone is home. Alot of people are home. That's when it gets weird.
See, there's depravity barely concealed behind the Man and Woman's ultra-thin veneer of Ron and Nancy wholesomeness. Their daughter Alice (A.J. Langer, ESCAPE FROM L.A.) has never been outside the house, like an indoor cat. She tries to be a normal little girl even though her chores include scrubbing blood off the floor and then she gets yelled at if it gets on her white dress.
And they have a whole lot more dependents in the home, mutants or inbreds or something, imprisoned in the basement. One of them named Roach (Sean Whalen, JERSEY BOYS) has gone rogue and climbs around inside the walls. They hunt him like a rat but can't seem to catch him. Being assholes, they have a framed cross stitch of the saying "Children should be seen and not heard." Roach is the opposite. They can't spot him but they keep hearing him in there.
When the Man and Woman discover burglars in their home it's like a fun opportunity. They sic their dog (named Prince, but probly not after the singer) and chase them around, shooting through the walls, treating it as sport. They're happy to murder intruders and dispose of them. They feel free to indulge in their chosen lifestyle behind closed doors, but they must avoid police attention. The Woman has a counter-intuitive rule: "Never shoot your gun outside!"
Most of the movie occurs in the house, first with Fool being chased and trying to escape, then coming back and trying to bust Alice out. The house is equipped with hidden passages, secret weapons caches and stairs that flatten out into slides. There's much blocking of doors and climbing through windows, vents and crawlspaces.
To give you an idea where America was on race relations in 1991, the Rodney King beating happened 8 months before this movie came out. Although these villains make their living from black people, they are afraid of them. When Fool comes to the door wearing a boy scout uniform, The Woman gets rude and scared and locks the door. "Neighborhood's changing," she later says. Okay, in this specific example he actually is up to something, so her suspicion is correct for once. But it's easy to be reminded of George Zimmerman and other cowardly adults who have killed black kids and then claim to have feared for their lives.
When the Woman discovers that Alice has befriended Fool she is not happy about who's coming to dinner. She says "We will get him out of our house! He's filthy! He's bad! He's awful!" This privately held disdain for African Americans extends into her business practices and affects an entire neighborhood. When confronted by Fool's sister Ruby (Kelly Jo Minter, THE PRINCIPAL, A NIGHTMARE ON ELM STREET 5) about pushing the community out to build office buildings she says disgustedly, "There's no community here. All I see are a couple of ni–" before that thing happens where suddenly a hundred people walk in from every direction, the entire neighborhood showing up en masse at the exact right moment to literally stand behind her. Something like this happened in CANDYMAN, but you mostly see it in broad, corny dramas with inspirational storylines.
That shows that old lefty Craven had an optimism that Carpenter lacked. The titleistical people under the stairs are barely treated as monsters, as you'd expect them to be. They are captives who seem to represent an oppressed under class, and they start shining lights through spaces in the boards to blind the Man and the Woman. They tear through the stairs and the walls, surrounding and outnumbering them. An uprising.
The friendship between Fool and Alice definitely implies a positive view of the future. They're both just kids, they instantly relate and help each other, they don't ever acknowledge race or class differences, if they notice them. We know that bigotry gets passed down through generations, but it doesn't have to. Homophobia, for example, has greatly decreased over recent years as new batches of young people have on average been more accepting of different lifestyles than we were at their age. Alice could be the one to break the chain on the racism in this family.
And at the end they blow up the house and the money flies out the windows and chimney to all the people of the neighborhood. That shows that Craven's dedication was more to the message than the genre. He gives it the happy ending he wants instead of the killer's-still-out-there ambiguity that horror movies usually demand. It even gets a corny end credits rap song called "Do the Right Thing" by Redhead Kingpin.
He throws in plenty of other socio-political references, sometimes playing more like a list of things we were concerned about back then than a coherent message. A TV shows news coverage of Operation Desert Storm, and later Fool drops a brick down a chimney onto The Man's head and quips, "Guess it was one of those smart bricks!" (If you don't know the reference, there was famous war footage of a so-called "smart bomb" going directly into a chimney, giving the impression that the new war technology was very accurate and wasn't killing civilians.)
They talk about "see no evil." The Woman yells "KAKA!" instead of swearing. They act like censorial prudes, but they're actually incestuous perverts. The Man likes to run around in a leather S&M suit, and at one point he's grabbing his crotch while approaching his daughter. When he discovers Fool's abandoned boy scout uniform he sniffs it. There's a scene where police do come into the house, and as they show them around The Man is slyly hiding chains, handcuffs, weapons and a dripping head wound. But of course they're white, they're the landlords, so… nothing to see here, sorry to bother you, folks. Nobody notices anything odd.
So some of the references and the attitude and music are an early '90s time capsule, very post-Reagan-and-Bush, about-to-have-Clinton type of concerns about debunking the Leave It To Beaver vision of family values. But sadly most of it is timeless. The main topic is still very current and familiar, and our current election has grabbed our faces and rubbed them back and forth in the fact that Alice and the people under the stairs have not taken over yet, we're still besieged by shitheads carrying on in the grand traditions of their hateful ancestors. And though there's been this idea of Trump supporters as fed up working class people, they actually average much higher income than me and my friends. They might actually be the people who own our buildings. What I'm saying is that yes, absolutely, 100% we can assume that The Man and Woman would vote Trump and wear the hats and everything.
I've always felt the subtext in THE PEOPLE UNDER THE STAIRS worked better than the horror, that the symbolism makes more sense than the scenario. But it's weird and novel and Craven-y enough to be alot of fun. Most directors wouldn't make a violent R-rated movie with a kid as the main character. And none would have the kid create a distraction by wedging gold coins into candles so that they'll drop as the wax melts and it will sound like somebody's counting money in the corner over there. Craven loved those boobie traps. That part made me smile.
Also there's a part where Fool jumps out and punches The Man hard in the balls. I have always felt there wasn't enough ball-punching in cinema. That's a nice and direct way to stick it to The Man. I recommend THE PEOPLE UNDER THE STAIRS.