ACT OF VALOR takes the covert-military-mission subgenre that we know so well from the works of Cannon and Nu-Image and puts a new spin on it: it's a special ops procedural. Directed by 2005 Baja 500 winner Mike "Mouse" McCoy and stuntman/documentary editor Scott Waugh (together known as commercial directors "The Bandito Brothers"), it combines the old "elite team of warriors have to stop a mad bomber" formula with sort of a Soderberghian approach, building the movie around non-actors and taking advantage of their real life skills and unpolished presence. Except for the abducted CIA asset they have to rescue (Roselyn Sanchez from RUSH HOUR 2) the heroes are all played by actual Navy SEALs. "Active duty," the ads and press releases like to say, so their last names are left off the credits.

The idea for the movie started after the Brothers did an official military film called NAVY SWCC, about the guys on the boats who often deliver the SEALs to and from their missions. They oughta be called the C-LIONs or something but they are the Special Warfare Combatant-craft Crewmen. So working with the SWCC the Brothers built a relationship with SEALs that led to developing a Hollywood action movie with their consultation. But it's kind of like when the Hughes Brothers were doing research for an Iceberg Slim movie and realized they should should do a documentary about the real pimps instead of acting it out. The Banditos realized it would be cooler to have real SEALs in the movie instead of actors. I mean, Charlie Sheen is pretty busy anyway, and Jesse Ventura's getting old.
Of course the SEALs are doing all the stunts, which include many shootouts, ambushes, some grenades, some rockets. There are swiff boats, helicopters, submarines, skydiving, truck chases, camera drones. It reminded me a little bit of SNIPER, because it's so much about planning things out and waiting for the right moment and praying that the extract team shows up on time. But of course it's a bigger team and it's less character driven. There's plenty of talk about saying goodbye to your family and sacrifice and pregnant wives in between the three big mission sequences, but the emphasis is on the missions and the teamwork.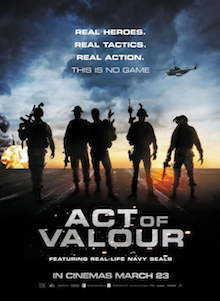 The genius of using real SEALs is that they apparently planned out the missions themselves. The Navy got final cut (unusual for a first time director!) supposedly to remove sensitive military secrets, but for the most part the movie apparently shows authentic tactics inspired by 5 "real life acts of valor." At times I was removed from the movie a little thinking what a pain it must've been to do it – they had to schedule their filming around the availability of these soldiers and equipment. They have a short scene on the top of an actual nuclear submarine! It's fuckin crazy.
It's like some low budget movie where you get the actors there to film on the weekends when you can, and in between they're doing their day job. These guys, who knows what crazy shit they were doing in the off hours. The movie was finished before bin Laden was killed, but they could've had other missions. I hope the DVD has outtakes of them rescuing actual hostages from Somali pirates or something.
Anyway, I wouldn't know how realistic all this is, but it's convincing to me. And while I'd hate to live in a world without the more ludicrous Chuck Norris version of this type of story (DELTA FORCE, INVASION USA) it's exciting to also have this version where it seems like you're seeing something close to how these type of missions really go down.
The most important question to me (sorry I made you wait this long) is whether or not the action is shot like shit. I almost went to see it on opening day but after reading a couple reviews that compared it to a "first person shooter" I decided to wait until I received assurances from trustworthy sources that it was gonna be legible.
Good news: it is about 90-95% comprehensible action and therefore Vern approved. Luckily when reviewers compare it to those video games it doesn't mean shakycam, it means point-of-view shots. Along with more normal types of coverage cinematographer "Professional" Shane Hurlbut used helmetcams quite a bit to get the view of the soldiers sneaking in, looking through their viewfinders and all that. But that means the camera stays pretty steady since they're moving in trying to do a precise job, they're not in a mosh pit or sticking their head in a paintshaker. Most of the action makes sense and most of the show-offy camerawork pulls me into the action instead of working against it.
Now, when our heroes aren't skydiving or sniping or sneaking around doing hand signals they do have some dialogue. And I admit I had a hard time telling some of them apart, even with their gear off. They don't have a huge amount of screen presence, and I think some of the people who claimed that Gina Carano was bad in HAYWIRE will have to have some self-reflection after seeing this. But I have to say, I like them. I don't know why so many people are close-minded toward the non-actor approach. There's a quality that guys like this bring to movies that I think is a fair trade off for smooth line readings. They look and sound and carry themselves in a way that actors never do in these types of roles. They seem like hard working, serious minded professionals. Personally I love seeing great performances by actors, but I also like seeing that un-fake-able quality a pro-wrestler or a martial artist or a Navy SEAL can bring to the screen.
As much as I enjoyed the action sequences I'd have to say my two favorite parts actually involved talking. The first is before the first mission, when the families of the SEALs are enjoying a night on the beach together, and the soldiers all huddle up for a pep talk about how they have to make sure to take care of any problems with their families or finances before they leave so that they can focus on the mission and not stew about some shit back at home. It's like a gentle version of what they did putting R. Lee Ermy in war movies – it seems like they just had him say what he would normally say in that situation.
The other one is the interrogation scene, where the team leader guy (the one with the beard) has one of the masterminds in custody and sits down for a talk. This is the part of the movie with the most humor, as he messes with the prisoner, acting overly casual and pretending not to know who he is. Then he gets down to business. I totally bought this scene and was checking to make sure I wasn't just gullible and that guy was an actor – I did find an interview where the write explains that the chief never met the actor playing the terrorist and was only told what would be in his dossier and then they let him at 'im. Kinda like how they had those kids really stay in the woods in THE BLAIR WITCH PROJECT and saw what happened when they played spooky sounds at them.
In an earlier scene the narrator dude said that he'd rather take a knife to a gunfight than be interrogated by the chief, and I wondered at that time if it meant he was great at getting into someone's head or that he was a torturer. Phew, turns out it's the first one. And when he yells that the suspect's gonna get "locked up in a box" if he doesn't help them out he seems to catch himself and says, "We'll treat you humanely." And this is a great moment because you wonder if he's being sarcastic, if he's cleaning it up in front of the moviegoers, or if he actually means it, which I think he does. And if he actually means it, is he right? Is the guy really not gonna get Abu Ghraibed, or is that just a nice thing for the interrogator to believe when he washes his hands of it and goes home to his family?
The villainous plot seems pretty far-fetched. They probly didn't want to use Arabs, so they combined a bunch of real world dangers into what seems like an unlikely super-team: a Chechan extremist and a Russian opportunist team up in the Phillipines to build a powerful, metal-detector proof suicide vest that they plan to sneak into the U.S. with the help of Mexican drug cartels. In a Cannon movie or an Andrzej Bartkowiak joint I would actually want it to be a little more extravagant. They don't have any real over-the-top speeches or scenes where they abuse their underlings to demonstrate how evil they are. But in a quasi-realistic movie, especially one endorsed by the Navy, it's hard not to question it. Do they want us to think this is a real threat? Are they trying to make us afraid of everyone?
When the terrorists flip through photos of their targets it starts with Las Vegas, home of American decadence (and Cirque du Soleil), and the last one is the sign for the Pike Place Market, less than 10 blocks from where I saw the movie. It was weird to have that as the end of the scene so I started to wonder if it was possible that they made different versions of that shot to show in different regions. Probly not in this case, but with digital distribution I bet they'll start doing stuff like that eventually. It would be a creepy way to make the threat hit closer to home.
That brings us to one of the things that all reviews of this movie are supposed to focus on, the idea that ACT OF VALOR is propaganda. I assure you that I am an anti-war lefty, but personally I was not bothered by this aspect of the movie. The number one reason for this is because what kind of a numb-nuts goes to a movie knowing that it stars "active duty Navy SEALs," and then acts like it's a surprise that it depicts them as heroic and awesome? And what, you thought the title was sarcastic?
No, of course that's what it is, and you go to it with the understanding that that's what it is, and most likely you have a brain in your skull that you can use to properly analyze the movie and put it in context with your understanding of the world and the history of war. If you're completely helpless to watch this movie without accidentally signing up for the Navy then I don't know, maybe you need something to shape you up anyway, because your brain muscle is not cutting it. I kind of doubt you'll make it to the SEALs, though.
This interesting article on The Huffington Post says of the movie, "There are no corrupt officers, no damaged heroes, no queasy doubts about the value of the mission or the virtue of the cause." That's an accurate description, and if all, or most, or even alot of modern war movies were like that I might have some concern that somebody's trying to sell us a sanitized view of war where it's all good vs. evil and the only bad part is the hero's burials are sad. But that's not the case. This movie is the exception to the rule.
I'm embarrassed to be on the same side as the dipshits quoted in this post here, and the ones who are happy to consider this "alternative right wing entertainment." They've always dreamed of a way to bleep out liberal things like not making everything 100% cut and dried and trying to look at the big picture and questioning things, and so far the technology is not available, so it would be good to have more movies where it's just some awesome guys with American flags and guns shoot some evil foreigners in the head before they kill children that just want ice cream. I would not want all or most movies to be like that. I can't believe these people are so partisan that they let their politics overpower something as instinctive as what movies they like.
I mean, I put a high value on movies that are both awesome and reflective of my view of the world – a THEY LIVE or a STARSHIP TROOPERS. But I'm not gonna pretend that movie BOBBY is better than DIRTY HARRY just because it tells me what I want to hear politically and the other one goes against some of my core beliefs. No, BOBBY sucks. DIRTY HARRY is way better. For right-wingers who can't be artistically flexible like that I can see why 300 and ACT OF VALOR are a fuckin godsend. The Navy SEALs not only rescue kidnapped journalists, they also rescue these goofballs from only being able to watch Kirk Cameron movies and THE BLIND SIDE.
But I'm a frankly honest individual so I admit to agreeing with those nuts that ACT OF VALOR is not offensive. It's simplistic, but I don't think there's anything wrong with that. I think the skills, professionalism and selflessness of the soldiers are interesting enough to hold up a movie. This particular one doesn't have to be about those corrupt officers, damaged heroes and queasy doubts. I know about those things, I can fill that all in myself, and if I couldn't there are plenty of movies about it from all eras of cinema. These are all important issues and they should continue to be acknowledged in movies, but they don't have to be mandatory for every single one. In fact, turning these realities into movie cliches doesn't do the cause any good, and making all movies about the cause over and over again doesn't do the movies any good. Again, you're choosing BOBBY over DIRTY HARRY.
And sometimes maybe we Americans who don't believe in blindly following our politicians into war have a white guilt type approach to this material. We don't want to feel guilty of rah-rah militarism even though we love action movies and are interested in what goes down in battles. I think if it was about how awesome the S.A.S. or somebody was we wouldn't have the same reservations.
I mean, it's okay to enjoy this. Maybe not as much as the guy sitting on the same row as me did, but still. If you're worried about your kids being brainwashed just make them watch FULL METAL JACKET or something afterwards.
I like ACT OF VALOR and I kind of hope they make a sequel. I don't think the Navy'll let 'em go MAGNUM FORCE and explore those complexities, but there is room for improved villains and equal or greater special ops set pieces (maybe with more caper-movie style suspense as things go wrong and they have to go to plan B and C). Or maybe even going into a more ludicrous DIE HARD type of scenario with a scenery-chewing name actor villain, but using reality-based tactics.
Until then, part 1 has a well-utilized gimmick and a refreshingly different feel from other action movies of this era. I'm more of a HAYWIRE man myself, but it's good to have another solid American action movie playing in theaters.
P.S. The Bandito Brothers are interested in other elite, secretive teams besides the Navy SEALs. Here is one of the commercials they did: