THE DISAPPEARANCE OF ALICE CREED is a simple story about two kidnappers and their hostage. And it's not one of those stories where they become friends. It's a simple, well-executed thriller and especially before the plot starts thickening this thing is deeply unsettling.
It had me right from the great opening scene: a montage of these two nefarious individuals (Martin Compston and Eddie Marsan) shopping at a hardware store and then preparing an abandoned house as a kidnapping hideout. It just goes through step-by-step as they add locks, cover windows, soundproof the walls, put together a bed with chains on it… it's like a sinister version of one of those home makeover shows.

They know exactly what to do, they don't talk, they just do it. Very professional. There's even a shot of them stopped to rest and have sandwiches after finishing the foam padding on the walls. I bet they even time their lunch break. Marsan is older, like maybe he's the boss or the mentor. Or maybe something else.
They prepare the inside of the van, reinforced for containment. They ritualistically lay out all the tools they'll need. They put on their outfits (clip-on ties – don't wanna get choked). Every detail seems to have been considered. They even changed the clock in the house, I'm not sure why. (Maybe 'cause the old one had sharp edges?)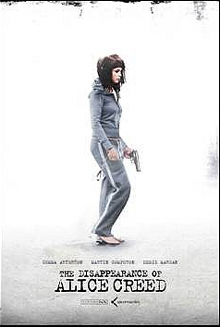 When they snatch poor Alice Creed (Gemma Arterton, "Strawberry Fields" from QUANTUM OF SOLACE) the movie completely dehumanizes her – we don't see any of her life at all, not even the place she's standing when they grab her. The camera is inside the van as they drag her in. We don't see her face until after they've tied her to the bed and stripped off her clothes. No, not to sexually assault her, it's not like that. They treat her more like cattle. They take photos of her to send to her rich father with the same kind of attitude a farmer would have checking the teeth on a cow or something.
It's like a good pulp novel – you don't like a single thing about these bastards, but the look into their process is so interesting it tricks you into watching them and wanting to find out what happens. And by having the filmatism sort of mimic their point of view it implicates us in their crime. We're like hey, no, we're not part of this. We're just watching. No, not like that. It's, uh– we're innocent, we swear!
One of the main things that makes the movie work is this Marsan guy, he's fucking scary. Kind of a short stocky guy with goofy ears and cruel eyes (the opposite of the "gentle Matt Damon eyes" I mentioned in the last review). I looked him up and it turns out he's been in a bunch of movies I've seen, but I never noticed him. Here he just looks so cold and tightly wound. But strangely when he puts on the ski mask to hide his face from the girl he looks less scary. He's very direct and all business, like a highly competent bureaucrat trying to do his job efficiently. It's only when we see him in the other room, growing increasingly frustrated with his young, inexperienced partner, that we know he's an atrocity waiting to happen.
There are some twists and turns as the movie goes on. There are some things that turn out to be going on that weren't initially apparent. Alice does what she can to try to get these guys to let her go, or give her a window for an escape attempt. As we start to see character arcs and plot and all the shit that you're supposed to do in a movie it starts to feel more like a pretty good low budget thriller with clever use of limited locations and less like a well-placed sucker kick to the lower gut. But it's still pretty good and it's able to roll into the finish line on the strength of that early push.
It stays pretty smart, with only one part I saw as a not-believably stupid move by one of the characters, and it has one of the best title reveals I've seen in a while. Not that I've seen alot of good title reveals, or thought of "title reveal" as being an actual thing that has a name and can be ranked by quality. Well, forget it, if it's worth mentioning you'll know it when you see it. Pretty good movie though.
The director is called J Blakeson, he wrote THE DESCENT PART 2 and a couple other things. Hopefully we'll see more from him. His next one's supposed to be "a TITANIC-like historical tragedy and love story" about the Chicago Fire and written by Christopher Nolan's brother, so I guess that means we will.