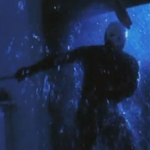 THE POOL is from 2001 and is one of these slick studio style slasher movies that came out because of SCREAM. I guess Australia got CUT and Europe got THE POOL. (I'm giving it to the whole continent because it's got British stars, takes place in Prague, and is a German production). It's another whodunit slasher, with the unknown killer in a skeleton mask and all black clothes stalking a group of rich kids who've broken into some rich person's extravagant swimming facility for an after-hours graduation party.
The opening is definitely modeled after the Drew Barrymore section of SCREAM, but instead of a teenager home alone it's a rich lady preparing for a dinner party. And she's more with-it than Drew: she goes right to the shotgun, and knows how to use it. But not well enough, obviously.

And they use popular music just like SCREAM did. It turns out England must've had that horrible pop punk thing after Green Day was huge. I would've thought that was confined to our shores. Sorry about that, mates.
Look at this DVD cover here, with the floating heads as popularized by the SCREAM poster. Yeah, they knew what they were doing. I just wish they would've called it POOL. That's probly why it didn't catch on. You can't have an article in a SCREAM rip-off title. It doesn't sound right.
One refreshing thing for a SCREAM rip-off: it's not meta at all. They're not film buffs or filmatists. They don't talk about horror movies, or pop culture in general. It's not trying to say anything about horror or pretending it's trying to. It's just a horror movie. Thank you for that, THE POOL.
On the other hand it does have a part where a character says "Somebody locked this place down tighter than a virgin." So even if they're not doing a bunch of references they're not necessarily saying anything better.
The police part of the plot I guess you could say was closer to HALLOWEEN than SCREAM. The cops don't have a history with the killer, but they're a separate subplot, investigating a murder with only one suspect, who they know is headed to the graduation party, so they gotta find out where that is and go there. They see a photo of this guy but we don't, so we don't know which kid it might be.
And when I say "kid" I'm just going with the mythology of the movie. They're supposed to be just graduating high school, but other than baby-faced James McAvoy (who was 21 at the time) they all look more like teachers than students. (I don't mean that in a Casey Ryback way, I mean they don't even come close to passing for teens.) McAvoy was the youngest, the rest of the cast were between 25 and 30, and they look it. Would it have been that hard to just say it was college graduation instead of high school? I don't get it.
Isla Fisher is also in this movie, so you could actually argue that this cast has gone on to more success than the one from the real SCREAM. Barrymore, Cox, Arquette and Campbell were already well known for other things. So you got Matthew Lillard going on to SCOOBY DOO (which Fisher was also in) and Jamie Kennedy doing SON OF THE MASK. In comparison McAvoy went onto all those Oscar bait movies, and the X-MEN one. And Isla Fisher… well, I liked her in THE LOOKOUT. And she married Ali G.
Oh yeah, I almost forgot Liev Schrieber was in SCREAM. He was in an X-MEN movie too. A not as good one, but still, it counts. And Matthew Lillard was in THE DESCENDANTS. Never mind, I take it back, the cast of SCREAM went on to better things. But still, it's cool that THE POOL has McAvoy and Fisher in it. Helps Fangoria fill their "Skeletons in the Closet" column. (I'm pretty sure they already did this one.)
Unfortunately the most original kill is given away on the DVD menu, so I'll give it away here: a girl is going down a waterslide (weirdly this is not really established until she's going down it – wait a minute, there's a waterslide in this place?) when suddenly a machete pops through the bottom of the slide, right in front of her, uh, area. Ouch! This actually seems to be a specialty of this killer: he gets underneath things and stabs up through them. He does the same thing later when they're climbing through a vent. It's like DIE HARD 2. But nobody says "this is like DIE HARD 2." That's the great thing about it.
Although the titleolular pool is obviously the one where the party takes place, there are at least two other pools in the movie. I guess everybody has pools in Prague. One of the main characters, Isla comes to meet her and she's floating face down in the pool, OH MY GOD, SHE'S DEAD! – but it turns out she's practicing holding her breath, 'cause she's a diver. That old fake scare. But I do give it points for being a combination fake scare and setup for her having to hold her breath to swim through a tunnel to escape. It's a pretty intense scene combining the fear of not having air with the poor gal getting her hands all cut up on a metal thing.
Another notable thing about the practicing-holding-her-breath scene: as soon as she's done she smokes a cigarette. Imagine how long she could hold her breath if she took care of her lungs!
McAvoy's character, in the tradition of WANTED and X-MEN and probly other roles, comes off as way more douchey than he's probly supposed to. He takes the role very seriously, and gets especially into it when they find out they're locked in and he starts flipping out. His face gets all flushed and he yells and starts jumping up and slamming his body against the door. And he keeps yelling "It's locked!" Oh, is that why we can't get out?
He's an angry guy and spends most of the movie pouting and whining about his girl troubles. His friends are probly partially relieved to have this whole massacre thing going on just so they can talkabout something else.
Come to think of it, this movie is really short on likable characters. The swimmer is okay, although she reveals that she slept with her best friend's boyfriend. I like how they have to work through that, they don't fall into that women-backstabbing-each-other trap. But Isla complains to McAvoy about the entitlement that he and all his friends have from being rich, and he just gets mad but never disproves her. They drive around at high speeds in their expensive cars while drinking and doping and they got this one friend who's a working man, a mechanic, who they like because he knows how to break into the place for them, and then as soon as the shit goes down he's the first person they blame. Fuck these guys. No wonder a skeleton is trying to stab them from below.
It takes them weirdly long to find any of the bodies, but once they know there's a killer stalking them it turns into a survival thing. They can't get out so they have to wait him out. "It's nearly sunrise. We've got to hang in here only a couple of hours," one of them says. I'm not sure why sunlight is supposed to save them, even if they think he's a real skeleton. That's a different monster you guys are thinking of, I believe.
I was hoping the killer would really just be the owner of the place, and he would claim he did it in self defense. The whole outfit was his pajamas, and the skeleton mask helps him with his snoring problem, maybe. Or maybe not, who cares, a man has a right to dress as a skeleton in his own pool house.
This could use alot more weirdness. It's just too generic to be very memorable. But some of the cat-and-mouse scenes and the final showdown are pretty well done. And the mask looks pretty good. It's watchable enough I guess.
thanks to Sternshein for recommending this in the ALL THE BOYS LOVE MANDY LANE comments