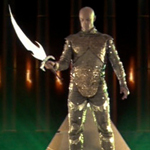 based on characters NOT created by Stephen King
LAWNMOWER MAN 2: JOBE'S WAR (theatrical title: LAWNMOWER MAN 2: BEYOND CYBERSPACE) is a weird sequel to a weird movie. Part 1, of course you remember since it is one of the most cherished and analyzed stories of all time and one of the primary pillars of our culture, is about a mentally challenged landscaper named Jobe (Jeff Fahey) who through virtual reality programs and smart pills becomes a mad telepathic super-genius who kills a bunch of people by controlling a lawnmower with his mind and then tries to live in computers but Pierce Brosnan blows up his lab. Part 2 picks up with stock footage of the explosion and reveals that Jobe survived all burnt up. When he heals he's a bald Matt Frewer, who does not waste time pretending like they didn't hire him because he already played a person who lived inside a computer world. He seems to use craziness as an excuse to act totally different in different scenes, but there are definitely parts where he's mugging and quipping exactly like Max Headroom.
Part 1 took place at "the turn of the millennium." Part 2 takes place in "Los Angeles – the Future," a BLADE RUNNER type city of skyscrapers, monorails, futuristic vehicles I assume are left over from other sci-fi productions, fire barrels, steam, sparks and outdoor TVs. But Austin O'Brien (LAST ACTION HERO) returns as Peter, and he's four years older, so that means this is around 2004. The futuristic year that SHREK 2 came out.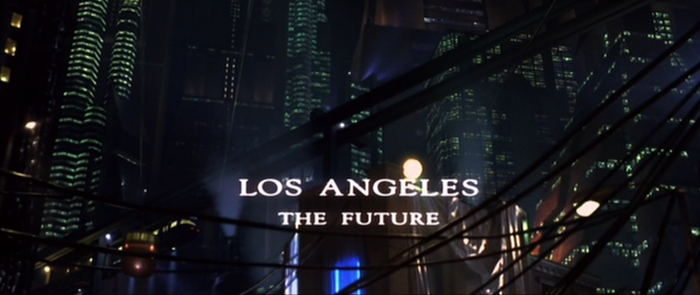 I mean, this is a real dystopia though because there are NO lawns in this movie.
Peter is now a rollerblading, ATM hacking cyberstreetpunk living with his friends and their dog Harvey in an abandoned subway station. They're a little bit like THE MATRIX crew in their taste for dirty cable knit sweaters and "jacking in" from a crude computer station where their operator is the dog. They yell through the TV for him to "put in the cybercycle disc!" so he can insert a mini-CD with his mouth to give them vehicles within the VR world.
The computer graphics are definitely improved from part 1 but the filmatists also make the wise move of using the actors in live action instead of animated avatars, and sometimes using live action (and model?) backgrounds to represent the virtual world. They have a greenscreened Peter Pan flight over a rain forest, for example.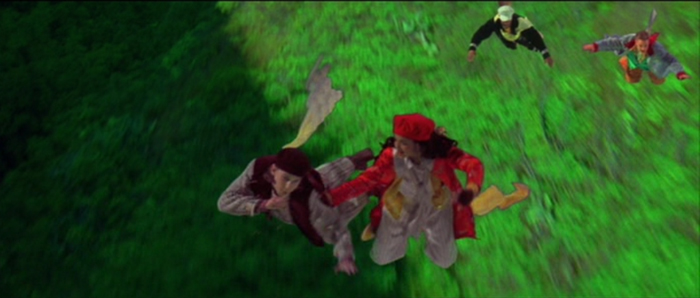 Jobe seems to live in a lab at what is now called the Virtual Light Institute. He enters Cyberspace (wearing actual gold armor now instead of being animated that way) and tells his old friend/lawnmowing client Peter to contact "the father of virtual reality" Dr. Benjamin Trace (Patrick Bergin, HIGHWAY TO HELL) to tell him something something chyron chip. Turns out Trace invented said chip, but when he lost his patent to VLI years ago he went off the grid, relocated to a remote desert cabin/greenhouse and grew white boy dreadlocks. Peter eventually convinces him to help "save Jobe," and then they figure out that actually Jobe has gone crazy and must be stopped. VLI is planning to release a new cyberspace (?) or something, a big virtual world that everyone in the world will share.
Why is that bad? For one thing, they're lying about their privacy policy, and are happy to use the technology to steal user information, for example to make a list of "all hypocritical Democrats making over 300,000 a year." And Jobe causes a plane crash to kill a liberal senator before he can rescind their license.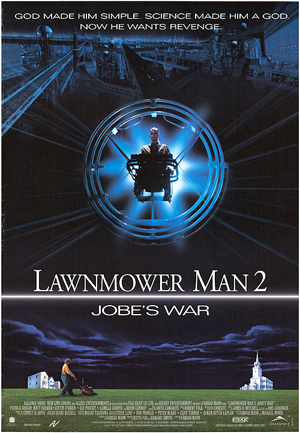 Another reason it's bad is because it seems like the only thing you can do in this world is sit in an arena watching Jobe give grandiose speeches about being their cyberspace savior. He doesn't even have an organist like in real church. What a bore.
So Trace is an adult going around with these beret-wearing moppets who look like the kids in MOONWALKER. This movie would've been so much better with Michael Jackson in the role. But I guess it wouldn't make sense 'cause how could you have Michael Jackson in a movie and not have him play the floating god in golden armor?
Trace starts surprising his ex Cori (Ely Pouget, L.A. TAKEDOWN), who is still angry at him for leaving to become a quasi-Native American or whatever, but he gets her to help them out. Somehow she doesn't get too upset when he has children fake being run over by her so he can sneak into her backseat and scare the shit out of her. What the fuck. She still works at VLI, which is weird, because she seems like a normal, nice person and literally every single other person employed by the corporation is openly sinister.
So they type into computers and sneak around and mess with the security cameras and make plans and all that. There's one of those waterslide type tubes that they slide through and it takes them into a garbage dump. That's how you know this shit is adventurous and whimsical and all that. Also because of the overblown score by Robert Folk (POLICE ACADEMY). At some point Molly Shannon appears as "Homeless Lady," but I didn't spot her. Then there's a big scene which will be absolutely delightful for anyone who has always dreamed of a movie climaxing with a stiff sword fight between Patrick Bergin and Matt Frewer.
There's a couple weird character touches with the villainous CEO (Kevin Conway, THE FUNHOUSE) and his creepy bleached-eyebrowed assistant (Camille Cooper, SHOCKER). Before they put Virtual Light online, he's about to put his headset on and he turns to her nervously, like he's scared to go into VR, and she has to comfort him. A surprising moment of vulnerability there. Then afterwards she whispers to him and they get up and leave with unmistakable "we're going to go fuck now" body language, but moments later Cori calls him on the video phone and he's by himself eating chicken wings. Great job, champ.
The DVD I rented was having problems playing the last 15 minutes. I tried it on multiple players and had it buffed and eventually was able to watch the end only in full frame. I was almost ready to believe my friend's theory that nobody has ever gotten all the way through it so they never bothered to make the last 15 minutes. I'm not sure it was worth all the effort, but it was important to find out that Jobe, who tried to become a God and caused riots in the real world and attempted to kill Peter and his friends by crashing both a subway train and a helicopter into him, is immediately forgiven. An electrical overload somehow regresses him back into a mentally challenged person – so, not evil anymore – and they all seem to go live together happily on Trace's commune for ex-hackers turned nature lovers.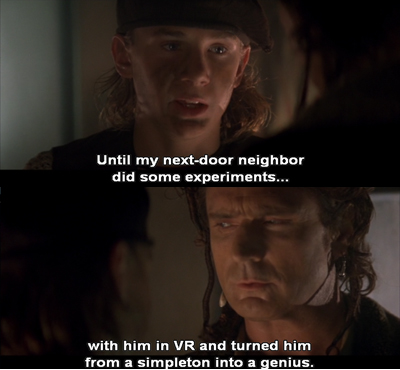 I think maybe the funniest thing about the movie is that they felt obligated to mention a few times that Jobe used to mow lawns so that it would seem like there was some vague reason for the title. Explaining his backstory, Peter says "he was my lawnmower man." Is that really a term, like mailman or garbage man or milkman? I never heard it before but I only know places where people mow their own lawns. Apparently it's not a noble job, because Trace tries to belittle Jobe by saying "You're still just a lawnmower man!"
I sure hope at the end when he's not a maniacal cybergod anymore he finds some place that has lawns for him to mow.
While I cannot claim this movie is good, I can at least give director Farhad Mann (NICK KNIGHT, RETURN TO TWO MOON JUNCTION and yes, an episode of Max Headroom) some credit for not remotely following the template of the first one, giving it a completely different world and tone, more like an adventure for kids that's a little bit ahead of the curve on the cyberpunk stuff. Or at least early in trying to catch up with JOHNNY MNEMONIC. Mann wrote the script with co-story by ROBOCOP co-writer Michael Miner. It's cheesy, but it's ambitious. Give them points for trying.
This entry was posted on Thursday, March 9th, 2017 at 11:08 am and is filed under
Reviews
,
Science Fiction and Space Shit
. You can follow any responses to this entry through the
RSS 2.0
feed. You can skip to the end and leave a response. Pinging is currently not allowed.