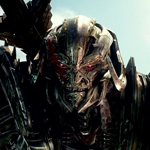 "Y'all wanna see some dead robots?"
TRANSFORMERS: THE LAST KNIGHT is what happens when a famed surface level maestro of brain damaged spectacle makes his fifth god damn movie based on a line of toys. Michael Bay's robo-aesthetic has evolved and improved to a point where I have to begrudgingly respect it. The convoluted mythology has reached new levels of insane are-you-kidding-me-ness. But the characters haven't developed one bit – is it possible that they have de-developed? Autobot leader Optimus Prime (voice of Peter Cullen, GREMLINS)'s swing between fascist brutality and wholesome-sounding inspirational speeches is taken to even more comical levels – if he didn't talk like a bad guy and have a red slap mark on his face we wouldn't know when he was turned into the evil "Nemesis Prime."
This one opens on a beautifully weird note: a medieval battle between King Arthur (Liam Garrigan, reprising his character from Once Upon a Time) and a horde of barbarians. Arthur's men think they're doomed, but Merlin (Stanley Tucci, WILD CARD) shows up with a three-headed robot dragon, courtesy of a blood-stained Transformer he met inside the cave-like thing that voiceover narration by Academy Award winner Anthony Hopkins (TITUS) explains is actually a crashed alien spaceship. Yeah, we get it Sir Anthony.
Although he did well with 13 HOURS, this is back to the Bay who is worst in the business at controlling tone. Rather than have the courage of his crazy convictions in this fantasy opening he plays Merlin as a "funny" drunk whose first line is "I'm sozzled!" before chugging "one last sip" for the road. Throughout the movie Bay punctuates the overall melodramatic tone with "humor" inserts seemingly at random. Admittedly there were only four people in the theater, but he didn't get a single laugh out of any of us. As embarrassing as his jokes are, it's their delivery – the timing, the setup, the context – that is his biggest weakness as a director. He could use some tough love on that shit.
There are a couple of those off-putting comic relief robots that stomp in talking in crazy voices so you know it's supposed to count as jokes. One is Mohawk (Reno Wilson, who did the same shtick as Mudflap and Brains in previous TRANSFORMERSes) but the most frequent offender is non-transforming robot butler Cogman (Jim Carter, Downton Abbey) and, see, the joke is he has a snooty English accent but they get him to say "street" things and do the chorus for Ludacris's "Move Bitch" and stuff like that. He has a particularly painful airball during a long section of exposition by his boss, Sir Edmund Burton (Hopkins). The score to the scene is really overblown and suddenly we see the robot performing it on an organ and Sir Edmund tells him to stop and he's all like whuh, I'm just trying to help out, did I do that, etc.
It's so wildly out of place in the movie it seems like something they cut out of DEADPOOL after it bombed at every test screening. Here they use it twice.
Semi-related: many other jokes land awkwardly because the dramatic music mows right over them, as if composer Steve Jablonsky (THE LAST WITCH HUNTER) didn't want to dignify them with acknowledgment. Maybe he hoped if he ignored them they'd go away. Thanks for trying, Jablonsky.
Anyway the King Arthur section is followed by another crazy "how did we get here?" chapter, albeit one that sort of follows the previous events of the series. In an homage to BOYZ N THE HOOD's homage to STAND BY ME, a kid (Benjamin Flores Jr., HAPPY FEET TWO) asks his friends "Y'all wanna see some dead robots?" and leads them into a fenced-off government quarantine zone that's the ruins of a city where Transformers previously battled.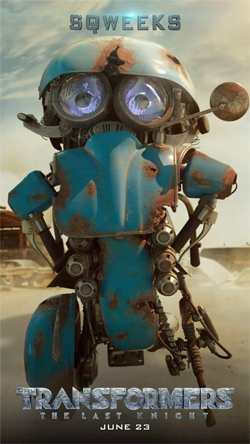 You know how cities have that one neighborhood that's post-apocalyptic? It's kind of like the TERMINATOR: SALVATION district. A tough orphan teen named Izabella (Isabela Moner) lives there with her adorable robot pal Sqweeks (one of the only robots who looks like he could actually turn into a vehicle – a scooter – but she says he can't transform, and I don't think he ever does). Izabella helps the kids when they get attacked by an ED-209 style government drone, and then returning part 4 hero Cade Yeager (Mark Wahlberg, PLANET OF THE APES) shows up with his robot bro Bumblebee, two infamous rogues battling Decepticons and protecting innocents who "keep falling from the sky," like the ancient knight robot (?) who crash landed here and pulls a Green Lantern by passing on a weird armband thing to Cade with his last robot breath.
The drones are controlled by an agency called TRS who are out to kill all Transformers. Some members, like Colonel William Lennox (Josh Duhamel, who's in all but one of these movies), used to fight alongside Autobots and know they can be trusted. Even though really Optimus Prime should not be trusted, in part because of how crazy he was in the other movies, but mostly because he floated through space to the husk of Cybertron to meet his creator, Quintessa (Gemma Chan, FANTASTIC BEASTS AND WHERE TO FIND THEM), and she slapped him and commanded him to destroy the earth and get Merlin's staff back and he was like absolutely I will do that no questions asked.
There's definitely an immigration parallel there. The TRS are like Trump's ICE, heartlessly going after all Cybertronian refugees with no discernment between Autobots and Decepticons.
Well, we're okay with Transformers as long as they come her legally.
But you made it illegal for any of them to come here, even though they have to to survive.
Well, they should've thought of that before they needed to survive.
Like all TRANSFORMERS pictures, I have a hard time following what all is going on in this story, but there is a new Megan Fox lookalike character named Vivian (Laura Haddock, Starlord's mom in GUARDIANS OF THE GALAXY) but she's an upgrade because she has a British accent and glasses, so she can be a professor of English literature at Oxford. They make a big deal about how both of these people can't get dates and they're awkward dorks falling in love during events that really don't have the time or need for such a thing.
She's also the last descendent of Merlin, I guess, so Sir Edmund kidnaps her to his castle in England, UK and spends what seems like 20+ minutes explaining to her and Cade a convoluted new backstory that, at least until this movie did worse than the other ones, was supposed to set up a whole bunch of shared universe spin-off movies and prequels and shit. It seems Shia Labeouf's character from parts 1-3 was also descended from Merlin, and also there's a secret society called Witwiccans who have defended Transformers on Earth for centuries. There's a surprisingly long list of historical figures who are Witwiccans, including Frederick Douglass and Harriet Tubman. Hmm.
Anyway, Cybertron floats toward Earth, Optimus tries to kill everybody, the others keep wanting to give him another chance because he made all those inspiring speeches so how could he be turning his murderous savagery on us like he has previously threatened to, there must be some mistake. Cade gets a giant sword and robots fight at Stonehenge. Also the evil villain Megatron is back. This is not the first installment where I was unclear what he was supposed to be up to. Some kind of evil shit, I imagine – not to be judgmental. I got a laugh though when Colonel Lennox heard him and said "That voice – I hear it in my nightmares." Are you sure? Because this is the original cartoon voice, Frank Welker, and sounds nothing like his voice you heard in the other movies, which was Hugo Weaving's. Maybe you saw the cartoon and it gave you nightmares?
At least on an action level things aren't confusing like in the first couple TRANSFORMERSes, and they've figured out how to do the ridiculously detailed robots they love but in recognizable humanoid shapes where you can tell what you're looking at without pausing it and studying it with a panel of experts. Honestly I've started to kind of enjoy that look, now that it's decipherable. At least it's unique.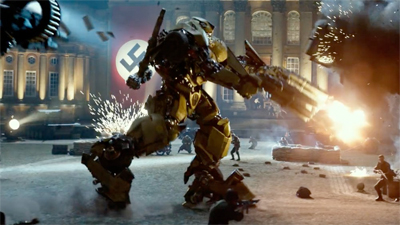 And I sort of enjoyed the thick-skulled craziness of this movie for a while. I mean, there are adorable baby dinosaur robots. There's a robot that speaks in a French accent but is mad about it for some reason. John Goodman returns as the macho robot with a shaggy metal viking beard who always wants to shoot everything, Steve Buscemi and Ken Watanabe got paychecks for coming in to the recording studio for 15 or 20 minutes. There's a flashback where it turns out Bumblebee went on a DIRTY DOZEN type WWII mission where he slaughtered a bunch of Nazis – I have provided a photo (left) to prove to you and to myself that I didn't dream that part. I feel very confident that in TRANSFORMERS all of the Transformers woke up for the first time since crash landing on Earth, but they are correct to assume that I haven't watched it since it came out and could not be sure I understood what was supposed to be happening when I saw it. TRANSFORMERS is continuity proof!
Unfortunately there's not enough of the weird shit to keep the energy up for the whole 2+ hours. These are movies that could benefit from a tight running time in my opinion, but it's never gonna happen.
This one is from a new set of writers – the others all involved some combination of Roberto Orci, Alex Kurtzman and Ehren Kruger. This one is credited to Art Marcum & Matt Holloway (IRON MAN, PUNISHER: WAR ZONE) & Ken Nolan (BLACKHAWK DOWN), story by those three and Akiva Goldsman (BATMAN & ROBIN). And it definitely has that traditional TRANSFORMERS feel of a bunch of unrelated ideas that Bay insisted on and the others stayed up all night before giving up on connecting them in any sensible way.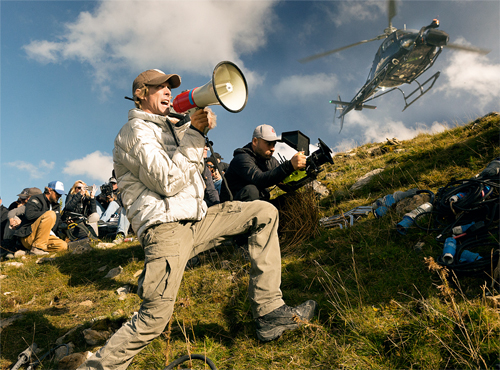 I honestly meant to see it in Imax 3D, because it's one of the few movies actually shot in that format, but I waited a couple weeks and those screens were taken over by other movies. Instead I saw it on the one Real-D showing of the day, on a small screen not taken up by Spider-man, with three other people in the audience. And actually that felt kinda right, it felt more like the usually-shitty fantasy movies I enjoy that I see on an afternoon and think of as b-movies despite how expensive they are. There's something decadent about watching a movie like this, with millions and millions and millions of dollars shooting across every frame, as just some dumb trash to amuse myself. The more expensive the movie is, and the more casually you treat it, the higher status you hold among the elites.
It's safe to say that I was pretty mad after watching the first TRANSFORMERS in 2007. And I don't expect to go back and rewatch it and start to think it's funny, like BATMAN & ROBIN. But the two main things that got my goat were the incomprehensible action and character design and the claim by many fans and reviewers that summer movies are supposed to be dumb and shitty like this so what's the big deal it's all a bunch of crap anyway who cares you're not allowed to hold it to standards.
I can't really hold those against THE LAST KNIGHT because 1) the action is much clearer and 2) everybody seems to agree that there can be better summer blockbusters than this. In fact, just in the few weeks between when LAST KNIGHT came out and when I'm writing this we've seen a new SPIDER-MAN and a new PLANET OF THE APES that are both high quality movies, and both opened bigger than this TRANSFORMERS did and got better reviews. So I got no reason to resent this crap existing. It's not hurting anybody.
By now you probly know whether or not you get joy out of the peculiar ludicrous spectacle of a Bay TRANSFORMERS picture. If you do, this is another one. Just don't get your hopes up too high. He's made much more insane crap before.
P.S. I think Wahlberg might be the last knight?
This entry was posted on Wednesday, July 19th, 2017 at 9:24 am and is filed under
Reviews
,
Science Fiction and Space Shit
. You can follow any responses to this entry through the
RSS 2.0
feed. You can skip to the end and leave a response. Pinging is currently not allowed.