MACHETE is the story of Machete, a man with alot of machetes. That is why he is named Machete. Danny Trejo (MARKED FOR DEATH, URBAN JUSTICE) stars alongside Steven Seagal, Robert DeNiro, etc.
You know what, I just remembered that you guys already know what MACHETE is. But in case there's one person out there living under a rock where nobody tells you about these sorts of things (and if that's the case then the fact that you're somehow reading this raises some questions about internet access under that rock), MACHETE was originally a fake movie trailer made by Robert Rodriguez for that "GRINDHOUSE" double feature he did with Quentin Tarantino. But it was so obviously a good idea for a movie that the people all rose together as one united voice and demanded that it be made for real. This sets a dangerous precedent. Saturday Night Live could conceivably be forced to manufacture fictional products that they advertised as a joke. Filmatists could decide to turn their movies-within-movies into movies-without-movies even when nobody wants to see it, like the vampire movie from BODY DOUBLE or CHUBBY RAIN from BOWFINGER. Or M. Night Shyamalan might decide to write the important piece of writing that his character was going to write in LADY IN THE WATER that was gonna inspire a kid that would go on to become president.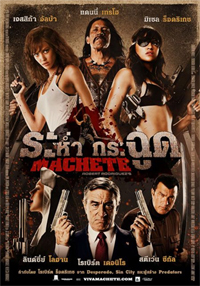 But here we are in 2010, a futuristic world where the best American action movies are straight to video and second best are postmodern sort-of-joking-about-it homages. MACHETE embraces absurd gore, exaggerated stereotypes and a cartoonish sense of reality, similar to BLACK DYNAMITE's philosophy of stealing all the most awesome parts of blaxploitation but making them 10% more ridiculous. For what it is the tone is just about right. I think it's a little closer to a Real Movie than PLANET TERROR was. I still prefer the crazy-but-serious Rodriguez of DESPERADO (before he got a computer), but I respect that this is deadpan and non-jokey enough to keep it out of any comedy sections. There were some parts in the early script that were really funny but too comical for the rest of the movie, and I see Rodriguez had the discipline to leave those out. Good job Rodriguez.
MACHETE does take its job of delivering the goods pretty seriously, though. There are several applause-worthy kills, one classic bit of gorey ridiculousness that had people laughing well into the next scene, a bunch of sexy girls (I believe Machete gets it on with four of them), six memorable bad guys (Seagal, Jeff Fahey, Shea Whigham, DeNiro, Don Johnson, Tom Savini), alot of explosions, an equal amount of decapitations (although I wish they weren't digital), the Crazy Babysitter Twins as sexy nurses, etc.
The movie takes place in a world of racist politicians, corrupt political advisors, immigration cops and nutbag border patrol militias fighting a highly organized underground network of militant illegals. But having read an early draft of the script before the recent Arizona law turned this into a big election issue I gotta call sucker on the people who seem to take it seriously as an angry anti-anti-immigration statement. In fact in my review of the script I made a wish for somebody on Fox News to "get riled up" about it, because I thought it would be funny for all those windbag pundits to have to decide their stance on a Danny Trejo movie. I already saw talkbackers on Harry's review complaining about its depiction of anti-immigration people as racist gun nuts, when in reality it's not that cut and dry, there are many different facets to this thing, obviously some of them have shot people for reasons barely even having to do with how completely racist they all are.
Nah, I'm just playing with you, I know it's a complex issue. Let's everybody calm down before you guys start shooting minorities. It's just jokes. Anyway my point is that this is a movie about a badass illegal alien who hacks up bad guys with knives and garden tools and plays tricks like videotaping himself fucking a guy's wife and daughter, leaving the camera on the guy's desk but taking the ladies away passed out naked in the back of a hearse. What I'm proposing is that perhaps working a thoughtful, nuanced exploration of the immigration issues raised by the plot would not be an improvement in this particular case. In this movie broader is better. But to be honest the right wingers in this are not even as exaggerated as, say, the racist white cops in the DOLEMITE pictures. I'm sure they meant them to be when they had Johnson shoot a pregnant Mexican so the baby wouldn't be born a citizen, but then the Republicans went and started talking about changing the 14th amendment. So don't put that one on MACHETE. That was supposed to be a joke, it was that representative from Utah that made it seem like the boot might fit.
Nothing in the movie can really be taken seriously, but I don't think it's a parody either. It genuinely respects the same conventions of Badass Cinema that we do, even if they make us laugh. So Machete is a good cop who disobeys orders to do the right thing, he often finds himself carrying naked damsels over his shoulder, he has a little bit of a "just how badass is he" moment ("He's FBI, CIA and DEA all rolled into one!") although I remember one from the script that I wish was still in there (something about his "Old Testament style concepts of vengeance"). His wife and child are killed, his brother (Cheech Marin) is a priest who used to be a gunfighter, he has a bullet stuck in his skull, he wins a street fight without putting down his taco. These are the types of things I enjoy.
So MACHETE is a real fun time at the movies, but I do think it could be better. The biggest problem is the same one I had with ONCE UPON A TIME IN MEXICO: there are so many different characters that there's not enough focus on the lead badass I came to see. I mean there are alot of really cool characters and performances, and I was more interested in what would happen to them than I was with PLANET TERROR. And I'll go over some of them individually here in a minute. But like I said, there are six major villains and two female lead/love interests not even including the two girls he makes out with under the waterfall. Alot of these characters could almost be a spin-off on their own, but shit, I'm still hoping for Johnny Depp in "THE MAN WITH NO EYES" ever since the after-the-credits deal in MARIACHI 4. MACHETE is the same deal, there's so much going on here that it has to spend more time than you'd expect on talking about what's going on and less than you'd expect on glorifying Machete. Let's be honest, for a movie where Danny Trejo kills this many people it's kind of slow. But not that bad.
I guess it has a unique problem from being adapted from a trailer: all the parts that are designed to be the highlights are the old parts you've already seen before. It is kind of funny to find out their context, though. For example the younger of the two waterfall ladies is now supposed to be Lindsay Lohan.
Yeah, I think this would work with just Trejo and no other recognizable faces, but Rodriguez gets some mileage out of his weird all star cast. Lohan is one of the smaller roles, but it's surprising to see her willing to just playing a drugged out ho. She gets a little bit of redemption (or something) so it comes across as a sympathetic portrait. I liked her in it.
The main female lead is Jessica Alba as immigration agent Sartana. Since her body is partly made of twigs she isn't believable as a badass kickboxing cop, but she plays it admirably straight and doesn't seem like as bad of an actor as she does in some movies. It's always bothered me that they tried to paint her white in the Fantastical Four movies, because I figured if it was that important to have a blond haired blue eyed girl they shouldn't have hired Jessica Alba. So it's nice to see her actually playing a Latina. You know she's for real too because when she kills a hitman in a lucha libre mask she knows to take off his mask, because she defeated him. Blue-eyed Mrs. Fantastic wouldn't know to do that. I also gotta give Alba credit for doing a partially nude scene since she chose not to do that in SIN CITY even though she was playing a fucking stripper.
I think Alba gets a little more screen time than necessary. The other female lead is Michelle Rodriguez as Luz, who secretly runs an underground immigration network out of a taco truck. It's weird because not long ago I was really tired of Rodriguez always playing these same type of tough girl roles, but somehow in AVATAR and this (and even FAST AND FURIOUS) she's suddenly likable again and weirdly hotter than she used to be. In some people's opinions.
Fahey gives maybe the best performance as Booth, the sort of Karl Rove figure who sets Machete up. He's no stranger to the types of movies this is paying homage to, so he knows exactly what to do, and even his hair looks sleazy. Johnson comes off more comical because he has what I have to assume are an intentionally fake looking pair of sideburns and doesn't take his sunglasses off until near the end of the movie. He plays his yahoo border vigilante kind of like Michael Parks plays Earl McGraw (who, incidentally, does not appear in this movie).
DeNiro is fine, a little goofy, meets a good end, but not necessarily a great performance. It definitely seems like comedy DeNiro as opposed to KING OF COMEDY DeNiro.
Daryl Sabara got some of the biggest reactions from the crowd I saw it with. He has a small role as somebody who works for Luz, and these twentysomething dudes could not stop laughing whenever he was on. I realized after a while that it was because they grew up on SPY KIDS, and also that I am really, really old.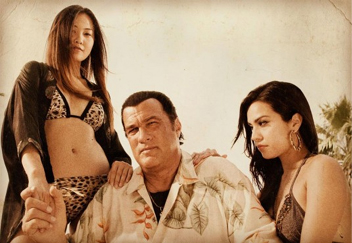 But the biggest reaction was actually for Seagal when he first walked in early on as the cruel drug lord Torrez. I guess people hadn't seen the advertising because there was gasps and "Is that Steven Seagal?!"s all around the theater. It's a triumphant return to the big screen and I don't know if you guys are aware of this but I actually have some interest in the subject of Seagal's movies, there is a book, etc.
As a Seagalogist there's alot to enjoy here even with his relatively limited amount of screen time. This is not only his first theatrical release since HALF PAST DEAD in 2002, it's also his first villain role ever. He never had a henchman period like Van Damme, and even in the Korean film CLEMENTINE where he's the guy the hero has to fight at the end he turns out to be a nice guy. As Torrez Seagal clearly enjoys being a bastard. Weirdly there are implications of human trafficking (a crime he was absurdly accused of after the filming) and he has an entourage of young Asian women bringing him things (a legal activity he has also been accused of). So I think they sort of take advantage of how people see him already to create this character.
Seagal has always enjoyed playing with accents and showing off his Spanish pronunciations, so he's obviously happy to be playing a character who's presumably Mexican. He gets to call people "cabrone" and "pendejo" and speak full lines in Spanish and everything. But don't worry, he doesn't leave his love of Asian culture behind. Torrez is also an expert swordsman and demonstrates knowledge of samurai concepts like honor, beheading and sepukku.
It's weird but strangely natural to see Seagal on the other side, the guy who thinks he's above the law. In fact I believe he refers to Machete as "notoriously hard to kill," as if to say look fellas, Trejo is the Mason Storm in this one, he's the one who's hard to kill, I'm the one who he's gonna take to the blood bank. Torrez has some qualities of a classic Seagal villain. Like Tommy Lee Jones in UNDER SIEGE he's revealed to have the same background as Machete. His "just how evil is he?" scene is when he surprises Machete with the appearance of his wife and then beheads her in front of him. He's kind of the top-of-the-pyramid villain posing a constant threat from far away, orchestrating events via webcam before showing up for a duel at the end.
If you've thought about Seagal being in this there's something that maybe occurred to you: the EXECUTIVE DECISION factor. (SPOILER) And yes, as you could guess this is the second movie where Seagal gets to die (not counting HALF PAST DEAD where he dies but is resuscitated). You just know Trejo is gonna have to get revenge for Machete's dead family and for Seagal putting him in a trunk at the beginning of MARKED FOR DEATH. In my opinion Torrez gets an excellent death, one of the best moments in the movie, and part of why I love it is because it's not at all the approach I thought they would take. They find a way to make him more awesome in defeat. In fact you could argue that he isn't even defeated. I'm already close to ruining it so I will say no more. You shouldn't have read this though, I wrote SPOILER up there man. You can't put this on me, pal.
But of course as exciting as it is to see Seagal in this unusual role, even for me the main attraction is Danny Trejo. We've admired his craggy face for decades, in good movies and very bad ones. We've seen him in that one scene of DEATH WISH 4, or playing various inmates, gang members or bodyguards. We've gotten excited when he gets a featured role like the knife thrower in DESPERADO or the bartender in FROM DUSK TILL DAWN or even in that shitty movie THE REPLACEMENT KILLERS because he got to shoot at Chow Yun Fat. Even though he has these directors who love him like Rodriguez and Rob Zombie he's still just getting these supporting roles or cameos and then for his day job he still has to fight some Eyeborgs or something. So here at last is a movie that thinks Danny Trejo is just as awesome as we think he is, that makes the universe finally revolve around him, that gives him more women than Shaft.
So to wish it was even more Trejo-centric than it is might be asking too much. But fuck it. I'm asking for it, I want more Machete. The credits promise two sequels, and we're gonna hold them to that.