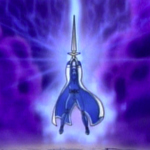 It's the early '90s. Less than a decade ago, HIGHLANDER became a cult hit. Producers William Panzer and Peter Davis managed to make an ambitious sequel, but it was received disastrously. They found more success by lowering their sights to syndicated television, while planning a course-correcting part III. Highlander was now officially a franchise. Time to get the kids involved.

In September of 1994, the USA Network debuted the Canadian/French/American cartoon Highlander: The Animated Series. Like with the live action series, I'm not dedicated enough to watch the whole series. Instead, I took a look at HIGHLANDER: THE ADVENTURE BEGINS: THE ANIMATED MOVIE, a feature length video release made from the early episodes.


It opens in a desertscape with a weird castle and an Ironside-y villain named Kortan (Lawrence Bayne, La Femme Nikita) who sits on a throne surrounded by statues, machines and weird toadies who he sends after "the Highlander." Meanwhile, a Legend of Zelda looking dork named "Quentin of the Highlands" (Miklos Perlus, "New Kid," IRON EAGLE ON THE ATTACK) and his little sister Clyde (Katie Zegers, "Kid," IN THE MOUTH OF MADNESS) remember the time when he was 7 and he and his six-legged mutant rabbit companion met a mysterious stranger (Ben Campbell) riding on a… dino guy.

Quentin refers to himself as "a Dundee" and has a boomerang, so maybe he's supposed to be Australian, but he doesn't do an accent. Which is in the grand tradition of this series' portrayal of nationalities, so I approve.
Both the design and the Sean-Connery-imitation voice of the stranger tell us that this is Ramirez. And it becomes clear when Kortan's "Hunters" attack Quentin's village and his mom calls him "Quentin MacLeod" that Ramirez knows he's some kind of chosen one.
First of all, I gotta say, I was convinced for a minute that this cartoon was doing what the live action series and the upcoming part III didn't have the cajones to do: pick up on HIGHLANDER II: THE QUICKENING's "Planet Zeist" mythology. But soon I realized that this is the future on Earth, so the weird animals must be mutants or something.
Ramirez teaches that seven centuries ago the remaining Immortals, including Connor MacLeod, became something they call "Jettators" by putting on matching robes and vowing to lay down their swords and give up the quest to become the last one. But Kortan was the one fucking asshole who refused, perhaps because he had such a cool sword the size of a guitar with a black blade and green skull/lightning hilt.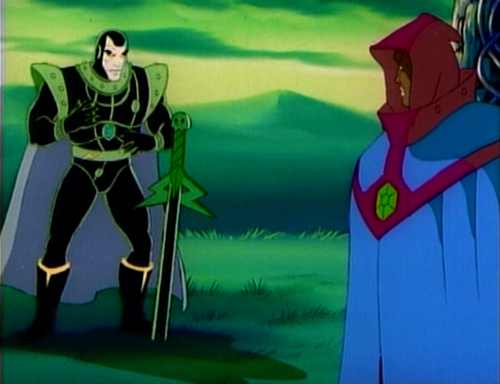 Obviously it would be hard to lay down something that badass. Not held to the same code, he would've killed the other swordless Immortals and ruled the world, so MacLeod sacrificed himself by violating his vow, picking his sword back up out of the pile and fighting Kortan.
In the flashback we see him almost immediately lose, and he's decapitated off screen. But not before he and the others very confidently explain that this means some day another Immortal will be born who doesn't have to follow their vow and he'll be a MacLeod and carry his sword and rise up against Kortan.
Not sure how they knew any of that, but let's just go with it. Not a bad concept. And it's cool to see animated Connor MacLeod with his trenchcoat, although he also has red hair with a ponytail, maybe to avoid having to pay likeness rights to Lambert. The one real huge fuck up though is he's wearing brown shoes. White sneakers woulda done the trick.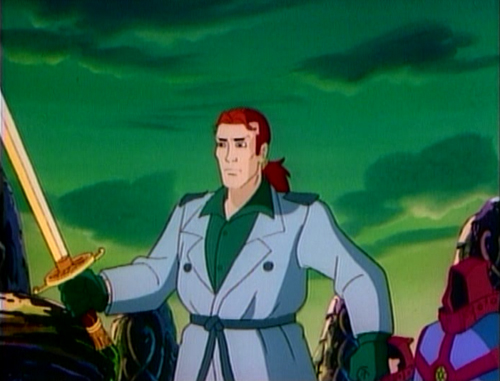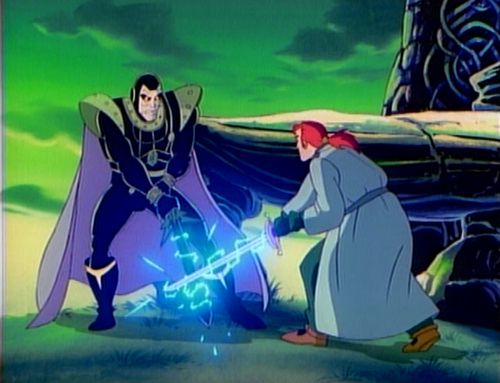 (This also brings up the question of why, Connor MacLeod being Immortal, they couldn't just have a cartoon about his adventures in the future? Cartoon makers always think kids only want to see wish fulfillment stories about kids like them having adventures. Do they know about Batman and shit?)
So now Ramirez has to convince Quentin that he's The Highlander, and train him, like he once did his distant ancestor. He teaches him about feeling other Immortals' presence and stuff. Quentin already wears a trenchcoat (admittedly too dark of a brown in most scenes) so he in some ways does fulfill the duties of his clan.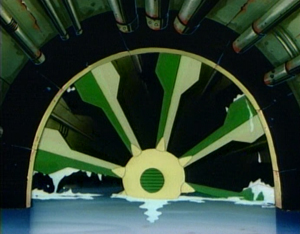 For Quentin's first Highlander mission type deal they go blow up Kortan's power plant or something. When they're sneaking in there is what I assume is an accidental tribute to Russell Mulcahy: they have to jump through a giant fan to get in. They don't animate any light beams coming through it, but it's good enough.
A Jettator named Magnus sacrifices himself so they can get away. Then they stand on a hill discussing the lesson they've learned as a guitar noodles and it fades to black. Then…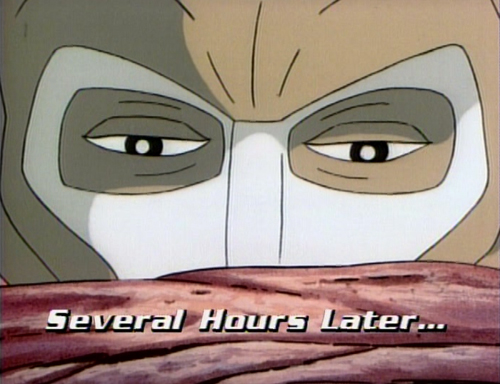 And suddenly Ramirez is laying in a canoe where Quentin is doing balance training. The next little section has kind of a cool idea: some punk dudes attack Quentin's pals the Dundees with "a terrible weapon." When Ramirez tends to their wounds and removes a bullet from one of them he realizes that the punks have a machine gun, which they've never even heard of before. Ramirez tries to explain what it is with a flashback about war.
"A powerful weapon that could kill dozens of men in a matter of seconds so that a few men could control the lives of everyone else. The men who owned them became drunk with power, lost to reason, like madmen. That's why this last remaining gun must be found."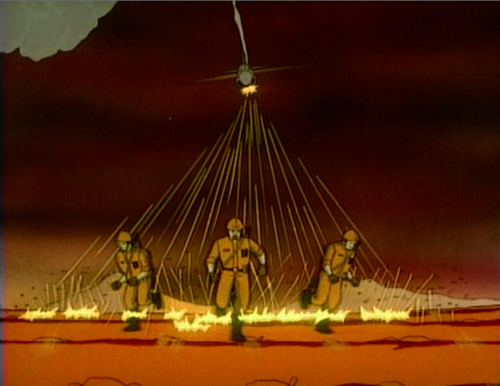 Quentin finds the punks doing a ceremony worshiping the gun and manages to steal it. He ends up running around firing it at things excitedly and then doesn't want to put it down, telling Ramirez he doesn't need him anymore. When Ramirez tells him he's just going to become the next tyrant, he yells "Leave me alone! I can silence you and anyone who gets in my way!" Eventually he calms down and throws the gun in the water and then all the sudden they're training in a cave and never mentioning any of that shit again, so I think it might be several hours later again.
Ramirez takes the kid to his friend Stevenson, who lives in an old dam full of books where they get poisoned and… I don't know. Quentin meets a girl named Aria (Alyson Court, ROLLING VENGEANCE, voice of Lydia on the Beetlejuice cartoon). Ramirez gets to put on a metal mask and ride a cool motorcycle. They fall through a pipe, climb through an air vent, etc. Aria kisses Quentin goodbye and his sister gets jealous.
Then it's later again and some stuff happens and Quentin has a duel with Kortan and their swords get struck by lightning and he wants to keep fighting so Ramirez punches him out and carries him off and then they fight again. At the end he admits to Ramirez that "You're right, I'm not ready." Then Ramirez makes some joke that I can't understand and they all laugh and then it goes to credits.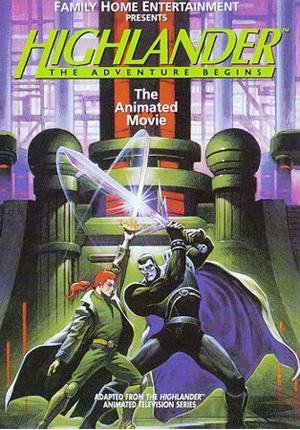 I know this isn't the first animated children's show based on an R-rated movie series (Rambo: The Force of Freedom, RoboCop: The Animated Series and Toxic Crusaders all predated it) but it's still kind of weird to make a children's cartoon dependent on the premise of characters becoming more powerful by cutting off each other's heads, something they're not allowed to ever show. I suppose maybe these restrictions led to more creativity, like the Hayes Code. Or maybe not because jesus it was hard to get through this whole thing. We all know about the three act structure, but this has four acts, titled "The Chosen Highlander, "A Terrible Weapon," "Stevenson," and "A Trap," according to the menu. I experienced some disappointment when I realized the third wasn't the last. These story sections, or "episodes" if you will, don't really add up to a feature film narrative, but I don't think they'd be very exciting taken individually, either.
The animated series lasted for 2 seasons, with a total of 40 episodes. It ran on the USA Network before going into syndication. It also spawned a line of action figures and a 1995 Atari Jaguar CD game called Highlander: The Last of the MacLeods. I don't know what this means, but IMDb says it was "done in the same vein as the first Alone in the Dark games."
I guess there must be some people who grew up on this cartoon and have it as their primary idea of what the Highlander series is all about, kind of like the kids who got into Star Wars movies only after watching Clone Wars. Except not good.
CONTEXT:
Other U.S.-France cartoons that aired from 1994 to 1996:
Creepy Crawlers, Phantom 2040
Other cartoons debuting in 1994:
Bump in the Night, The Critic, Duckman, Gargoyles, Space Ghost Coast to Coast, Street Sharks, The Tick, Where On Earth Is Carmen Sandiego?
Other movie-based cartoons debuting in 1994:
Free Willy, Aladdin: The Series, Beethoven
(note: no others based on R-rated movies about chopping people's heads off)
This entry was posted on Tuesday, May 28th, 2019 at 11:31 am and is filed under
Cartoons and Shit
,
Reviews
. You can follow any responses to this entry through the
RSS 2.0
feed. You can skip to the end and leave a response. Pinging is currently not allowed.