Wow, I must've really misread the ol' zeitgeist. I thought for sure with that depressing new Ben Stiller indie drama having come out on DVD last Tuesday GREENBERG was gonna be all anybody had on their minds for weeks. But the comments thread there almost makes it seem like you guys are more interested in this "Inception" business.
Director Christopher Nolan first made his mark on cinema with the black and white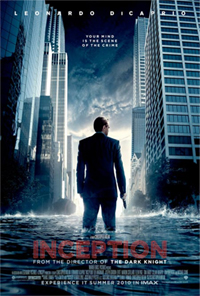 nah, don't worry, I'm not gonna go over all that shit. Also I figure all of you have already seen INCEPTION three more times than I have so I'm not gonna worry about spoilers. To be honest it would take alot of effort to spoil this one because it's so complicated to explain what's going on in order to give it away. But still. Don't read this until after you've seen it. Goofus would read this before seeing the movie, but Gallant would wait until after he saw it and then come back and read this.
INCEPTION is a thought provoking movie, a story full of ambiguity, of possible interpretations, of ideas and questions. The main question it makes you ponder, judging from most of the reviews and comments I've seen, is "is this a full-fledged masterpiece, or is it just a really fucking good movie that's only partially-fledged and therefore not technically a masterpiece although very close in my opinion but it depends on the definition of masterpiece you're going by which of course varies wildly but if you ask me it's like obscenity, I know it when I see it?"
It's funny when that's the biggest disagreement. Yes, it's a super fucking excellent film, the best I've seen in ages, one that made me shiver and break into a cold sweat and thank the Lord for giving me eyeballs… but a masterpiece? Come on. Let's not go very slightly overboard here. Again, I want to reiterate it's a great, great movie that I love and cherish.
It seems most everybody really digs this one. That doesn't really fit established patterns. Nerds eat their young, they gotta destroy what they love. I thought DARK KNIGHT was so popular there had to be a huge backlash against Nolan on his next one, but I don't see it yet.
I guess part of the masterpiece debate is whether or not a masterpiece needs to say something profound or emotionally relatable (can it just be a masterfully crafted piece of entertainment?) and then if applicable whether or not it does say something profound or emotionally relatable. I'm leaning toward "yes" on the parentheses part and "probly not" on part B.
I love that it's based around an idea being a weapon like a bomb or a poison. You sneak in and plant it in the right spot and boom. Consciousnesses maimed. This concept of the idea changing the world, or changing lives, just by being thought is more cool than deep, I think. But I also don't think that matters. Deep is better, but cool is acceptable. (Deep and cool is the best, see THEY LIVE or ROBOCOP or THE MATRIX.)
If the movie's a masterpiece it's because the script is a work of genius. It's constructed more meticulously than the "dream levels" in the movie. The first hour throws you in, sets you up and lets you flounder a little trying to understand what's going on. Then as you feel you've caught on it turns into a heist and it's the best of both worlds: the beloved familiar of the classic caper movie structure meets the fresh and new of this weird "sneaking into people's dreams to give them ideas" concept. I always love a good Assembling an Elite Team and of course what kind of an asshole doesn't get a kick out of a good Going Over the Plan? You always see this in a MISSION: IMPOSSIBLE or an OCEAN'S movie, you got the mastermind giving a big speech about what all the obstacles are to get past and how they're gonna do it and you're excited about how clever their idea is and suspensed about knowing it's not all gonna work as planned and they're gonna have to come up with some new shit on the fly.
The Assembling an Elite Team and the Going Over the Plan are like Parliament-Funkadelic vamping for 10 minutes before setting off The Bomb. They're establishing a rhythm and a groove and you're nodding your head along with it and you're into it and part of the reason is because it makes you anticipate what's coming next. You smile bigger and bigger the longer the groove goes on because you know eventually it's gonna explode. And in INCEPTION it explodes into what must be pretty much a straight hour of action and suspense scenes.
You know what, let me switch analogies on you. I know it's kind of sudden but if you're smart enough to follow along with INCEPTION then you can follow my rambling. INCEPTION is like that board game "Mouse Trap." Nolan takes his time setting up that complicated Bill Goldberg device and it's worth the time it takes because when it's all finished he lets that metal ball roll and you just sit back and watch all the contraptions do their thing.
I gotta admire that this movie can cut between three sets of characters existing simultaneously in three dream worlds where we understand that time passes at different speeds… but we can pretty much follow what's going on. Also, I've given Nolan some shit about his action direction before, because especially in BATMAN BEGINS I think some of those fights should be better choreographed and shot. But once again the guy proves that he does know his shit when it comes to the vehicle chases.
Also there's some spectacular effects in here that are so well done I honestly don't know how they did it. I think I heard they built a giant rotating hallway (like the bedroom in A NIGHTMARE ON ELM STREET) for the incredible fight scene where they fight on all the surfaces, but I'll be damned if it doesn't look like Joseph Gordon Levitt really did that shit. (He doesn't rewind it and tell us he really did that shit like THE HUMAN TORNADO does when he jumps naked off that ledge, but it sure looks real). I was even more impressed by the weightlessness, that whole DePalma style suspense scene where he had to tie up a bunch of people and float them into an elevator to provide the feeling of falling without gravity (!). I haven't been an astronaut for a long time but that looked authentic to me so until proven otherwise I'm gonna assume they actually went into space to film all that stuff.
And there are plenty of smaller things that are impressive. The whole cast is great. One character that was more interesting than expected was Ellen Page as Ariadne (was that really her name? That's what IMDb says). I like how she starts out as the newcomer, the one used as an excuse to explain to the audience how things work. But she's so smart she quickly gets ahead of the explanations and figures out things that the other characters haven't picked up on yet.
(Ellen Page's character fills in a job vacated by Lukas Haas, and then you got Levitt and DiCaprio… it's some kind of War of the Babyfaces.)
Tom Hardy steals alot of the movie as the, I don't know… dandy badass master of disguise I guess we'll call him. I'm happy Hardy did it 'cause I feel much better about him playing Mad Max now. I mean of course he was good in BRONSON but it's impossible for me to think of that movie, character and performance without being tainted by my feeling that it's a poor man's CHOPPER. So when he got the Mad Max gig I couldn't help but think wait a minute, Bana's the rich man's Bronson, he's actually Australian and in real life he drives the same car from MAD MAX in dangerous high speed races. And you're going with Tom Hardy? But now that I've seen this I get it, I believe he can pull it off.
Also great to see Ken Watanabe in a bigger role than I expected. And at first you think he's some corporate asshole, but he's part of the team so they respect him and you like him. Glad to see Tom Berenger on the big screen again too, though I gotta admit I was kinda surprised how he looks now. I guess he was already an older gentleman when he was playing all those badass roles in the early '90s. Time had to catch up to him eventually. Anyway hats off to Nolan for continuing his DARK KNIGHT crusade to put our DTV heroes back on the ol' silver screen.
As for DiCaprio, he's great as always but I do think he should try to mix it up soon. He's so good at being the intense star of big expensive movies by great directors, but those roles are starting to blend together. You can't help but notice this guy's not totally different from his character in SHUTTER ISLAND who's also dealing with some reality bending and is haunted by memories of his wife's death. It's not a problem for this movie at all and I'm sure he's worried he's gonna dilute his power if he tries to loosen up and do an Adam Sandler movie or something. But I do think he's a good enough actor it would be interesting to see him in a goofy comedy or playing a show-offy supporting nutball character or of course a despicable villain. He did try to play AMERICAN PSYCHO right after TITANIC but somehow he's never ended up getting a role like that. I can't help but think of a different world where it was him playing the Joker in DARK KNIGHT.
Nolan really won my respect with DARK KNIGHT, to the point where I almost forgot he was the guy who did MEMENTO. That's a movie I only saw once a long time ago. Back then I thought it was plenty good but a little overrated. I thought it was a clever idea executed well, nothing more, nothing less. Some day when I watch it again maybe I'll feel the same, maybe I'll discover new depths that everybody else was seeing in it that I was missing. Either way, it makes sense that INCEPTION is the movie that guy would make ten years later. He gets more skills, more money, more ambition, he comes up with this crazy, complicated shit and gets a studio to bankroll it. Everybody's making phony stories now about the Riddler being in the next Batman movie. Maybe it's true though, because this guy is the Riddler. These are some crazy fuckin puzzles he's making through the medium of the movies. And making it the movie of the summer.
I mean, let's not lose track of the fact that this is a big summer blockbuster about a world where CEOs are specially trained to secure their subconscious so that corporate spies can't break into their dreams to steal their ideas and a team of dream thieves uses this fact against one CEO so they can pretend to be part of a security force he's dreaming so that they can trick him into having an idea that another CEO wants him to have in order to prevent a monopoly on alternative energy so they have to bring him into a dream within a dream within a dream to make him think he thought of the idea himself. (SPOILER.) I mean, some summer movies are about trying to survive an earthquake or finding a treasure map on the back of the Declaration of Independence. This one requires some paying attention. Even if you compare it to the greats like ALIENS, JAWS and RAIDERS OF THE LOST ARK and what not… I wouldn't say it was better or even quite as good. But I think it's kind of more challenging. It asks more of you, requires you to be attentive.
I will admit, I got a pretty good brain but not the fastest processor. So maybe it's easy for most of you but I did have to work the ol' brain muscles to keep up, I felt like I was running along behind it. Not as out of breath as Clint following the president's limo in IN THE LINE OF FIRE, but not that much better. But I felt like I kept up pretty good and I would like to take this opportunity to thank the script for helping me out with that. I felt like they had the Goldilocks-approved just right amount of exposition. Every once in a while a character says one sentence or so of explanation of what's going on, but no more. It's kind of like a talk radio guy resetting when he comes back from the commercial. He reminds you what the topic was but he doesn't get into all that "22 after the hour, showers expected tonight" and all that bullshit. Just enough to keep you up to speed.
But I like to think I'm a pretty adventurous moviegoer. I like Brian Bosworth but I also like to be challenged. I like weird shit and alot of times I like movies that everybody else hates, including but not limited to various Matrixes, Star Warses, Hulks, Crystal Skulls, Brown Bunnies, etc. We, the ladies and gentlemen of the internet, seem to fall in love with movies like CHILDREN OF MEN that aren't necessarily gonna catch on with the type of people I was watching INCEPTION with. Alot of teens, alot of text messaging going on as the movie started. I thought I was gonna have to break some bones and phones. During the movie there was alot of shifting around in the seats. I remember this sound from the remake of SOLARIS. I was being one of those elitists I guess, I was thinking man, it's great Chris Nolan got to cash in his DARK KNIGHT check to make this one on a big budget, because this is asking too much for normal people to follow along with.
But then in that last scene, the moment when it cut away (even though come on, you knew that had to be where it was going, right?) I heard about 150 simultaneous gasps across the theater, and some laughing and clapping. I guessed everybody was bored and waiting for it to be over, but in fact they were riveted. The only time I ever remember an audience reaction like that was when I saw BATMAN BEGINS at a preview screening. I really liked it but I convinced myself everybody else was bored with the exploration of Bruce Wayne like they were with all that psychodrama I loved in HULK. But then when Gordon pulled that Joker card out it was like a bomb went off the response was so loud.
By the way, good one Nolan, putting the title right at the end again. I don't know if it's his touchdown dance or his "that'll do, pig." But he get everybody riveted and then drops it on 'em. Bang. Fade to black. INCEPTION. Yeah, that's right, that's the title of the movie that just knocked your socks off. Now you know who to complain to if there's any damage to your socks.
The other complaint I've heard besides "by my definition of 'masterpiece' it doesn't quite qualify" is about the dreams being so normal. It definitely occurred to me too – for a movie all about dream worlds it's sure not very surreal at all. It could use some of the ol' Cronenberg lumps of technology. Or it wouldn't even have to be that weird. If it were my dream I'd use my flying powers, there'd be creepy weird animals who know how to talk and alot more fuckin goin on.  But as Mr. Majestyk pointed out it's important to the plot that the constructed dream worlds pass for reality. And also the dreamy shit been done many times before. All kinds of filmatists have had their hand at weird dream shit – which themselves don't usually remind me of actual dreams. I kind of like that his dream worlds are normal until they become unstable. It's avoiding the obvious approach.
In conclusion, masterpiece I guess. I don't know, I'd have to see it again I think.
This entry was posted on Wednesday, July 21st, 2010 at 3:23 am and is filed under
Reviews
,
Science Fiction and Space Shit
,
Thriller
. You can follow any responses to this entry through the
RSS 2.0
feed. You can skip to the end and leave a response. Pinging is currently not allowed.