(pretty big spoilers in this one, sorry)
This is not the romantic one where Christian Slater has a baboon heart, this is the dramatic one where Jeff Bridges may soon need a baboon liver, on account of his country singer lifestyle. I heard alot about CRAZY HEART being good only for Bridges's about-to-win-an-Academy-Award performance. (Did you know he was also nominated for THUNDERBOLT AND LIGHTFOOT?) But I thought the movie itself was pretty damn good too, let's give it some credit please.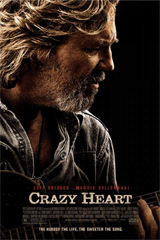 Bridges plays Bad Blake (first name Bad, last name Blake), a legendary and influential country singer now stuck touring small bars, barely getting paid, satisfied just using his small notoriety to get laid by groupies of a class not much higher than you would expect for a singer putting on a show in the back of a bowling alley when it's not karaoke night. As you might guess he spends more time with whiskey than with people, he hasn't had a hit record in forever, and he's not very happy.
Of course it's a little bit of a redemption story, a not-too-far-fetched comeback, like THE WRESTLER. Hopefully "this year's THE WRESTLER" will become this year's "this year's THE FULL MONTY," and we'll have all kinds of underrated actors breaking out topnotch performances in smart low budget dramas about lovable fuckups who've seen way, way better days. Bad finds his inspiration when he agrees to do an interview with his piano player's niece, and she turns out to be Maggie Gyllenhaal. They form a relationship (warning: he fucks her) and when he gets to know her what he really does is get to know himself, etc.
Sounds terrible, actually, but the story and the way it's told has a certain truth to to it and an understatedness that's real appealing to me. I should mention that he's squarely in the old school country mode, you would never see him on CMT, singing on a truck commercial or hanging out with that joker with the "boot in your ass" song, and he would not be one of these people that releases two versions of his album, one regular and one with fiddle. I think I read he's supposed to be based on a combination of Waylon Jennings and a couple other guys, and they definitely got him looking like Kris Kristofferson and having some of Kristofferson's poetic touch in his songs. His big hit that he's known for has a good line about "funny how falling feels like flying for a little while." I enjoyed the songs and that's important. A great way to ruin a movie is to make it all about music and then have bad music in it.
Bad has a little bit of a rivalry with a former sideman named Tommy Sweet who has become a modern country superstar. That whole subplot is a good example of why I liked the movie. You keep hearing about this guy and thinking "Who is this prick?" I figured he would be played by some real country singer, I didn't know he was gonna be Colin Farrell with a ponytail. And when I realized that's what it was I didn't know he was gonna pull it off. I wonder if he had to fight for this role, or if somebody had to go to Colin Farrell and say, "Look man, we're gonna teach you how to sing country songs. Seriously. You should do this."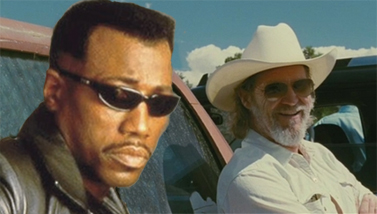 When Bad swallows his pride and agrees to open for Tommy Sweet there's a great scene where he pulls his shitty truck into the secure parking lot and parks next to Tommy's vehicles – a couple gargantuan black tour buses and a fleet of big rigs. And you just know that's exactly what this fucker would really have. (And sure I enough I read afterwards that they shot this stuff at a Toby Keith concert.) Bad Blake is the legend, the one who gave him his career, the one who does better music, and this fucking truck is his reward. This shows how society values him compared to his young protegee.
But then it gets better. You expect Tommy to be an asshole. You want him to be an asshole. But he's obviously genuine. During Bad's opening act Tommy sneaks onto the stage and joins him, and the crowd goes nuts. It's kind of humiliating for Bad… it's like, they only give a shit about him if the guy they came for comes out there with him. And he's stealing his spotlight. And also, by the way, they want Bad to sit at his merch table later and sell CDs. But you know what, when Tommy says this is the guy who taught him everything he knows you know he means it. You can't be mad at him. He seems like a really nice guy, actually.
And then, from this crazy night playing at a huge outdoor arena, it cuts to Bad all by himself the next day, parked on a desert highway, talking on a payphone in the glaring sun. And even though I have never opened for Tommy Sweet at the such and such casino amphitheater in whereverthefuck, middle of America, I felt like I knew exactly that feeling of some crazy shit goes down and then the next day you come down to regular life. You were on such a high and it seemed so huge and now everything's normal again. Though your ears are still ringing a little. But it's hard to believe that was just yesterday. Almost like it never happened.
The part about alcoholism is not nearly as ugly or depressing as it could be, but it got me tense. You just sit there waiting for him to fuck up. But part of why he's still around is because he's functional, and that's why the movie's not torture to watch either. He keeps doing better than you expect. There is genuine suspense over whether or not he's gonna remember to dedicate a song to a fan he met earlier. I guess it's debatable whether he did good by that fan or not (you'll see). But it's not a "wouldn't you know it, dad got distracted and forgot to show up to the recital" type of movie. The specifics of his failure are not very predictable. You never know when and how he's gonna horribly disappoint somebody.
But as soon as he's taking care of a little kid you're like, oh jesus, do I really want to watch this? And then he keeps doing better than expected. When he finally (SPOILER) misplaces the kid like some car keys it's almost too upsetting. But it's a pretty good rock bottom moment to motivate him to get clean. I mean, that would be pretty embarrassing to lose somebody's kid. You know how people are about those things. Real protective. They can get uptight about shit like that.
To be perfectly honest I have not seen the baboon heart one so it would not be fair to say that this is the better of the two. But I would be surprised if that was as good as CRAZY HEART. I really enjoyed this one.