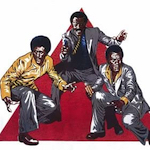 THREE THE HARD WAY (1974) is directed by Gordon Parks Jr. (this is #3 of his four movies, after SUPER FLY and THOMASINE & BUSHROD, before AARON LOVES ANGELA). His famous Life Magazine photographer father directed SHAFT in 1971, its explosive popularity leading to the wave of genre films aimed at black audiences known as Blaxploitation*. Junior directed SUPER FLY in 1972, which was even more successful than SHAFT. Though both received some criticism for promoting negative stereotypes, in style and substance they were on the more serious, artful end of the Blaxploitation spectrum.
So it's kind of funny that for his second movie Parks Jr. just leapt right into the silly caricature side of the pool. This one teams up three of the biggest stars of the genre to play some random freelance tough dudes in different cities who know each other from way back (no explanations offered), and sends them to fight straight up white supremacists planning a genocidal super villain plot. Other than the horrendous racism that has to be depicted to show what they're up against, this is all froth, bluster and wish-fulfillment. Which I can get behind. (read the rest of this shit…)
VERN has a new action-horror novel out called WORM ON A HOOK! He has been reviewing movies since 1999 and is the author of the film criticism books Seagalogy: A Study of the Ass-Kicking Films of Steven Seagal and Yippee Ki-Yay Moviegoer!: Writings on Bruce Willis, Badass Cinema and Other Important Topics as well as the crime novel Niketown.