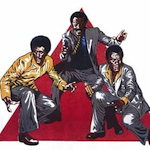 THREE THE HARD WAY (1974) is directed by Gordon Parks Jr. (this is #3 of his four movies, after SUPER FLY and THOMASINE & BUSHROD, before AARON LOVES ANGELA). His famous Life Magazine photographer father directed SHAFT in 1971, its explosive popularity leading to the wave of genre films aimed at black audiences known as Blaxploitation*. Junior directed SUPER FLY in 1972, which was even more successful than SHAFT. Though both received some criticism for promoting negative stereotypes, in style and substance they were on the more serious, artful end of the Blaxploitation spectrum.
So it's kind of funny that for his second movie Parks Jr. just leapt right into the silly caricature side of the pool. This one teams up three of the biggest stars of the genre to play some random freelance tough dudes in different cities who know each other from way back (no explanations offered), and sends them to fight straight up white supremacists planning a genocidal super villain plot. Other than the horrendous racism that has to be depicted to show what they're up against, this is all froth, bluster and wish-fulfillment. Which I can get behind.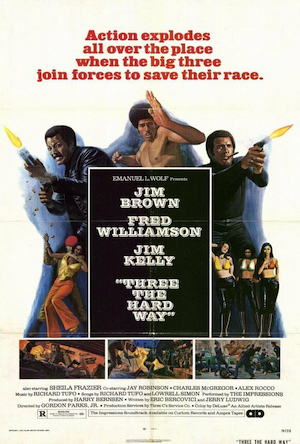 It starts mysteriously, with a black man (Junero Jennings, "Technical Assistant," STAR TREK: THE MOTION PICTURE) pushing a cart, under the watch of a white armed guard, some cool freeze frames as he brings food to prisoners. But wait a minute – these are not cells. It's a motel? Weird. Enacting his escape plan, this prisoner, whose name is House, sneaks into a big storage shed and hides among a bunch of dead bodies (all Black) piled up on carts. This is not an official prison, but some off-the-books white supremacist operation doing human experiments.
After carjacking a guy who you don't see very clearly but apparently he's played by THE DENTIST himself, Corbin Bernsen, House manages to make it to a hospital, where he gets word to his friend Jimmy Lait (Jim Brown in his followup to William Witney's I ESCAPED FROM DEVIL'S ISLAND) that "somebody needs to stop 'em" because "man, they got a mess of us down there, givin' em' stuff. They're gonna kill us all. You. Me. Everybody. They're tryin' to find a way. Maybe they have already." He seems crazy, of course.
Jimmy's girlfriend Wendy (Sheila Frazier, who played Georgia in SUPER FLY and SUPER FLY T.N.T.) stays at the hospital while he steps out to do his job: producing the motherfuckin Impressions! Yeah, SUPER FLY soundtrack genius Curtis Mayfield had already left the group to go solo in 1970, but they were still on his label, Curtom, and they provide four songs for the movie (including the title song).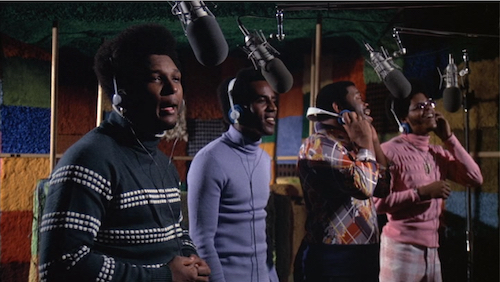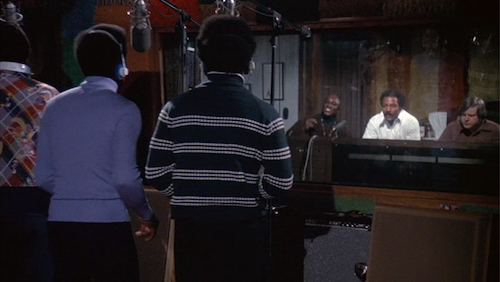 I can't argue that this scene adds anything to the story, but obviously I enjoy seeing them in these great outfits, with this colorful carpet on the studio walls, lip syncing a great song, while Jim Brown sits at the soundboard intently, or nodding his head at one point. Also he cuts them off and accuses them of staying out all night. "Come on, man, give us some real sound, okay?" (They sound perfect to me.)
Meanwhile, some white supremacists disguised as electrical workers ride a cherrypicker into the hospital window, assassinate House, and kidnap Wendy. After the recording session ends at 3 am, Jimmy finds out the detective in charge is Lieutenant Di Nisco (Alex Rocco the year after THE FRIENDS OF EDDIE COYLE), who seems to be an old friend, but Jimmy doesn't trust him to do the job and tells him straight up he's going to investigate it himself.
The white supremacists report to Monroe Feather (Jay Robinson, MY MAN GODFREY), a suit and tie dude with an aristocratic accent, a desk, and a big golden eagle statue. He lets Wendy stand peacefully in his office while he talks about his genocidal plan to taint the water supply with poison that will kill only black people. (I believe this premise partly inspired the Anaconda Malt Liquor plot in BLACK DYNAMITE.)
Wendy tells him, "Mister, you are way out of date!" I'm gonna try to remember that, it's useful these days.
Jimmy goes to Chicago to find his friend Jagger Daniels (Fred Williamson, following Jack Arnold's BLACK EYE), who has so much swagger he makes Jimmy look unimpressive. Jimmy does that old joke of sneaking into his friend's home and attacking him from behind and only revealing his identity when a gun comes out. Jagger is skeptical of his story until they get jumped by two white guys and have to wah-wah chase one all around town, down stairs, past the Ripleys Believe It Or Not Museum, etc.
Then we meet another friend, Mister Keyes (Jim Kelly in his followup to ENTER THE DRAGON and BLACK BELT JONES). "What kind of a first name is that, 'Mister'?" asks a racist cop asking for his ID during a setup. "My mama wanted people to show me respect," he explains.
This introduction is kind of a rehash of ENTER THE DRAGON, where he was also harassed by racist cops (almost as if such harassment has been a widely acknowledged problem for generations). The fantasy is that he's so badass he can fight back without consequence. As soon as he realizes they're trying to plant drugs in his car he starts doing his high kicks and kung fu OOOOY!s. There's this one amazing kick where he slams the guy so ridiculously hard against a car, flipping the guy upside down, that I wonder if maybe they're yanking him back with a cable?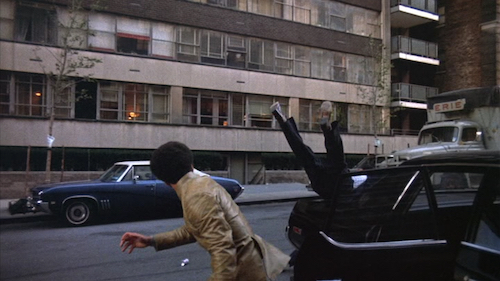 How ever they did it, it's beautiful.
Anyway, Jimmy and Jagger walk up (wearing badass dusters over their suits) right after he finishes knocking out a dozen cops, and he stops to greet them, like he just ran into some old friends on the way to the grocery store or something.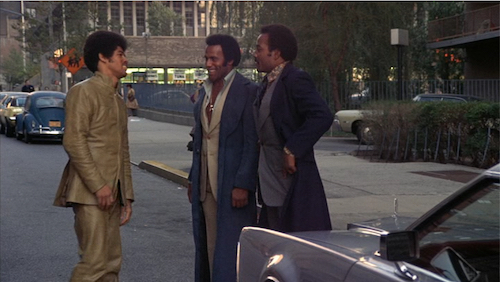 He seems ready to stand there and have a conversation until Jimmy says they better leave. And one last great touch on this scene is as they're driving away we see half a dozen people standing there, presumably having witnessed him beating the shit out of all those cops!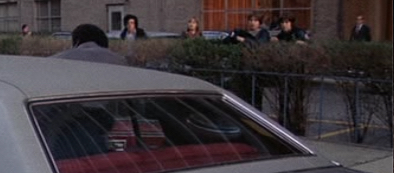 Pretty much as soon as the three of them are together they get attacked, and it's in a car wash, which is either a nod to or a lazy retread of one of the most famous scenes in BLACK BELT JONES (but not as good, because there aren't as many bubbles). Then, suddenly, it introduces the most colorful characters in the movie. Suddenly it cuts from our Three the Hard Way to three people on motorcycles, so I assumed it was them rocking a 4th of July popsicle theme: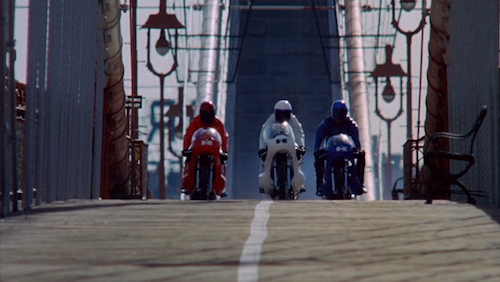 Then there's a couple shots where you can see that it's white men behind those visors. Ah, fuck. It's the white supremacists. I guess I should've known. Racist dudes are always trying to claim ownership of patriotism.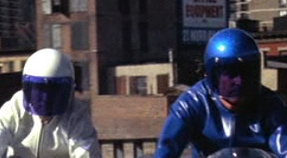 But no! Good news! Those were just the stunt doubles. They were meant to portray these three: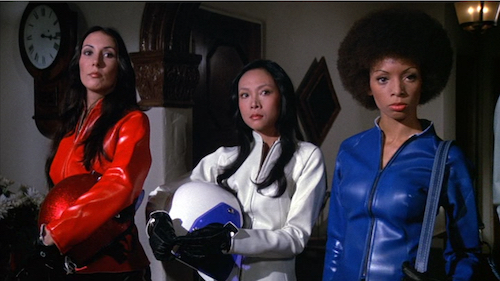 And who are they? Well, it's (left to right) Countess (Pamela Serpe, who is in DR. BLACK, MR. HYDE, and is the mother of STEP UP 2 THE STREETS' Briana Evigan), Empress (Irene Tsu, STEELE JUSTICE) and Princess (Marie O'Henry, THE GLOVE), and and they're just the kind of friends everybody has that they can call upon if they need a favor, such as three dominatrixes torturing an abducted racist guy to get information out of him. I'm sure every one of us has somebody we go to when that sort of thing comes up.
The script is credited to Eric Bercovici and Jerrold L. Ludwig, two writers from The Virginian and Hawaii Five-O and stuff. The former wrote HELL IN THE PACIFIC, the latter the 1979 TV movie SAMURAI, about" a young San Francisco attorney by day, at night becomes a samurai warrior, and battles a crazed multi-millionaire who is planning to destroy the city with an earthquake machine." Once their heroic trio finds out what the racists are planning, the story climbs into the backseat and lets somebody else take the wheel: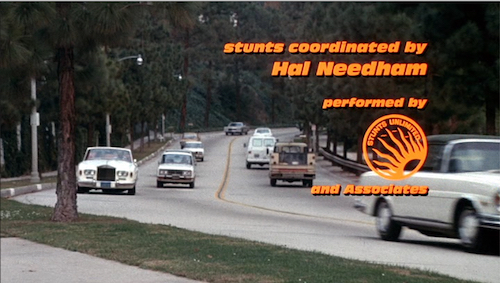 That's right, the great Hal Needham (whose other 1974 jobs were McQ, BLAZING SADDLES, BUSTING, CHINATOWN and THE LONGEST YARD) and Stunts Unlimited are in charge of the action, which helps this to transcend some of the similar movies. Those guys do not skimp on the cars skidding out, crashing, driving over ledges and exploding. Jim Brown hangs onto the back of a moving dump truck. There's a chase and shootout up mountainside stairways and catwalks and across the top of a dam. A dummy falls off with an "oooooooeeeeeeeeesssshhhhittttt" scream that should replace the Wilhelm scream in my opinion.
I learned recently of the modern white power shitheads who dream of starting a race war. According to what I've read, they call this racist wet dream "The Boogaloo" because they love wacky memes and it's short for Civil War II: Electric Boogaloo. If that's really the etymology of it it adds an extra cherry of suckiness on top of their bullshit, in my opinion. Though BREAKIN' 2 is a silly movie that tried to cluelessly cash in on a subculture the filmmakers had no ownership and little understanding of, it did turn out to be a very fun and positive movie about people of different races and classes coming together and using dance and civil disobedience to stop greedy real estate assholes from ruining a neighborhood. Obviously fuck those guys for everything else, but a bonus fuck 'em for trying to stain the purity of that movie.
Anyway I bring this up because Jimmy steals a vanload of guns and grenades from the racists, to use against them. And what word do you think Mister Keyes chooses to describe their plan to wage war against a white supremacist army?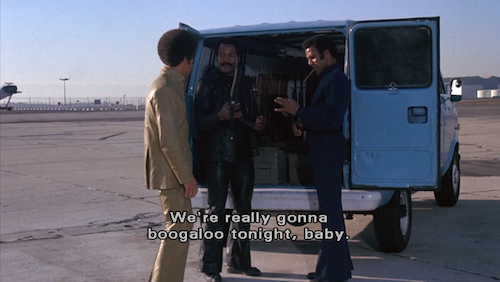 Black culture always seems to get there first.
The climax kind of seems like a nod to THE DIRTY DOZEN – they sneak up on the Neo-Nazi Party while they're having a neo-nazi party. There's some good flipping over of tables, shooting people at the swimming pool, blowing up a guy next to a barbecue, somersaulting through windows, lighting a guy on fire, upbeat music playing while Feather and friends freak out and run for cover, but they die in a fiery Jeep explosion/crash/roll-off-a-cliff. Then (mostly for fun, I think) the fellas drive by and blow up rows of parked cars with grenades and sticks of dynamite. The end.
A basic function of the genre was to counteract decades of demeaning depictions of Black men in movies by swinging very, very hard in the other direction. These characters are exaggerated ideals of masculinity. They wear amazing, garish outfits, walk with their heads high, are loved by all women (except the racist lady), and completely obliterate any dumb motherfucker with the gall to fuck with them. Even when hugely outnumbered, outgunned, and systemically overpowered, they cannot be made to bow. You can't look at these three dudes just walking down the street or having a laugh together without thinking man, I wish I could be that when I grow up.
Of course, most people that get built up as gods are bound to disappoint us. Brown's great movies and lifetime of activism and charity are marred by terrible domestic violence incidents; Williamson's alleged groping is part of the Cinestate scandal that took down Rebeller, Fangoria and Birth.Movies.Death; and I can't honestly divorce the attitudes that allow that from the ways men and women are depicted in some of these movies. But, without dismissing that, I can still enjoy THREE THE HARD WAY as Stick It To The Man escapism.
(Also, for the record, I've never read anybody accuse Jim Kelly of anything. And he's my favorite of the three, because he's the kung fu guy.)
Director Parks lived a short but interesting life. His father's success provided him a life of privilege. He road horses and raced cars. But he wanted to make it on his own, so he worked normal jobs in the Garment District, spent a year in the Army, played classical guitar and sang folk songs in Greenwich Village, used a fake last name for his own photography career. And obviously SUPER FLY was a success on its own merits – nobody gave a shit who the director's dad was.
In 1979, Parks moved to Kenya, bought property where he planned to start a farm, and founded a new production company called Africa International Productions. Unfortunately, less than three months later his small plane had engine problems during takeoff and crashed, killing him and three others. He was only 44.
According to obituaries, he was a third of the way into shooting a new film called REVENGE, which would've been his first movie in four years. His company said at the time that they planned to finish it. Sure enough, writer/producer Gary Strieker took over as director to finish the film, and it was released in 1980 as THE BUSHTRACKERS. That's also the title of a book by Kenyan author Meja Mwangi which is either the source novel or (as this Stanford Library catalog entry indicates) a novelization.
It took me some searching to figure that out, because THE BUSHTRACKERS doesn't even have an IMDb entry. If I can't see the movie I'd love to at least hear the soundtrack, by a Kenyan group called The Black Devil's Makali. All I can find about them is this late '70s single that the label Afro7 reissued:
Along with the obvious human tragedy of the accident, it's a shame that we didn't get to find out what would've come from whatever Parks and Africa International Productions were brewing in Kenya. A 1984 The Black Scholar review that I found partially online says "THE BUSHTRACKERS is the first indigenous novel/film to come out of Africa with an eye toward appealing to the U.S./westernized culture." It sounds like Parks was trying to build a bridge between American and African cinema that still doesn't really exist. I'm not saying they should westernize everything to appeal to global audiences – I'm sure they would be able to maintain their own identity just as the film industries in Asian countries have – so that's a cross-cultural exchange the world could really use.
*I know there are some people, including Fred Williamson, who dislike the term Blaxploitation. I've always considered it a misunderstanding, because if you don't non-judgmentally use the term "exploitation films" (as in lurid low budget movies trying to exploit current trends) as often as some of us nerds do then it sounds like it's talking about people being exploited. But in the spirit of trying to make sure I'm not part of the problem, I recognize now that it doesn't matter what it means if it comes across negative. So if anyone can suggest better terminology that clearly indicates the specific movement of movies in question I'm absolutely open to adopting it.
Also, going forward I've decided to try to follow the AP style guide in capitalizing "Black." I don't know that I will for "white," but I'm reading some of the arguments about it. In any event, I will continue to spell "probably" and "website" incorrectly and have inconsistent rules about apostrophes.