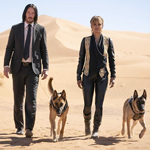 I don't want to raise anyone's expectations too high. I know some are saying JOHN WICK CHAPTER 3: PARABELLUM is fun but lesser, and that could very well end up being the conventional wisdom. In my mind, though, it's more than that. It's an outstanding achievement, a new action classic that outdoes the excellent CHAPTER 2 in both garish spectacle and elaboration on the strange mythology of this secret world of elite assassins.
Like all JOHN WICK movies, it's full of things you never knew you needed to see, things that are ludicrous, but treated with knowing seriousness, increasing their level of awesomeness. For example, you know that cliche where a character you like gets shot and drops to the ground and you have to wait and hope for the reveal that they were saved by a bullet proof vest? That happens with a dog.
And what about John Wick walking through a desert, but dressed like John Wick? If James Bond goes out into the desert – hell, even if Batman does – he wears different gear. But there is no Desert Action John Wick. When he treks through Moroccan sand dunes he wears the same suit and tie we just saw him wearing in a New York downpour. I suppose maybe he cancelled his debit card when he came back and doesn't know how to buy new clothes without access to his usual services. But I think it's more because he's an icon. That's his uniform. That's John Wick. And because director Chad Stahelski knows it's surreal to see this guy in drastically different settings across the world without changing his blood-stained clothes. (read the rest of this shit…)
VERN has a new action-horror novel out called WORM ON A HOOK! He has been reviewing movies since 1999 and is the author of the film criticism books Seagalogy: A Study of the Ass-Kicking Films of Steven Seagal and Yippee Ki-Yay Moviegoer!: Writings on Bruce Willis, Badass Cinema and Other Important Topics as well as the crime novel Niketown.