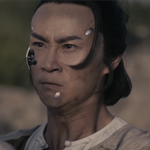 Here's a new sci-fi/kung fu hybrid that's honestly not up to my standards of martial arts movie quality – to be fair it was made for cable and a streaming service in China – but it's such a joyfully ludicrous storyline that I can't help but sort of recommend it if you're ever in a b-movie mood. It stars Tiger Chen (from Keanu Reeves' excellent MAN OF TAI CHI and Jesse V. Johnson's upcoming TRIPLE THREAT) and it can best be described as a cross between a TERMINATOR movie and a period kung fu movie like, say, FEARLESS starring Jet Li.
It opens in a future where aliens have conquered much of the earth. Chen plays a general in a military force that's fighting back. He and his partner (Wang Zhi, DRUG WAR) are out in the field battling some aliens when he's able to defeat one of them using kung fu.
This is the craziest part of the movie, reminding me of BEYOND SKYLINE, where the RAID guys fought against tall alien monster guys. There they got to use animatronic suit effects, here it's digital, looking like a very ambitious SyFy Channel premiere. But, I mean, I can't not enjoy shit like this: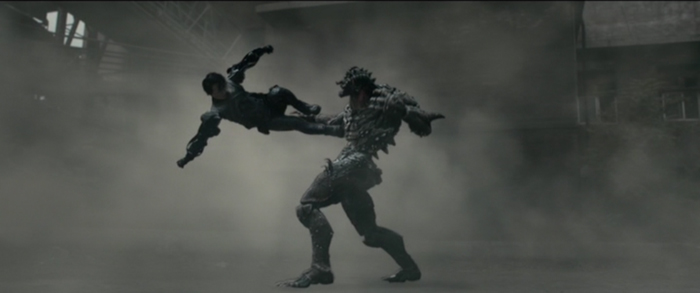 He also has a robot arm that goes over one of his regular arms.