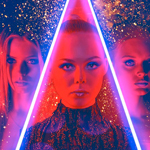 Nicolas Winding Refn had been around for years before he draped Ryan Gosling in that silver scorpion jacket and became such a name among the movie savvy that he can get a John Hyams remake of MANIAC COP funded and put his initials on the beginning and end of his movies like they're monogrammed towels. He'd had international acclaim for the PUSHER trilogy and VALHALLA RISING, but DRIVE was such a perfect balance of effective crime drama, zeitgeisty nostalgia and style, and arthouse indulgence that it became a bonafide cultural moment. And he's been trying to punish us for it ever since.
I like that he lets his freak flag fly, and while most of my friends couldn't hang with his follow-up ONLY GOD FORGIVES, it really spoke to me with its odd mix of revenge story deconstruction, broken martial arts movie structure and feverish surrealism. His latest, NEON DEMON, swerves even further off the road of logic and coherence in its exploration of the world of young models in L.A.
Elle Fanning (MALEFICENT, SUPER 8, THE NUTCRACKER IN 3D, SOMEWHERE), somehow looking five years younger and more naive than in whatever movie I saw her in last, plays Jesse, a newcomer to town trying to find gigs. Makeup artist Ruby (Jena Malone, INHERENT VICE, SUCKER PUNCH) latches onto her after a shoot and introduces her to Gigi (Bella Heathcote, DARK SHADOWS) and Sarah (Abbey Lee, the Dag from FURY ROAD, also in GODS OF EGYPT), more experienced models who respond with jealousy and cruelty when the gatekeepers start treating her as something special. (read the rest of this shit…)
VERN has a new action-horror novel out called WORM ON A HOOK! He has been reviewing movies since 1999 and is the author of the film criticism books Seagalogy: A Study of the Ass-Kicking Films of Steven Seagal and Yippee Ki-Yay Moviegoer!: Writings on Bruce Willis, Badass Cinema and Other Important Topics as well as the crime novel Niketown.