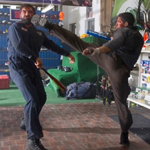 PREVIOUSLY, ON UNIVERSAL SOLDIER: In 2009 John Hyams, fine sports documentarian and son of the director of OUTLAND, knocked the world of DTV flat on its ass with a grim and shockingly great part 3 (or part 5 including the made for cable 2 and 3). It is one of its decade's best American action movies and a classic example of a hungry artist taking a disrespected medium far beyond its perceived limitations. Also Dolph Lundgren makes a hell of an impression with a small appearance, the Alec-Baldwin-in-GLENGARRY-GLEN-ROSS-of-DTV.
And now, UNIVERSAL SOLDIER: DAY OF RECKONING.

Hyams returns, this time in charge from the ground up instead of coming on and reinterpreting someone else's script. (He wrote this with DRAGON EYES assistant editor Doug Magnuson and his documentary producer Jon Greenhalg, story credited to Hyams and long-time Van Damme producer Moshe Diamant.) REGENERATION took us off guard because nobody expected a new UNIVERSAL SOLDIER movie to be that serious and that well made. But even now that we thought we'd caught up, this installment is a total surprise. Who would've thought the next one would be this?
Unlike the rest of this series, DAY OF RECKONING pretty much feels like a horror movie, so it's fitting that it opens with a reverse of HALLOWEEN. Instead of a first-person shot of a clown-masked kid stalking a house, it's the POV of a dad woken up by his daughter who hears "monsters." Humoring her he gets up and looks in the mirror, and you see that he's Scott Adkins. You are Scott Adkins. But before you get to enjoy how awesome it is to be Scott Adkins you come across actual intruders in ski masks who, you know, do bad things. And the leader takes off his mask and stares into your eyes and holy shit, he's Luc Deveraux (Jean-Claude Van Damme), the hero of the rest of the series. Now it looks like he's the villain.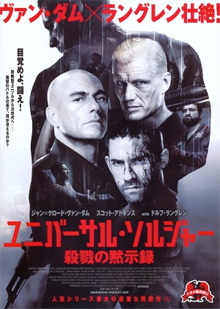 Van Damme is pretty fuckin scary in this movie. He's not the lead anymore, he's the hard-to-get-to guy everybody talks about, like John Connor in the future. He's bald and he looks tired and his eyes look completely devoid of emotion other than bitterness. There's a physically painful burst of strobing video noise that ends on that face, appearing to you like a ghost, looking you in the eye. It's like when he snapped in REGENERATION and started beating up that innocent old man that looked at him. But this time instead of a random beating he's planning an organized, premeditated attack on "our oppressors." We don't know if this means just the scientists who turned them into zombie super soldiers, or all of the living people. I hope it's the first one because I am a living people. I don't want to have to deal with this.
The movie doesn't follow Deveraux, it follows Adkins' character John, who wakes up in a hospital 9 months after the attack. Agent Gorman (Rus Blackwell) of the FBI asks him what he can remember, shows him a picture, tells him it's Luc Deveraux. He remembers the home invasion and not much else about his life. He limps home on a cane to his sad, empty house to think about his family and what to do.
It's a mystery story. We don't know who this guy is and neither does he. He follows some clues: a panicked phone call, a phone number on a matchbook, stuff like that. Starts to piece together things about himself: he's a truck driver, he has a cabin somewhere, he was dating a stripper (Mariah Bonner – she's good, but I wish somebody would give her a box of donuts), alot of people are angry at him, turns out he has beaten various people almost to death. So they're uncomfortable around him, you know?
From the beginning we don't know who or what to trust. We don't know what is real and who is being honest with him. We don't know if he's being mind controlled and if so by which side. And he keeps getting into situations that are rife with tension because everybody else in the room knows something he doesn't, and he thinks he has to play along.
This Agent Gorman guy, he seems nice, but we've been around the block, we know that doesn't mean shit. And after talking to John, Gorman makes a phone call to someone to "put the plumber to work," which leads into an outstanding sequence pitting two great characters from REGENERATION against each other. Remember, Andrei "The Pitbull" Arlovski was the Terminator-like next gen UniSol bad guy in the last one? Now that guy – or more likely a clone of him – has a beard and is working as a plumber when some kind of signal to his brain sends him to kill the latest clone of Andrew Scott (Dolph Lundgren). Dolph looks like a no-makeup version of some larger-than-life SIN CITY anti-hero when we first see his giant shoulders from behind, wearing office clothes as he hangs out in some weird whorehouse where Unisols go to be hit by hammers and shit. (Reminds me of the House of Pain in BLADE 2.) They're not people, they're weapons, and maybe this is their only outlet for the ol' sado and maso while they "hide among them like ghosts" waiting for the titleistical day, as Scott says in a big rallying-the-troops speech.
REGENERATION was noticeably influenced by ALIEN, ALIENS, THE TERMINATOR and CHILDREN OF MEN. DAY OF RECKONING kept making me think David Lynch – that nightmarish, ominous tone of LOST HIGHWAY and MULHOLLAND DRIVE, the heightened atmosphere that makes you always feel like something is off, reality is out of alignment, and something terrible is most likely gonna happen very soon. I don't know what it is exactly that makes me think of that (I don't even know Lynch's movies very well) but it starts with John waking up in a foreboding lab, a weird nurse with an obvious wig feeding him baby food from a tiny spoon. "We're doing great, aren't we?" she says when a doctor asks John how he's feeling. "We're eating our food."
Hyams has cited Lynch, Gaspar Noe, Michael Haneke and David Cronenberg as big influences on this one (the Noe is easy to spot). You'll notice more ROPE-style continuous-shot action that shows he still loves CHILDREN OF MEN, and the movie draws obvious parallels to APOCALYPSE NOW with its handling of Deveraux. But I think all of these influences inform what comes together as a distinct style and feel that's not just mimicry. REGENERATION, DRAGON EYES and DAY OF RECKONING are all very different takes on action stories, but recognizable as the work of the same mind.
And you know me, I love that he does all this experimenting in genuine balls-to-the-wall action movies. Some people have been turned off by the movie's deliberate pace and its atmosphere-and-character-driven start, not to mention its allegedly confusing story (I don't really agree with that description – it's a mystery what's going on, then you find out). Some, not yet won over by Adkins' body of work, are upset that Van Damme and Lundgren aren't in it that much. For those people I have great news: Just in the last 5 years Dolph has had the starring role in 5 movies you could watch, Jean-Claude in 4, each with several more on the way. You will technically get more screen time with them, and the stories and characters will be exactly what you expect, no more, probly less, just like you demand. You will not be asked to puzzle anything together, you will not be left with questions, everything will be fine.
The sacrifice you make though is that the action in this one is way better than in THE KILLING MACHINE, COMMAND PERFORMANCE, DIRECT CONTACT and ASSASSINATION GAMES. This reminds me of the lady that wanted to sue DRIVE for not having enough car races. I don't know why people prefer the standard noisy, poorly done action to long, intense, brilliantly done scenes that have some build up to them first. No, DAY OF RECKONING doesn't have cars exploding in every scene, but you gotta be crazy to think it's skimping on the goods. There's a shockingly brutal whorehouse shootout between zombie super soldiers, a thrilling one-man siege on a military compound done as if in one shot, a TERMINATOR style car chase/shootout, and face offs in every combination you want from this set of actors: Arlovski vs. Lundgren, Arlovski vs. Adkins, Adkins vs. Lundgren, Adkins vs. Van Damme. (Van Damme already fought Lundgren and Arlovski in the last one.)
The fights are all excellent, especially the one in the sporting goods store where John suddenly gets the eye of the tiger or realizes there's no spoon or becomes universal and knows every move to make. The fight choreographer and stunt coordinator is Larnell Stovall (UNDISPUTED 3, NEVER BACK DOWN 2), making this something of a DTV superteam (though I don't classify it as DTV since it's gonna play in some theaters this month). Like with Stovall and Hyams' work in DRAGON EYES there's a huge amount of damage to furniture and structures. Fists and axes going through walls, heads smashing into mirrors and windows, backs through shelves and tables. You can't have the punches connect every time, so instead you apply the damage to inanimate objects to give an indication of what might've been. But there's also a huge amount of bodily damage.
I know CGI blood gets a bad name, but this one has some seriously upsetting head shots and other wounds. Do not assume all fingers and toes will remain attached to their owners. The version I saw was cut to get an R-rating, and it's look like they must've earned that NC-17.
But in a John Hyams movie it's not just the incredible Boyka v. Pitbull fists-and-bats fight that's great (although that's an obvious highlight), it's also the look of horror on the woman's face when she's standing there watching her guy destroy the other guy. It's not "hooray, we won," it's "oh shit, do I really want to leave with this guy?"
So it's helpful that this is Adkins' best performance so far. It really starts out as a drama for him. In his second scene he's in a hospital bed and has to process the loss of his family while barely able to speak. In fact most of his scenes are very low on dialogue, high on dread and creepiness. It's so effective I didn't notice how long it took to put him in a fight. And I think if he didn't have the muscles then some people might see this thinking he was just an actor and be shocked when he starts doing flying kicks.
I heard from some of my fellow internetists who saw this at Fantastic Fest that it was a big what-the-fuck headscratcher of a bad movie. You may have seen the review on Badass Digest by Brian Collins (of Horror Movie a Day), Ethan Saathoff (aka Sam Strange) and FILM CRIT HULK (GUY WHO WRITES IN ALL CAPS). They all loved REGENERATION but not this one. I was so confused by their confusion with it that I started writing a point-by-point response to theirs as an appendix for this review, then I decided that would be overdoing it. But since they'll be reading this here are nine quick points for them (skip this numbered list if you haven't seen it 'cause there's SPOILERS):
1. Dolph is obviously a clone like he was in the last one, there is no need to explain this
2. I think I speak for the world in saying that no, Ben Affleck would not have been a better star for this particular movie
3. I don't know why Brian considers Arlovski the lead of REGENERATION, I'd say it's clearly Van Damme, with Arlovski as the monster, basically
4. Yes, it is a whorehouse for UniSols, they make a point of showing the scars on the backs of all their necks (from the removed chips) and I believe the desk lady may even recognize John from one or more of his previous clones coming in there.
5. Hulk says "there isn't a moment where you understand what anyone wants or why." (lower case mine). Not true: John wants to remember who he is and get back at the guy who killed his wife and daughter. Complications ensue. That part of it is very traditional. And Hulk's definition of what's dramatic clearly can be broken since he ambiguous "good guy" or "bad guy" status of the factions he's stuck between is part of what makes it uniquely compelling.
6. The guy has scars because he's the guy John has been told he beat almost to death in the parking lot. That's the reason for all the weird tension with the foreman, the scarred boss, the guard dog, the bouncers in the earlier scene. That it's unspoken is what makes it awesome.
7. The shipment did have bearing on the story, it was the lab equipment that the government was trying to stop the rogue UniSols from getting, which ultimately falls into the hands of John, it seems from the ending
8. He can walk around with the hole in his head because he's a UniSol, and also it's been established in this one that they can now grow back fingers and toes
9. John is not a "wuss," he's a UniSol made to think he's a regular guy, by having memories. It's a movie about what it means to be human. I bet you guys love that shit in BLADE RUNNER but because this is called UNIVERSAL SOLDIER you don't want to deal with it.
As you'd expect, there are also plenty of people on IMDb that hate this movie. Differences make the world go round and what not, so I don't want to imply that not liking this movie is for weiners. But I don't like the way some of these criticisms put limitations on what an action movie is allowed to be. Remember when the FRIDAY THE 13TH producers met with Tarantino and it was rumored for about a day that he might do part 11 I believe it was at the time? Everybody says well, of course, he would never lower himself to do something like that. But my dream is that some day somebody will. Somebody that would say look, I like this series, but I think I can do something different with it, I can elevate it, treat it like my next film and not just the latest installment.
Hyams wasn't Tarantino, he was a rookie, but to me he created something like that, he said watch me take this lowbrow series, a DTV sequel that nobody will even notice, and pour everything I got into it. Give it a different tone, do fights and chase scenes way above the modern standard of quality, invest JCVD and Dolph with a poetic dimension of tragedy that was never acknowledged in this premise before. It's a way better version of the fun action movie Roland Emmerich made, but adds a commentary on the endless cycle of war and the toll it takes on the souls of soldiers. It transcends DTV, sequels, and Universal Soldier itself. (Also it's awesome.)
So REGENERATION took us all by surprise, but it seems to me like most of the negative DAY OF RECKONING reviews I've read are by people disappointed to be surprised again. This time they wanted the same thing as last time. So many of the complaints are the exact things I think are cool about the movie, or at least things that aren't inherently negative: yes, it's more of a noir mystery and horror story this time. Yes, Scott Adkins is the main character, JCVD and Dolph are in supporting roles, and are different from the last time we saw them. Yes, the UniSol technology has evolved and there's not a scene where a guy in a lab coat specifically reminds us of the cloning process and acknowledges that they no longer need to be cooled off or wear eye pieces. It's a totally diferent movie but with the same seriousness and assumption that there are people who would watch an adventurous, genre-busting, thoughtful UNIVERSAL SOLDIER 6. People like me.
I love this movie. I couldn't help but watch it twice during the 2-day VOD rental period, and I'll watch it again November 30th if it plays in 3D here. You gotta respect that it's the fifth sequel to a Roland Emmerich movie but it's complex enough to reveal more over multiple viewings.
I'm a fan of the series and I gotta call bullshit on anybody acting like Hyams pulled an ALIEN 3 and killed Newt and Hicks in the opening credits. I don't believe that Luc Deveraux is a beloved character to you, and if he is then you must know that his portrayal has never been consistent. In part 1 he was a fish-out-of-water somewhat comic character, an unfrozen Vietnam vet. Parts 2-3 he was played by a different guy. Part 4 he was Van Damme again, but alive and normal and with a daughter! Part 5 he was the grim walking-unexploded-ordnance that was so cool and now he's maybe even more dangerous, but it's ambiguous (a good thing). That each sequel is so different is part of what I enjoy in this series, and this episode's premise even implies a partial explanation for that: some of what we've seen could be implanted memories. Maybe that's how a dead guy got a daughter.
But hey, if that's too much for you they also got a UniSol driving around with a human woman helping him figure out the world. A nod to part 1 for you Emmerich devotees.
Movie fans always complain about cliches and remakes and unoriginality, but at they same time they want to know exactly what a movie is gonna be before hand and they get mad if it challenges those expectations. Sure, this is a big left turn from the other ones, but it's not HALLOWEEN III. It's a logical extension of what could happen further down the line, with the inhuman Deveraux able to regain free will but not humanity.
And actually maybe not free will. That's one of the movie's interesting questions. A scientist brags about creating something that simulates free will. Scott promises the plumber freedom when he releases him from government control, but the next thing we know he's in a mob roaring allegiance to his new leader. (And after his big speech Scott turns around and he looks sad. I don't know why, but I love it.)
How do you get your human rights when you're really weapons, people liable to beat each other to death over a bottle of water? And if your past experiences make you who you are then what do you do when you find out yours are made up? That Hyams can ask these questions in such a legitimately ass kicking action-horror-sci-fi-noir movie is what makes him so great.
This entry was posted on Saturday, November 3rd, 2012 at 2:21 am and is filed under
Action
,
Horror
,
Reviews
,
Science Fiction and Space Shit
. You can follow any responses to this entry through the
RSS 2.0
feed. You can skip to the end and leave a response. Pinging is currently not allowed.