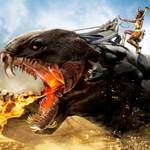 Alex Proyas's new fantasy GODS OF EGYPT debuted at the top of the box office this week, ahead of ZOOTOPIA and DEADPOOL. Only in Russia, though. Here it's a disastrous flop with merciless reviews.
Honestly this movie was dead the second they released a trailer. I don't think I ever once saw it discussed in any context other than a criticism of "whitewashing," since its lead Egyptian gods are played by white Europeans. Obviously a poor choice. Otherwise my take on the trailer was different from the conventional wisdom. I say appealingly weird, you say hahaha razzies haha sobaditsgood howdidthisgetmade haha.
Reading the headlines of the savage reviews, and seeing the weird stills accompanying them, pushed me to not miss it in the theater. At the multiplex here it opened with only two 3D screenings and two 2D each day. By comparison a nearby theater has three each of Stephen Chou's THE MERMAID, for which Sony has been criticized for having too small of a release. (Sorry, I didn't see that. I'm an asshole.)
The main thing here is that it's Alex Proyas. I wasn't gonna get my hopes up, but I didn't trust the responses of normal people on a movie by him. Those guys said KNOWING was terrible too, for many of the same reasons I enjoyed it. In fact, his movies wouldn't be as fun if they didn't put some people off. They have a little bit of that "how did he get away with this?" appeal.
The good news is GODS OF EGYPT is not as bad as they said. The bad news is it's not as crazy I'd hoped.
It's got its moments though. Basically a CLASH OF THE TITANS (2010) using Egyptian mythology instead of Greek, it has plenty of distinct imagery. Its gods bleed molten gold and can transform themselves into metallic flying beasts at will. When their wings or organs are severed (which happens more than once) they turn into jewels. There's a chariot that flies by being tied to flocks of birds. There's a golden cruise ship in space from which the sun god Ra (Geoffrey Rush) perpetually battles a giant toothy demon worm (one of the cooler looking monsters in the movie). In maybe the best action scene the heroes are chased across a stone labyrinth by two women (one of them The Dag from FURY ROAD) riding giant fire-breathing cobras that look like Gamera.
The most novel thing about the movie is that the gods are giants, like about N'avi height. So its like a reverse LORD OF THE RINGS, a bunch of the actors are made to seem big instead of small. When we first meet the hero Horus (Nikolaj Coster-Waldau, MAMA) he's lounging in a swimming people being massaged by women who are smaller than him, and it looks bizarre. And the other hero is Bek (Brenton Thwaites), who's a human, so it sort of ends up being a buddy movie between a god and a mortal, a big guy and a regular sized guy. That's cool, but unfortunately Horus never does something funny like keep the little guy in a backpack or hold him by the top of the head like he's palming a basketball. And plus everybody knows that buddy teams gotta be two different races for visual and cultural contrast. It just seems wrong with two white dudes.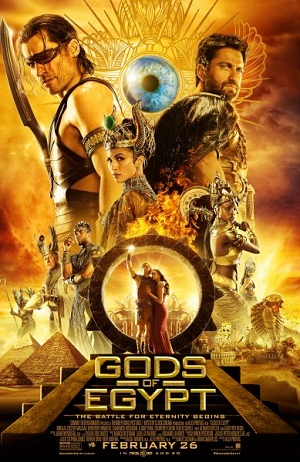 That brings us back to that casting thing, which I do think is the movie's biggest problem. Even setting aside issues of fairness in opportunities for non-white actors, or some idea of realism about what ancient Egyptians looked like, it's a bad idea because all of these actors could've been in any of the normal fantasy movies. The whole reason to make this movie is to put a different texture on the sword and sorcery style, so why have a cast indistinguishable from the ones in the TITANS movies, plus one guy who already starred in 300? At the very least it's a missed opportunity.
But actually maybe it's on purpose. We all know Proyas is Australian, but did you know he was born in Egypt? His parents were Egyptiotes, Greek Egyptians. So maybe he wanted Egyptian gods to look like Greek ones. Sonofabitch.
It's a little different than you might think though. It's not just a white cast symbolically representing Egyptians. The gods are played by actors of various ethnicities (including African-American Chadwick Boseman as Thoth and French-Cambodian Elodie Yung as Hathor), but Coster-Waldau, Rush, Gerard Butler and Bryan Brown are all playing one family, so they're all white guys. Otherwise Horus is surrounded by people of color, but that actually kinda makes it worse, because they're all worshipping and taking care of this giant white dude! There are a bunch of black and brown skinned deities seen at a gathering of the gods, so I think the gods are supposed to represent all the races, but most of those characters don't even have dialogue.
Boseman is the exception, and he also plays a bunch of clones of himself. He's dorky doing a snooty accent, though not as Eddie-Redmayne-in-JUPITER-ASCENDING-puzzling as rumored. I realized when I saw him presenting on the Oscars that I consider him a favorite actor just because of GET ON UP, but was unfamiliar with what he normally looks and sounds like. And here he's doing a voice and accent and in BLACK PANTHER I'm sure there'll be an accent too, so maybe we'll never know. Anyway, he would've been way more fun here if he just played Thoth as James Brown, and that would've given the movie some extra soul to make the cast seem more balanced. His duplicates could've been different stages of James Brown too: young sex machine JB, crazy old jumpsuit JB, Living In America JB.
You know what else would've helped? KNOWING's Nicolas Cage. If he was playing Egyptian it would've been worth the discomfort. He would've made it special.
The overall look is kinda tacky. Lots of yellow, shiny gold muscles, glowing and dust particles. Those put off by unrealistic computer effects are asked to please abstain, and the 3D is mediocre at best. Thwaites as Bek (who I kept wanting to call Aladdin) verges on annoyingly perky, but it's good to have him around to run across a series of falling objects or parkour his way through an Indiana Jones style death trap. And it generally doesn't go too long without having a sphinx or a swarm of scorpions or some cool rotten-faced creeps in the land of the dead (one of them Bruce Spence I think, based on the credits).
The script is by Matt Sazama & Burk Sharpless (DRACULA UNTOLD, THE LAST WITCH HUNTER, the upcoming POWER RANGERS). I enjoyed the mythological storyline. Set (Butler) steals the crown, tears out Horus's eyeballs and turns the afterlife into a gated community for only the top 1% of treasure-havers. But the scrappy thief Bek (isn't he supposed to be a Scientologist? I think I heard that) steals back one of the eyes and gives it back to its original owner in exchange for help in bringing his girlfriend Zaya (Courtney Eaton, Cheedo the Fragile from FURY ROAD) back from the dead. Horus doesn't have the power of resurrection, but his plan is sound: if he can regain the crown before she finishes walking the long path to death he can stop her at the gates. I love that kinda shit. Anubis (another cool monster, kind of a werewolfy take on the traditional lanky jackal-head) just seems to enforce the law, so maybe he'd accept this loophole.
I'm kinda into this type of modern fantasy action. The lowbrow, poorly reviewed ones that aren't as gloomy and serious (or good, admittedly) as LORD OF THE RINGS. Just like this one, I usually see them at a sparsely attended afternoon matinee. I liked THE SCORPION KING and CLASH OF THE TITANS better than this, but I had more fun here than with WRATH OF THE TITANS or CONAN THE BARBARIAN (Mamoa Edition), and maybe about as much as HERCULES (The Rock version). All of them pale in comparison to 300: RISE OF AN EMPIRE, but that has the advantage of being gloriously R-rated.
In my mind these are not real mainstream movies, they're studio b-pictures, and they mostly fulfill their duties. The trouble is they need to be low budget for that to be sustainable, and this one is obviously expensive. They gotta sell alot of tickets just to break even, and whoever thought that was gonna happen with this one did the math wrong. Except in Russia.
If they had filled this cast with Egyptian or black actors and the critics hadn't had their knives out I'm not sure that would've been a hit either. But after the controversy it was clearly a non-starter and I suspect the studio gave up on it right after the trailer came out. Since Ridley Scott's EXODUS had the same problem I expect this sort of thing will become a no-no. But that probly just means no more Hollywood movies about Egypt.
Man, how does Proyas keep going? It seems like his Hollywood career has been almost entirely made of troubles. His most warmly received movie was THE CROW, but there's no way he enjoyed it after the tragedy. DARK CITY is his best, but underappreciated in its time, and clearly compromised by the studio with that opening narration explaining what you later realize was meant to be a surprise twist. I, ROBOT was a notorious struggle with the studio, his biggest hit I think but people look down their noses at it. KNOWING did okay, but was mostly just appreciated by us and Roger Ebert. Now this one seems like a potential career-killer, but I bet he'll walk it off. I wish he could lend that resilience to Stephen Norrington.
See ya with another weird, troubled movie in five or six years, Proyas.
This entry was posted on Friday, March 4th, 2016 at 11:27 am and is filed under
Fantasy/Swords
,
Reviews
. You can follow any responses to this entry through the
RSS 2.0
feed. You can skip to the end and leave a response. Pinging is currently not allowed.