My Summer of 2001 10th Anniversary Retrospective will continue shortly, but as requested here's a brief interlude in the present to deal with some pressing issues.
SUPER 8 is the new picture from writer/director Jay-Jay Abrams ('Felicity') that is produced by Steven Spielberg and done in a style that's a slavish tribute to the classic Spielberg pictures of the '70s and '80s. It takes place in '79 and it's about a kid whose mom recently died (if it was a real Spielberg movie it would be about divorce), his dad doesn't really understand him, his friends are making a zombie movie, and also there is a gigantic train crash that unleashes a monster that scares away the dogs, knocks over alot of shit and kidnaps his girl.
His dad is acting sheriff during the emergency but the military who come in to investigate what got off that train aren't cooperating. The kids could be straight out of E.T., the dad's investigation is JAWS, the mystery's a little CLOSE ENCOUNTERS. You even got some JURASSIC PARK with the offscreen beastie messing shit up, and some WAR OF THE WORLDS in the way the movie limits your view of what's going on when the shit hits the fan. I haven't seen THE TERMINAL so I'm not sure if there's any of that in there. Didn't notice any MUNICH either.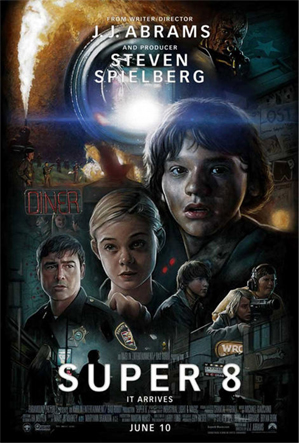 I don't know how spoiler free you guys have stayed, maybe you don't even know what escaped from that train. I mean I guess I didn't know for sure either, I assumed it was an alien but it could've been a shark, an aggressive truck, an island full of dinosaurs, a previously unmentioned second island full of dinosaurs, or a smaller and not as well animated group of dinosaurs but with some that fly. It could've been a sasquatch, a horse, a dragon, a werewolf, wind, the Rabbit's Foot from MISSION IMPO33IBLE, talking smoke, a sideways dimension of Heaven, a girl who moved to New York to follow a boy, or just a misunderstanding. All those are probly correct but spoiler it's an alien. Just basically a small Cloverfield. I call him Nermal.
Yeah, SUPER 8 is kind of like E.T., but mainly in its portrayal of kids who are smart and are dealing with emotional problems and often look upwards in amazement as light shines on their faces. Don't expect them to dress the alien up like a girl and get it drunk. Instead of eating Reese's Pieces Nermal eats people (or at least sucks on them, I'm not sure if it ever shows it biting down). It does build a machine out of human junk though, that's one way it's like E.T. It doesn't die and come back to life. It doesn't heal anybody. It knows this is a dangerous world where people carry more than walkie talkies. At the end, the kid pretty much has to tell it to "be good." E.T. would be embarrassed by Nermal's behavior, honestly.
The cast is across the board excellent. The dad is the guy from the FRIDAY NIGHT LIGHTS tv show, the kids are all newcomers except for Elle Fanning from SOMEWHERE. Abrams manages to get very natural, likable performances out of these kids just like his producer used to do, and not grating and obnoxious like GOONIES. I like that the kids get to swear a little, sneak out at night, drive illegally, break into the school, play with explosives and hang around a stoner. It's not quite STAND BY ME but it's in that forgotten tradition of acknowledging that kids can be up to no good and still be good kids.
The main kid is a Fangoria kid who does the makeup for their movie and namedrops Dick Smith's Do-It-Yourself Monster Make-Up Handbook. His friends include a passionate director, a nerdy actor (he wears a fedora to play an adult, reminds me of the kids who made that RAIDERS OF THE LOST ARK adaptation) and a kid who likes to blow shit up.
Strangely it's these characters that are the movie's strength, not the monster that's attacking the town. In modern summer movies it's usually the other way around, I've noticed. It does a good job of building up tension and creating this atmosphere of a small town being overrun by a secret military operation, but the most memorable scenes are small things like the kids filming their scenes. (At one point the two worlds intersect as the kids sneak shots in front of real soldiers ransacking a house.)
There's a great scene where Fanning's character sort of reluctantly rehearses her scene for the movie and gives a professional-level acting performance. And the way the kids react is hilarious. Actually it's pretty much the kids version of that scene in MULHOLLAND DR. where she does the audition and turns out to be shockingly great.
You do get to see some of the movie the kids are making and it's really impressive how authentic it seems. Goofy but not exaggerated. I wonder how the hell Abrams got kids that could give good movie performances but also give performances like kids making home movies? By the way,  this kid has a DAWN OF THE DEAD poster in his room. I don't know how these kids would've seen it, since it was released unrated and this was before home video. I guess age didn't stop them from driving cars, but I'm guessing they just have pictures and obsessively want to see it but haven't been able to yet. Maybe they even have the novelization by George Romero with the color photos in the middle and the first one is a head exploding. They have a little Savini and Fulci in their zombies, but they still seem influenced by the b-movies of the '50s and '60s with their square doctor characters standing around giving exposition. They're smart and talented kids but they're not hip. I like that.
I think my favorite part is the very opening, which uses elegant visual storytelling to show that this kid's mother has died and then has him sitting on a swing as the adults are inside the house for the reception after the funeral. The movie gets alot of emotional mileage out of that perfect introduction to the situation this poor kid is in.
The movie's weakest spot is at the end, when everything comes together and the mystery has to turn into the solution. The unexplained becomes the explained, the weird happenings have to sort of make sense and the creature that's been making crazy noises and knocking large metal objects around has to show himself. What happens is pretty simple and relies pretty much on magic, the idea that it's from space so it can do shit that goes against our science. Or maybe it wouldn't seem that way if it had the Jeff Goldbum scientist character who explains what's going on. Instead it's the kids who stumble across it so fuck it, why bother explaining, it's a space monster doing some crazy shit. I liked that about it.
It's all leading to a climax that could be knock-you-on-your-ass heartwarming if the story worked toward it a little better. Instead it's just sweet. But I'll take it.
By the way, I will not be mentioning this "J.J. Abrams' Mystery Box" thing that everybody mentions in SUPER 8 reviews, other than to say that I haven't seen that episode of Felicity where it's shot like a Twilight Zone episode and at the end it turns out they're stuck inside the box that Meghan always had and wouldn't let anybody know what was inside. I've already made it very clear I don't watch that show so why would i know anything about that, I'm not a girl.
I keep hearing references to there being some "secret" in SUPER 8. Those people are confused. There's no secret, but in the J.J. Abrams tradition (and the E.T. tradition) they haven't let pictures of the monster get out ahead of the movie, so you go in not knowing what's it gonna look like. The difference is that E.T. was a perfect and unique design and it used groundbreaking special effects that still look great today. SUPER 8 doesn't have that.
Don't get me wrong, I really enjoyed this movie. I don't got big complaints. But I could've loved it if it had a great monster. I love a good monster and this is merely a passable one. There's a big build to finally seeing the thing and then it doesn't have enough screen time for you really to get to know it the way you would a King Kong or a JURASSIC PARK t-rex. It's more like a now-you-see-it-now-you-don't JAWS type monster role, which doesn't really fit because the movie is asking you to have some sympathy for it at the end, not for you just to want to see it get blown up. Yeah, I understand intellectually that he got a raw deal and doesn't know better than to eat some human flesh, but to truly sympathize emotionally I gotta look into its eyes and recognize some kind of intelligence or soul or humanity. Instead it's just another CGI spider headed crab monster fucker.
I'm not saying it's embarrassing like the cartoony two headed podrace commentators in STAR WARS PART 1 or something like that. It just looks like a leftover design from CLOVERFIELD. Like so many monsters and robots these days there's no grace to it, no elegance, it's just a big pile of needless arms and bumps and shit, a bunch of shit wiggling around and moving too fast. You don't even come out of the movie knowing what shape the guy is. There's no discernible silhouette. Show me the shadow of E.T., the Alien, the Predator, Mickey Mouse, Run DMC, I would know what it was. Cloverfield or Nermal or Megatron I wouldn't know which one it was, it would just look like somebody holding up a fistful of spaghetti. That works fine for Cloverfield because he's just a big dumb asshole stepping on your friends, you're not supposed to relate to him or get a clear look at him. This Super 8 guy though he should be a real character, and he's not.
I believe it's time for all the monster designers and the producers and art directors who boss them around to go on a vacation in the mountains. When they get to the top Guillermo del Toro's gonna be there. He's gonna go around with a whistle making them jog and do pushups. Then he's gonna lecture them for six days about how to make good monsters. He's gonna tell them corny anecdotes about Ray Harryhausen or some shit. Then he's gonna poison them and they're gonna wake up with no memory of their past work. They gotta fuckin start over because the world does not need another one of those fuckin Rancor monster ripoffs like in THOR and CLASH OF THE TITANS and it certainly doesn't need any more of these tentacly CGI blobs in the Abrams movies.
Luckily nobody has come close to approaching the terribleness of the design in the TRANSFORMERS movies, but it's all that same wrong-headed philosophy that because it is now possible for computers to pile ten million needless details on top of an indistinct skeleton that it's what you gotta do every time. You know, E.T. was made of rubber, they could've easily put a bunch of wiggly tentacles all over him if they wanted to but they used the "would this look like crap?" rule and that dictated that they should not.
It's time to put the "would this look like crap?" rule back into practice. Saying this monster looks like crap is overstating it, I guess. But I think we can all agree that it's not an all time great monster for the ages. To not do better is to not take the responsibility of reviving the early Spielberg magic seriously enough.
But the sweet story of the kid comes together with the story of the alien. He has a little piece of wisdom and he shares it with the alien to make peace and it's corny as hell but the kid's eyes look so innocent I'll accept it. He's like Linus. He could stop a monster from killing everybody or he could tell you where the most sincere pumpkin patch is.
This ain't JAWS or E.T. and I don't mean that in the "it's not Hamlet" sense. If Abrams could've made it JAWS or E.T. he would've. It's not that good but it gave me a smile in the middle of a so far pretty lackluster summer. It's a hell of alot better than BATTERIES NOT INCLUDED or something.
* * *
summer '11 rankings so far:
1. FAST FIVE
2. probly this or X-MEN
3. I don't know, BRIDESMAIDS was pretty good
4. undecided
This entry was posted on Wednesday, June 15th, 2011 at 12:08 am and is filed under
Reviews
,
Science Fiction and Space Shit
. You can follow any responses to this entry through the
RSS 2.0
feed. You can skip to the end and leave a response. Pinging is currently not allowed.