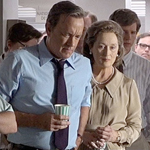 THE POST is Spielberg's newspaper movie. Specifically it's about the Washington Post in 1971 struggling for relevance, banned from a first daughter wedding, in the process of taking an inherited family business public, when suddenly their more exalted rivals the New York Times get a court injunction for breaking the story of the Pentagon Papers (a secret study proving that the government had known for years that the war in Vietnam was unwinnable and stayed in just to put off the humiliation of a loss). Can The Post's reporters get ahold of these Papers for themselves, will they have the balls to print a story about them, and will they get away with it? I think you know the answers, but tune in to find out how it goes down.
Like LINCOLN or MUNICH, this is one of Spielberg's very good grown up movies that doesn't necessarily light the world on fire, seems destined to be buried in his catalog of iconic classics, but gets some nice reviews and an "it's an honor just to be nominated" slot in the best picture category at the Oscars. Another movie like that was BRIDGE OF SPIES, the year SPOTLIGHT won best picture. SPOTLIGHT was a good movie with a big cast doing great work in a story about the importance of journalists uncovering dangerous secrets and standing up to powerful institutions that have covered up their own complicity in atrocities. THE POST is all those things with the added bonus of being thrilling and cinematic. Spielberg might be doing a smart-people-talking-and-figuring-things-out movie, but he's gonna do that with an eye for imagery, period detail, and visual explanations of processes: stealing and reproducing a massive document, puzzling together the order of said document when the pages get mixed up, delivering a message across town, creating the plates to actually print a newspaper, running the printing press, the list goes on.
VERN has a new action-horror novel out called WORM ON A HOOK! He has been reviewing movies since 1999 and is the author of the film criticism books Seagalogy: A Study of the Ass-Kicking Films of Steven Seagal and Yippee Ki-Yay Moviegoer!: Writings on Bruce Willis, Badass Cinema and Other Important Topics as well as the crime novel Niketown.