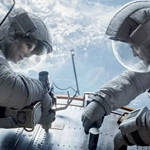 GRAVITY is the new one from Alfonso Cuaron, genius director who hasn't done one since CHILDREN OF MEN seven years ago. You remember for that he and his criminally award-snubbed cinematographer Emmanuel Lubezki (THE TREE OF LIFE, THE CAT IN THE HAT [!?]) devised several completely jaw-dropping long take shots where the protagonists run through these crazy battles and go through all kinds of shit without any visible edits. Remember that scene where the car is rolling down the hill and they get attacked by a band of marauders, or the one where he has to fight his way up the stairs looking for his elephant? Or actually I think one of those was TOM YUM-GOONG. But even so there were some great ones in CHILDREN OF MEN, and for GRAVITY they took that to the next level, doing most of the movie in long unbroken takes. You just stop thinking about it, but apparently the first shot lasts 17 minutes. And this is in an era when 17 seconds without a cut would seem like a long time.
Like AVATAR, this plays like a live action movie but actually has more animation onscreen than organic human flesh. Sandra Bullock and George Clooney play astronauts who are out in their astronaut suits fixing a satellite or telescope or some scientifical type shit when debris from an exploded satellite wrecks the shuttle and kills the rest of their crew. They have no contact with earth, no space ship and limited resources they gotta try to use to get their ass to the International Space Station or whatever. One of those space joints they got up there. Stop me if I use too much technical jargon and what not.
I was surprised by the jokiness in the opening scene. Usually a movie about astronauts or any type of real science professionals is pretty dry and serious, but they have Clooney flipping shit at his crew, playing Hank Williams songs on his radio and fucking around with mission control (Ed Harris, obviously), purposely boring him with stories of his childhood.
It's jarring at first but I think it was a smart move to have some levity in what could've been an upsettingly intense experience. Forget about unbroken shots, the best thing is the unbroken action. This one is not far off from being one long action scene. These two moonwalkers are climbing on things, spinning through empty space, dodging flying debris, trying to grab onto shit before they float away and slowly suffocate while spinning uncontrollably into the great void. Which is something they'd prefer to avoid. In the rare moments of non-action poor Sandra doesn't have much of a choice but to freak out about her lack of options, so I'm not sure it really counts as a breather.
When the credits came up I actually heard a guy saying "I've never seen anything like that before!" The weird genius of it is that it's not some fantastically imaginative scenario, it's something extremely simple and straightforward. "Space shuttle breaks down and astronauts try to survive" is something many people could've thought of before, it's just that nobody until Cuaron wanted to go through the trouble to figure out how the fuck you put that on screen. I haven't yet read anything about how exactly they did it, and maybe it's better not to know. They're floating around for almost the entire movie!
In fact, it's such a spectacular filmatistical achievement it forced me to create a new logo to use only on rare occasions like this: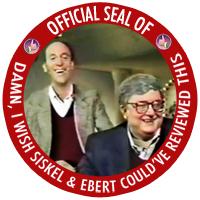 Honestly it's the first post-Ebert movie to really give me a strong feeling of that. I can picture how excited they probly would've been talking about this. I bet they would've loved it. Or if one of them didn't it would've been a funny argument.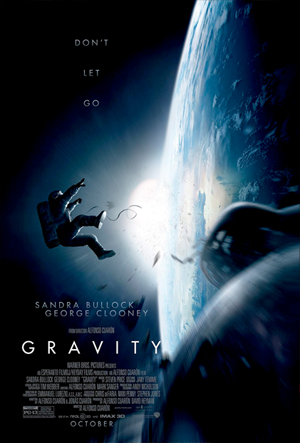 But all this incredible technology is used to tell a quick and very simple story. GRAVITY is huge and small at the same time. Huge in the sense that Cuaron creates outer space and NASA technology in such detail, and depicts characters surviving a calamity in a place that only a very few humans have ever been throughout history. Small in the sense that alot of it is one character alone onscreen, and only two total actors onscreen after the opening. There are many shots that show the whole planet of earth below, and others that stay about an inch from Bullock's helmet for long stretches. It's like an intimate play except it could only be done by spending years inventing crazy new special effects technology.
In fact it's so dedicated to simplicity that (END OF THE MOVIE SPOILERS THIS PARAGRAPH ONLY) they don't give you the satisfaction of her return to humanity, stumbling up to a bustling crew of medical professionals ready to help. They cut away before another human is seen. I got a feeling they could've afforded a big helicopter shot and crowd of extras and ambulances and shit. Instead you see her feet on earth and it doesn't matter what happens next. It's beautiful. And by the way I was SO relieved she wasn't greeted by ape people.
Ah hell, as long as we're already whispering this paragraph is gonna be SPOILERS too. Last one I swear. First I want to say that I would've been pissed if she just drowned at the end. Alotta times a happy ending is good. Second, I want to ask what you guys make of that scene where Clooney shows up again? I liked it, it was funny to have him suddenly knocking on the window, and a good way to illustrate her coming up with an idea. I fell for the trick but, horrible as it is I was kinda relieved it was a hallucination because otherwise it would've been "don't worry ladies, the man has returned and he knows what to do." But he's not a man, he's just a man-shaped vehicle for her resolve to deal with her past traumas and climb out of this disaster.
Bullock is really good, a character who is vulnerable (she's the rookie and starts the movie with everybody worried she's gonna puke) but obviously more capable than any of us dumb earthbound motherfuckers. She talks like she doesn't know what she's doing but she adapts to situation after situation, even though the instruction booklets are in Russian or Chinese. She doesn't puke, which is arguably too bad considering how few movies have 3D zero-g vomit scenes in them. She's a space survivor on par with Ripley, but since there are no aliens to fight she makes up for it by stripping to her underwear two times instead of just one. But then she floats around. Honestly it's not sexual at all but she's got plenty to be proud of there, she's in science shape, looking younger than usual. Maybe it's the haircut.
I guess all or some of the live action parts were post-converted 3D, but so much of it is animation anyway that it looks great. This is a topnotch use of 3D because it's so much about the physical space, as they float around it's great to see the different levels and the debris coming at you and you feel like you're up there with them. We say that about alot of movies but more than almost any other this movie is designed to make you feel like you're there on the scene. And it works.
It did remind me of one of the problems with the modern presentationing technology, though. In the old days of film, if the shutter was misaligned it would cause a flickering that was especially noticeable when a camera pans sideways, it could hurt your eyes and make it hard to look at. With digital projection for some reasons this just happens regularly. I guess it must not bother everybody, and sometimes it's worse than other times, but here's a movie where the camera is floating the whole time and sometimes my eyes have trouble focusing on it and that's a real bummer for a pure visual spectacle on this level. That's the main reason if I see it again I'm gonna go to the real Imax theater where it's an actual film print. But most people won't have an opportunity to ever see it except on digital.
There must be some solution to this flickering. George Lucas, are you completely retired now, or can you get your guys on this? (and don't you dare tell me higher frame rate Hobbitvision is the answer. Who do you think you're dealing with here?)
I saw somebody refer to this as science fiction. Is it sci-fi if it has space in it at all? Or is that in the sense that this is a fictional story about scientists? Would an underwater exploration movie with no peacemongering see-through aliens be sci-fi? I think this is not sci-fi, this is space drama, or an astroplay.
Whatever it is it's clearly a huge technical achievement in filmatism and cinematical computering. Only a crazy person would deny that. Most people seem to love it, but I'm sure (especially the more hyperbole we pile on it) some will be confused that so much technological ambition goes into such a non-epic story. Myself, I'm not 100% sure how I feel about it yet. I don't think I connected with it as much as CHILDREN OF MEN, but it's not like I love every nook and cranny of that more traditionally complicated story. GRAVITY has the emotions and the triumph of the human spirit and what not but it's best at being a thrill ride. That is not an insult. I like a good thrill ride, and this is better than good. When I see it again I figure I'll probly break one way or the other, either it's an amazing trifle and no more, or it's better than I was prepared to comprehend on one viewing. Either way I'm thankful for it.
Meanwhile, I have cancelled my plans to become an astronaut. I'm just not sure it's for me, you guys.