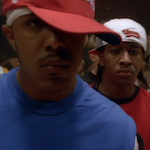 YOU GOT SERVED (2004) is a formula melodrama about a subculture of fiercely competitive dance crews in L.A. At night they have showdowns in what looks like a boxing gym, taking turns doing routines, the victor decided by the crowds who fill the place to the brim and cheer so loud it sounds like a stadium. In the opening scene sometimes they jump and when they land their feet seem to cause the earth to shake, as if they are Titans. But mostly the movie tries to seem down to earth.
It centers on Elgin (Marques Houston, BEBE'S KIDS, HOUSE PARTY 3) and his best friend David (Omar "Omarion" Grandberry, WRONG SIDE OF TOWN). They and their friends are incredible dancers but sadly they talk about it more as a "way out" than an art or a passion or something they were born to do, even though it must be all of those things. In the opening battle the prize is $600, but I counted at least eight people they have to split it between. I'm sure battling is way better than working an 8 hour shift, but I don't think you could win enough of these to pay the rent. So David and Elgin reluctantly supplement it by doing deliveries for a drug dealer named Emerald (Michael "Bear" Taliferro, HALF PAST DEAD; later directed STEPPIN': THE MOVIE). (read the rest of this shit…)
VERN has a new action-horror novel out called WORM ON A HOOK! He has been reviewing movies since 1999 and is the author of the film criticism books Seagalogy: A Study of the Ass-Kicking Films of Steven Seagal and Yippee Ki-Yay Moviegoer!: Writings on Bruce Willis, Badass Cinema and Other Important Topics as well as the crime novel Niketown.