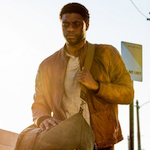 MESSAGE FROM THE KING is Chadwick Boseman's 2016 (pre-BLACK PANTHER) action(ish) vehicle, released straight to Netflix. I always meant to watch it – I'm sorry it took me a tragedy to get to it. It's pretty good.
It follows the classic noir tradition of the outsider who comes into town because a loved one went missing or died, starts asking around, spying on people, finds out what happened, and goes after the people responsible. I tend to like that story format – in fact, I kind of played off of it in my book Niketown, now that I think about it.
The specific version of this type of story that MESSAGE FROM THE KING reminds me of most is THE LIMEY. That's both a compliment (I love THE LIMEY and movies like it) and bad news (unsurprisingly it's not as good as THE LIMEY), but I couldn't avoid the comparison. Instead of British he's South African, instead of a daughter it's his sister, and instead of her being involved with an older music producer it's an older movie producer. But it's a similar thing of a guy from another culture going around to rich people parties, barging into front businesses, angering macho thugs who don't know who he is and underestimate him, playing dumb but exploding into a few sudden bursts of brutal violence. (read the rest of this shit…)
VERN has a new action-horror novel out called WORM ON A HOOK! He has been reviewing movies since 1999 and is the author of the film criticism books Seagalogy: A Study of the Ass-Kicking Films of Steven Seagal and Yippee Ki-Yay Moviegoer!: Writings on Bruce Willis, Badass Cinema and Other Important Topics as well as the crime novel Niketown.