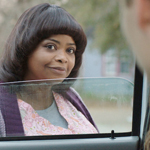 MA is a pretty simple little Blumhouse thriller that doesn't go much deeper than what you see in the trailer, but I had fun with it. Academy Award winner Octavia Spencer (HALLOWEEN II) plays the titelistical matriarch, a.k.a. Sue Ann, a single veterinarian's assistant in a small town in Ohio who is randomly approached one day by some high school kids who want her to buy them alcohol. Not only does she hook them up that one time, she becomes their regular buyer. And then she decides to let them use her basement as their party space. She's like a cool, irresponsible aunt. She jokes around inappropriately sometimes, but tells them she'd rather they be here than out driving drunk or something. (Plan A was to party in a van.)
There are a couple obvious ways to play this. One would be to draw out the reveal of whether or not Ma is a psycho. I like that they immediately show her looking up the kids' Facebook pages like a stalker. There are two other major escalations in craziness that happened so abruptly I got a big laugh and wished I'd seen this with an audience. The suspense is in how far she's gonna take this. And there's tension about things like "why is she so insistent that they not see the upstairs" and "will Maggie (Diana Silvers, BOOKSMART) be able to make her friends and her boyfriend Andy (Corey Fogelmanis, Girl Meets World) see that this lady is trouble?"
I kinda hoped this would be a mean-spirited movie where you root for the little brats to get tormented, but Maggie is too likable for that. She's the new kid in town and the popular kids are surprisingly welcoming to her – they're not that bad. They just make poor decisions.
But I found Ma to be a sympathetic villain. She's obviously dealing with some issues. And her schoolmates were not as nice to her. This is one of those stories where every significant person from her teenage life still lives in the area and they all bump into each other and all these kids are the kids of the people she grew up with. You could say it's because it's a small town, but we see them seeing each other for the first time in years. So it seems to just be coincidence.
In flashbacks we learn about a cruel thing that was done to young Sue Ann by Ben Hawkins (Luke Evans, NO ONE LIVES), notorious asshole and father of Andy. Ben is a funny character because he's introduced getting a blowjob from his girlfriend Mercedes (Missi Pyle, JOSIE AND THE PUSSYCATS) in a car and when it's interrupted by a phone call he blandly tells her "We're good." We find out more about Ben and Mercedes when they're drunk at a casino where Maggie's mom (Juliette Lewis, MEET THE HOLLOWHEADS) waitresses. She grew up here and knows them too. Juliette Lewis is playing moms now!
After seeing it I was curious what black writers had said about the racial politics of MA. Ashlee of Graveyard Shift Sisters, who I know from the HORROR NOIRE: A HISTORY OF BLACK HORROR documentary, seems surprisingly won over by the character and sees it as a commentary on "mammy" stereotypes. It could've gone either way, because it's directed by Tate Taylor, whose work on GET ON UP really impressed me, but he's also the guy who did THE HELP, poster child for well-meaning white people anti-racism movies that still manage to be demeaning to their excellent black actresses.
For some reason I assumed that Tate reteaming with Spencer for this had to mean it was some kind of apology or commentary or explanation of THE HELP. But it's more like color-blind casting – she's just playing a nerd that got picked on. It's never implied that being one of the only black people in a small town has any effect on anything that goes on. Which is a choice, and it's fair, because a brilliant actress like Spencer shouldn't be forced to deal with racism in every movie. But I do think a version of MA that had something to say would've hit the spot.
Also, I think this trend of directors who have done big, respectable-ish movies coming to do low budget horror with Blumhouse is pretty cool (see also Barry Levinson, M. Night Shyamalan, arguably David Gordon Green).
The script by Scotty Landes (Workaholics) wasn't written for a black actress, but also didn't originally have a backstory to explain her vendetta. She was just a Maniac Alcohol Buyer, I guess.
I guess if there are depths to this movie I don't have the right glasses to see them, but it delivers well on exactly the type of fun it promises. Kids – be responsible, be cautious, be safe. Do a thorough background check on the adult woman who thinks it's a good idea to buy you alcohol and let you throw parties in her basement.
+=