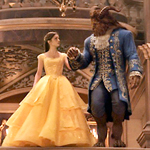 Disney's new live-action rendition of Disney's BEAUTY AND THE BEAST is a tale as old as time, a collection of songs as old as 1991, plus new ones created in 1993 for the Broadway musical. Unlike Jon Favreau's excellent computer-animation-that-seems-like-live-action remake THE JUNGLE BOOK, which melded beloved elements of the 1967 animated classic with more serious drama from Rudyard Kipling's book, this is a very faithful, at times scene-for-scene re-enactment of the 1991 best picture nominated hit. But that's the idea: it's the movie version of the stage version of the animated version of the traditional fairy tale. Director Bill Condon (CANDYMAN 2: FAREWELL TO THE FLESH) and adapters Stephen Chbosky (RENT) and Evan Spiliotopoulos (HERCULES with The Rock) seem to look at it much more as a restaging than a reinterpretation.
That gives it a slight whiff of the experimental quality of Gus Van Sant's PSYCHO, though it will go over better with the generation raised with a stack of squeaky-clamshell-VHS boxes in their basement than that movie did with anyone (except me). You sit back and you watch the familiar story, it's very much the same and yet different this time. They're singing "Be Our Guest," and it's the same kind of Busby-Berkeley style montage of dancing plates and shit, only this time it's not drawings, it's computer renderings. And then there's that yellow dress, and that chandelier, and that 360 camera move, this time with an actual camera move (I think).
Belle is Emma Watson (THE BLING RING) now instead of a cartoon, but she's still known as the most beautiful woman in town and also a weirdo because she likes to– Well, she has a hobby of, you know, even though she's– I mean, this almost seems too crazy to write down into words. What I'm trying to say is that although she is a woman, which she is, she also reads books. With words in them. She is a person who does reading. But a woman one.
Ah, I'm just joshin. It's weird to think now that in 1991, "bookworm Disney princess" seemed kind of progressive, but it did. THE LITTLE MERMAID had been a surprise hit two years earlier, reviving the company's tradition of animated fairy tales. At that point the last "Disney Princess" movie had been SLEEPING BEAUTY in 1959, so there was some serious updating that needed to be done. The characterization already feels quaint even though they added a part where the townspeople harass her for teaching a little girl to read, like they're the fuckin Taliban. But Watson's mere expressions give Belle an intelligence above that of the bland positivity of the drawings.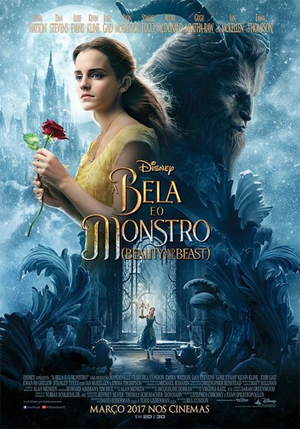 Many people in the theater chuckled when Belle first appeared wearing that same blue and white dress you remember. For a second it's like a parade at Disneyland. In close up, we can see that the dress is stitched together from different dresses, showing her ingenuity and working class bonafides. But that's Belle all right, going through that same town with that same number about how badly she wants to move to a city and get away from this bullshit "provincial life" even though politically it would really help us out to have more Belles spread around so the small pockets of backwards people who think women shouldn't read and hairy people should be shot on sight don't get equal say to the larger population of nice people.
(Isn't that what it's about? I think that's what it's about.)
I was skeptical about Luke Evans (FURIOUS 6) as the arrogant villain/suitor Gaston  – I thought they should've gotten Channing Tatum. But Evans turns out to be the highlight of the movie, at least early on, before the story switches him to a straight up evil dick who chains Belle's dad to a tree to be eaten by wolves. Before that Evans captures the comic vanity but makes him more human, less stupid, which I found interesting. Yes, he's a dipshit and needs to respect Belle's rejection of him, but he still seems almost likable. In another story he could be the romantic lead who becomes a better person and wins her over. In fact, the added prologue of a pre-Beast Prince shows him to be way crueler and douchier than Gaston is ever shown to be. (That's gotta be the worst addition to the story.)
During the end credits they have bloopers and Stevens is in a jumpsuit with dots all over it and the camera pans over and Ron Perlman is standing there with his arms crossed shaking his head and Linda Hamilton is standing next to him and he's like "Look at this motherfucker."
The Beast was a breakthrough feat of character animation in 1991, and I think Stevens' mo-cap version mostly coasts on our memories of that. I mean, he's fun to watch, but his expressions are less sophisticated than we've seen in, say, the new PLANET OF THE APES movies, or at least the acting is not as successful. And I think a quarter of a century later his personal transformation from jerk to sweetheart could stand some added development and nuance.
Speaking of transformations, they really didn't solve the original's unusual problem of nobody wanting to see the cool monster turn into a dorky human Fabio dude at the end. And the long hair is definitely not doing Stevens any favors. All the male servant characters are even worse in their human forms with their shitty wigs and mustaches, like they're in that NUTCRACKER: THE UNTOLD STORY movie. As living candleholders and clocks and shit their realistic detail makes them less expressive than their drawn counterparts. My favorite in this version is Cogsworth (Ian McKellan, THE KEEP), whose face made of moving clock parts looks really cool, and he has a great TITANIC moment when death-by-end-of-curse seems imminent and he says "Gentlemen, it's been an honor to work with you."
One cool thing about the casting is that Kevin Kline plays Belle's dad and Audra McDonald plays the lady that gets turned into a wardrobe, so it's a mini-RICKI AND THE FLASH reunion. I was hoping there'd be a part where Diablo Cody is dancing joyously in the front.
I'm sure plenty of people have written about the unfortunate domestic violence parallels of this fairy tale, the idea of a woman thinking she can teach this man (who abducts her!) some etiquette and wait for him to learn to be nice to her. Instead I'll address another aspect that nags at me a little – the troubling SONG OF THE SOUTHian idea that the servants would be happy and proud to sacrifice their whole lives taking care of some rich prick whose greed and superficiality got all of them cursed. And even though they didn't do anything at all they got a by far worse version of the curse than he did. Which would you rather get stuck as: a big hairy monster, or a talking feather duster?
These animated-inanimate-objects remain in the roles of pampering this worthless prince 24-7 for years on end and they don't complain. I mean, imagine if you worked a shitty job and your boss sucked so bad that you turned into inanimate objects trapped in his house for years and years and you had to work for him even harder because you're living through this fucking body horror, you look down at yourself and you are not made of flesh, you are made of metal parts or whatever, and you're not even shaped like a human and you're small. Every single thing you do takes way more work, and your very future depends on teaching him to be less of an asshole, and he's not even that interested.
Would you be honored to die for that shit? Let me be the first to say that I wouldn't. This is why we have unions, people.
When they turn back into humans we learn that some of them had loved ones out there missing them for years on end. That's very sad. Although I'm not sure why they didn't check in on them at the workplace. There are a couple things I wonder about relating to the uncursing of the teacup Chip. Shortly before they all turn human again he falls but is just barely caught. What would've happened if he broke? Would he then morph into a pile of body parts? Would they be bloody and chopped up, or clean?
Also, are we all gonna ignore that he went there as a kid and was there for years, presumably aging mentally, so now he is an adult in a child's body?
Anyway, I bet the next day at work was weird.
This is the new thing now, Disney is making live action or live action-esque versions of all their animated classics. I thought it was a joke when I first heard "Guy Ritchie's ALADDIN," but it's real. They're also doing it with THE LITTLE MERMAID, MULAN (directed by WHALE RIDER's Niki Caro) and THE LION KING (Favreau again). When they run out of those I figure they'll do MARY POPPINS animated, but with live action penguins. And reverse ENCHANTED: princess from live action fairy tale land transported to contemporary animated city. And SONG OF THE SOUTH but the Brer Fox/Brer Bear scenes will be live action and the racist parts will be a water flume ride.
I'm sure some of these will be better than BEAUTY AND THE BEAST and some of them will be worse. This is an interesting restaging of the animated musical, hardly a replacement, but fun to compare differences and similarities.
This entry was posted on Monday, April 24th, 2017 at 10:55 am and is filed under
Family
,
Fantasy/Swords
,
Musical
,
Reviews
. You can follow any responses to this entry through the
RSS 2.0
feed. You can skip to the end and leave a response. Pinging is currently not allowed.