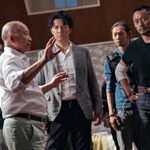 "Very impressive. Though perhaps a bit excessive."
–a quote from John Woo's MANHUNT that I do not believe applies to the movie itself because the concept of excess does not exist in the Woo Zone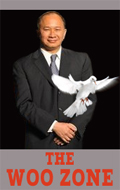 Welcome back to the Woo Zone, a dimension of violence and poetry, of bonding between enemies, of glorious slow motion badassness and tragic desecration of symbols of peace and redemption. When we're not in the Zone, many of us have resigned ourselves to a world where John Woo is in the past, a face on Action Movie Mount Rushmore, but not a currently active artist. If that's you, I am honored to bring you word of MANHUNT, Woo's highly enjoyable new movie which has just been undeservedly sentenced to a Netflix dump in May. I saw it by buying a legitimate region A, English subtitled blu-ray from Yesasia.
The hype around this has been that it could be a return-to-form for the maestro, at last returning to contemporary-Hong-Kong-crime-action-male-bonding-with-doves after a detour into Hollywood studio movies (MISSION: IMPOSSIBLE 2, PAYCHECK) and then massive Chinese historical action (RED CLIFF). And that's pretty much true. There are "good guys" and "bad guys" who gain respect for each other. There are a whole bunch of thrilling action sequences and guns used with artistic license. And I will definitely be telling you some things about the doves. There are some topnotch doves in this one. There's also some dancing. Because Woo was once a dance instructor.
But Woo – despite throwing in a line of dialogue referencing the title of his breakthrough movie – doesn't seem primarily interested in making a throwback to his own classics like THE KILLER and HARD BOILED. This is kind of his tribute to Japanese cinema. He made it to show his respect for recently deceased favorite actor Ken Takakura, who inspired Chow Yun-Fat's style in A BETTER TOMORROW. It's based on a book by Juko Nishimura that was made into a 1976 movie starring Takakura (not available on U.S. video – whatchya gonna do about that, Netflix?). Though some of the stars are Chinese it takes place in (and was filmed in) Osaka, Japan. (read the rest of this shit…)
VERN has a new action-horror novel out called WORM ON A HOOK! He has been reviewing movies since 1999 and is the author of the film criticism books Seagalogy: A Study of the Ass-Kicking Films of Steven Seagal and Yippee Ki-Yay Moviegoer!: Writings on Bruce Willis, Badass Cinema and Other Important Topics as well as the crime novel Niketown.