John Travolta plays Scott Barnes, a social worker who plays by his own rules. He was a rich investment banker or something until 4 years ago his son died of a drug overdose. He blamed himself and his alcoholism so he quit drinking and took this job. Of course, you know how it is: red tape, the fuckin bureaucrats, etc. He has to break the rules and defy orders from his asshole boss just to help out sad old men and endangered kids and stuff. Nobody else seems to give a shit and his boss is always looking for an excuse to take away his gun and badge, or whatever. "BARNES! IN MY OFFICE. NOW!"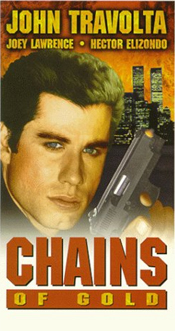 This character could have many different social-working adventures in a long series of hit movies, but this particular one involves The Case of the Missing Joey Lawrence. Lawrence (the kid from "Gimme a Break") is some kid Scott checks up on, he lives with his junkie mom and he's obviously been doing something illegal because he bought her a new TV. Scott hasn't seen him in months but seems to think they're blood brothers or something. He obviously sees this kid as a do-over for saving his son.
What he quickly finds out is that the kid is working for the Youth Incentive Program, which is not some thing where you sell magazine subscriptions and try to win prizes. It's a drug gang that uses exclusively minors as foot soldiers (because they can't go to prison). I'm not sure if I'd say there's an area where this movie excels, but if there is it's in the extravagance of the bad guys. They brand all members with tattoos, which seems unnecessary. If somebody crosses them or tries to quit – which Joey does after the lecture from Scott – they kill them or lock them up in a cage. For Joey they choose the cage.
The leader of the gang is Benjamin Bratt as kind of a cross between Scarface and a motivational speaker. He owns an exclusive club where all his kids dance to live music (a full band with horns and everything, although it sounds like keyboards) and enjoy the creative expressions of topless dancers. Bratt comes in and they treat him like Morris Day as he walks on stage and gives an inspirational key note address. His top henchmen wear gold ropes like Eric B and Rakim, but I think the title is supposed to be a metaphor. You're enslaved by the money they throw at you.
Travolta finds out that an old flame (Marilu Henner) is a lawyer for this criminal empire, and he tries to guilt her into getting him inside. When she says no he leaves her with a harsh "Enjoy your money!"
But of course she changes her mind and vouches for him so he's able to go undercover in hopes of locating the kid. So yeah, he's an undercover social worker. They show him the ropes, but it doesn't get to the part of the story where they're suspicious of him but he almost goes too deep and is forced to do bad things to earn their trust and begins to feel a loyalty to them and they're devastated when he's revealed as a traitor because they trusted him. No, he just finds out where the cage is and tries to unlock it.
It's almost a great scene when they find him out, though. They think he's a cop, so when he convinces them that he really is just a social worker trying to save one kid they have a long laugh. Bratt says ha ha ha, you should've just told me… then I would've just killed you. See, it's one of those deals where an evil person pretends to be nice just so it's even more cold-blooded when they suddenly drop the hammer. But I think this is one case where it would've been way more interesting if he wasn't just trying to be scary. Turns out this guy is not a cop, is not trying to bust them, is not capable of busting them. Why not just let him go? I mean, wouldn't it be better if they decided they didn't have the heart to kill some dumb social worker with the balls to infiltrate their gang? You wouldn't expect that, so it would be cooler than the more expected "I'm going to kill you."
On the other hand, the way they try to kill him is to throw him into an elevator shaft that they have filled with alligators for just this purpose. And it would just be preposterous for me to try to pretend that that doesn't add something to the movie. Of course it does. I can't lie.
The great Bernie Casey plays the one cop who sort of helps, and he's as charismatic as ever but isn't in it enough. But I like that this isn't a cop movie. I sort of like where the movie's cornball heart is at, showing how the kids are lured with money and materialism, and to be a good guy you have to realize that money isn't enough. And I like that he's a social worker who would go through that much trouble to help somebody. You would want this guy on your case.
It's also fairly well directed. The skipper is Rod Holcomb, a TV directionist going all the way back to "The Six Million Dollar Man" and as recent as "Justified." It's one of the first credits for cinematographer Dariusz Wolski, who went on to shoot fancy lookin shit like THE CROW, DARK CITY, SWEENEY TODD and the PIRATES OF THE CARIBBEAN pictures. They make it pretty cinematic. When Travolta scurries around the bustling office with a cigarette dangling from his mouth it kind of reminds me of some gritty '70s drama by Sidney Lumet or somebody. But the script (written by Travolta himself with three other writers) is pretty bad, with some real obvious dialogue and cliches (we've had our guy undercover for years and you fucked it up!), and things that you really can't take as seriously as they probly want you to. Not the alligators, that part I'll buy.
It's kind of interesting because it was made in '91, at the height of Travolta's pre-Tarantino has-been-ness. Since he wrote it with some of his producer buddies I assume this was something he really cared about, it was his idea of the type of movie he wanted to do. He's pretty decent in it, and seems sincere. So I give him credit for that. But I'm not saying you should necessarily watch it. That's not really my place, I don't think.
I'll tell you this though. I believe very strongly that CHAINS OF GOLD is a movie that exists, that you could theoretically watch, if you wanted to and could find it.
Thanks to Andrew Wright for tipping me off to this one