August 23, 1985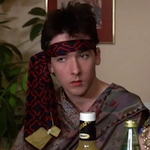 The success of movies like FAST TIMES AT RIDGEMONT HIGH and SIXTEEN CANDLES kicked off a wave of teen films in the '80s, but the ones that came out in the Summer of '85 were not typical of the genre. Most of the season's movies about high school kids involved some sort of fantastical element (BACK TO THE FUTURE, THE HEAVENLY KID, WEIRD SCIENCE, MY SCIENCE PROJECT – and I guess the younger GOONIES and EXPLORERS count too). The most straight ahead, down to earth teen movies were THE LEGEND OF BILLIE JEAN and REAL GENIUS, neither of which were exactly standard issue.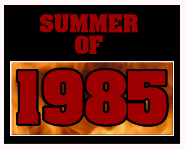 And BETTER OFF DEAD is an even odder one. It has a pretty normal premise (high school kid gets depressed when his girlfriend dumps him for the captain of the ski team, thinks he can get her back by defeating said captain in a ski race), but it's filtered through the distinct humor of first time writer/director Savage Steve Holland. Though I don't personally hold it in nearly the same reverence, I think it has a little bit in common with PEE-WEE'S BIG ADVENTURE, in that it's a comedy with its own distinct tone and deadpan presentation of absurdity brought to us by a rookie whose ignorance about how to make a normal movie works as a strength. On a more superficial level, it uses little bits of animation (including stop motion), and jokingly applies thriller film techniques to silly things (for example, using horror movie synths and atmosphere whenever the paperboy shows up looking for his $2). Burton and Holland are also the same age, both went to CalArts, and both worked as animators before becoming live action directors (in Holland's case creating the famous "Whammy" animations for the game show Press Your Luck). (read the rest of this shit…)
VERN has a new action-horror novel out called WORM ON A HOOK! He has been reviewing movies since 1999 and is the author of the film criticism books Seagalogy: A Study of the Ass-Kicking Films of Steven Seagal and Yippee Ki-Yay Moviegoer!: Writings on Bruce Willis, Badass Cinema and Other Important Topics as well as the crime novel Niketown.