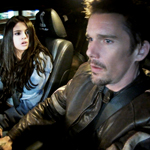 Ethan Hawke started out as a promising child star, kinda like River Phoenix, who he co-starred with in EXPLORERS. He was a pretty big deal in DEAD POETS SOCIETY, right? Then he became Hollywood's Gen-X guy in REALITY BITES and he's from Austin so he hooked up with Richard Linklater and he starred in GATTACA and he did the Alfonso Cuaron version of GREAT EXPECTATIONS and later he actually got nominated for best supporting actor for TRAINING DAY (even though honestly he was the lead). So he had a good run as a pretty respectable actor.
Then at some point he said "Fuck it" and decided he was gonna do a bunch of genre movies, mostly ones with ridiculous premises. I think DAYBREAKERS is a real under-the-radar gem all around, regardless of Hawke's participation, but SINISTER and THE PURGE are corny movies elevated by his commitment to the roles. I think he's got a little Kevin Bacon in him. If he signs onto a movie about a dumb looking demon who haunts super-8 home movies and children's drawings or whatever he's gonna give it equal or greater effort than what he did in SNOW FALLING ON CEDARS. I respect that. I like him.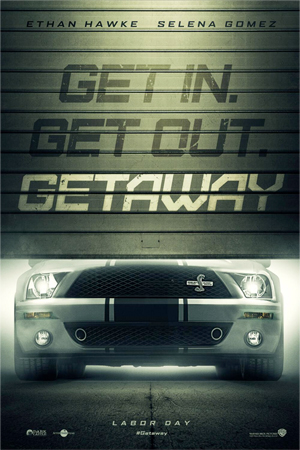 This time it's not a numbskulled horror premise but a low budget, high concept action thriller type deal. I would be surprised if they didn't try to get Jason Statham at first, because Hawke plays a former professional race car driver turned getaway driver (or something) whose wife is mysteriously kidnapped and he's forced to steal a car that is equipped with cameras and computers and then a voice on the dashboard phone (John Voight, ANACONDA) tells him what to do, mostly drive around fast and crash into cars and not get caught by police. So it's kinda like 12 ROUNDS meets… I don't know, VANISHING POINT or something. Or THE CHASE with Charlie Sheen, 'cause also he ends up with Selena Gomez (SPRING BREAKERS) in the car and he can't let her go or The Voice is gonna kill his wife. Feed her to a snake or something.
It's funny being a guy who writes about pop culture on the internet, but every second of the day, in my opinion, I get one second older. And the world, and especially pop culture, and especially especially internet culture, are very youth-centric. So sometimes I feel like I'm slowly floating away from it like Sandra Bullock in space. I think most of the writers on websights now are of younger generations than me and if not most of them have less shame than I do about being a grown man in a world where maybe it is helpful to learn about what books are now popular for 12 year old girls that might be turned into a movie. I'm way past being a guy who has to know what the songs are playing on the radio or who that is on the awards show or what that funny meme is on the internet that the other meme is commenting on. I'm too Danny Glover for that shit.
Thankfully I 've so far avoided a hit-whoring stage of my internet career, so I only write about what I think is interesting. If I try to learn about something that's popular, like HUNGER GAMES, it honestly is sort of a "this will be fun, people might enjoy this" type of attitude than what I call the "I'LL SUCK YOUR DICK FOR A HIT" desperation I see any time I browse. Come on mister, have a heart, look at my lists and slideshows and exclusive junket tidbits and shit. I have a plan some day to actually sit down and try to watch the TWILIGHT movies, because they sound pretty funny, but luckily I haven't felt like it was a necessity to learn what that was all about in order to stay in business. (since I don't got that much business.) It's okay to let some shit go. But it's hard not to hear about it.
I bring this up because who the fuck is Selena Gomez? People say the name like I'm supposed to know, and I have this sense that she is some kind of children's programming star, I believe of the Disney Channel variety. But I'm torn between two mentalities:
1) it would take like 30 seconds to look her up on wikipedia
2) I am a grown man and I think I've earned the right to not have to know some of this shit
I did remember that she was in SPRING BREAKERS. For a second I also thought maybe SUCKER PUNCH, but remembered that was the other girl, Hudgens. In SPRING BREAKERS she's pretty good and in this she's fine, I got no problem with her acting, but the apparent superstar status is surprising. Hopefully she's not a sex symbol, since she has a big round head and looks like a little girl. But on Thanksgiving I saw her doing a half time show and that's when I learned she was a "multi-platinum recording artist." You can't tell me adult football fans are supposed to like the computerized singing she's lip synching to so I gotta guess it's gotta be the hip-shaking they're selling us. Kinda creeps me out.
Like I said, Hawke was a child star too. And Gomez is already making good decisions doing a crazy Harmony Korine movie, so she could become an interesting actor like him too, and without cheating on Uma Thurman. But I fear it's more likely the poor girl will get a drug addiction or blow a guy on a video or get slightly chubbier and receive the ceremonial societal stoning that pop culture grooms little girls for. And I don't want no part in that so don't take this tangent as a criticism of her existence. I just wish I could stay connected enough to love and write about movies but disconnected enough to not have had to ask a teenager what the deal was with Selena Gomez and find out she's famous because she used to date Justin Bieber. And I'd like to live in a world where if that happened I would be able to say "Who's Justin Beaver?"
Gomez (SPRING BREAKERS) plays one of these unlikely characters who are pretty standard in not-great movies. At first you think she's a carjacker, which is funny in itself, because wearing a cap and a hoodie don't make her babyface look intimidating. Then you find out that the badass customized car actually belongs to her and she thinks she's getting it back from a car thief at gunpoint. It turns out she's the daughter of an investment bank CEO and knows all about cars but also is a computer expert who carries a tablet and smart phone and knows how to type in code to break into computer networks and spews alot of lines about IP addresses and camera feeds and what not. She's Justin Long in LIVE FREE OR DIE HARD without the jokes. She refers to graduation, I'm not sure which one. By her looks I'd say high school so this computer knowledge doesn't come from going to technical college, it's just how these kids are today with their gizmos and doodads and shit, am I right?
We just get thrown into it, we don't get to see either of them in their normal lives and it's a mystery who is doing this to them and why. I knew it was Jon Voight playing the villain, but they act like they're trying to hide it. They keep showing him monitoring the situation from behind his laptop in a restaurant somewhere, but you just see a shot of a ring on his finger or a closeup of his mouth, never his whole face. It seems like a legit artistic choice for those scenes but near the climax he's supposedly driving a car with Gomez in the passenger seat, and we just keep hearing his voice and seeing her doing a selfie with her phone, never once showing him. It's kinda comical because you realize when they finally do show his face in one shot at the very end that he probly was only on set for an afternoon.
I'm pretty sure the whole movie is built around ideas like that about how to make a movie on the cheap. It's part of the plot that the car has GoPro cameras mounted on it, therefore they have an excuse to frequently cut to low quality footage from the same angles: hood of the car looking at Hawke, next to the front-left wheel looking at street, etc. Some scenes are built around footage from a phone, tablet or laptop. And isn't it weird that these two Americans are living in Sofia, Bulgaria, coincidentally a place where low budget movies are filmed?
Other movies filmed in Sofia:
BATS: HUMAN HARVEST
BEHIND ENEMY LINES II: AXIS OF EVIL
BLOODSPORT 4: THE DARK KUMITE
BRIDGE OF DRAGONS
COMMAND PERFORMANCE
DAY OF THE DEAD (2008 unwatchable remake)
THE EXPENDABLES 1-3
I SPIT ON YOUR GRAVE 2
MEGA SNAKE
NINJA
THE SHEPHERD: BORDER PATROL
STAG NIGHT
SUBMERGED
THE TOURNAMENT
WRONG TURN 3 & 5
Voight does some kind of accent, not as delightfully as in ANACONDA, but odd enough that I occasionally thought he might be imitating Tom Hardy as Bane. I mean that as a compliment.
To his credit, Hawke seems to be on set and invested the whole time. He must've gotten sick of sitting in a driver's seat pretending to duck or yell "Damn!" or "Are you okay?" But if so he doesn't let it show. He's a true professional.
By the way his character is named Brent Magna, so that's pretty cool. Nobody else has names, it's "The Girl" and "The Voice" and I guess we do know that his wife's name is Leeanne. Too bad she's not just "The Wife," because it would be cool to have a movie where the only name ever used is Brent Magna.
I dig the simplicity of it, that you don't really see their lives other than what they talk about, and you never really find out that much about anyone. But filmatistically it's not elegant enough to really pull it off well. The constant car chasing and crashing is not real hard to follow but not all that involving either, and using all the consumer level cameras seems more like an insulting short cut than a clever gimmick. They do bother to get some establishing shots but maybe not enough, or they're not cut together that great. At one point they have a long uninterrupted POV shot of the Magnamobile chasing The Voice's vehicle at high speeds, but it's not exactly TO LIVE AND DIE IN L.A. or nothing 'cause all they do in that part is drive straight. As soon as there's a roadblock ahead it cuts, so you don't feel like you're involved in any close calls like, say, that opening chase in UNIVERSAL SOLDIER: REGENERATION.
The ending I think is supposed to be a SAW type thing where the villain arrogantly walks away, that part was pretty funny. But for this to have been truly memorable it would need a more Renny Harlin-ish embracement of this type of ridiculousness. It's clear from the very beginning that this is not gonna be a plausible real world thriller, so we need more craziness. To its credit, it does involve a mastermind planning car accidents to block particular streets in order to create a specific traffic route that he needs, or something. Like the kid said about "anarchy" in TALLADEGA NIGHTS, "I don't know what it means, but I love it!"
The director is Courtney Solomon, who I guess is much hated for directing the DUNGEONS AND DRAGONS movie and creating the After Dark Horror Fest thing. But he's also responsible for After Dark Action, which gave us DRAGON EYES and EL GRINGO, so I can't be mad at him. In fact, he also has executive producer credits on both of the John Hyams UNISOL movies. So he can't be that bad.
I'd heard GETAWAY was terrible. I don't agree but not enough to really defend it. The simple premise is the kind of thing that could be a great b-movie, and it's not. But it's enough to make it watchable, and that's better than nothing. I hate watching unwatchable movies. Too contradictory.


You know what though? Put a "The" on the beginning of that motherfucker and you got yourself a movie!