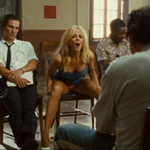 "If anyone's gonna pee on him, it's gonna be me!"
THE PAPERBOY is the new one from Academy Award nominee for Best Director Lee Daniels. That's the guy that did PRECIOUS, BASED ON THE NOVEL PUSH BY SAPPHIRE as well as SHADOWBOXER, BASED ON THE IDEA THAT HELEN MIRREN AND CUBA GOODING JR. ARE ASSASSINS AND SHE RAISED HIM BUT ALSO THEY'RE FUCKING AND SHE HAS CANCER. I feel like the critical community embraced PRECIOUS without really picking up on how nutty it was, or doing a background check on Mr. Daniels's previous work. So they did cartoony "wh-wh-whUHHH?" double-takes when THE PAPERBOY played at Cannes and had a part where Nicole Kidman territorially pisses on Zac Efron from HIGH SCHOOL MUSICAL. Because it's a Lee Daniels movie.

Daniels co-wrote this one with the novelist Peter Dexter, based on Dexter's novel. Apparently the novel is in the point of view of the Efron character Jack, but the movie is in the point of view of the family maid Anita (Macy Gray), paid to give an interview about what happened that inspired the novel. She starts with the disemboweling of a hated sheriff. The murder was blamed on a humble gator disemboweler named Hillary Van Wetter (John Cusack), but years later Jack's older brother Ward (Matthew McConaughey) and his partner Yardley (David Oyelowo) are working on a newspaper exposee to prove Hillary's innocence. Their only witness seems to be Hillary's idiot fiancee-by-mail Charlotte (Nicole Kidman). Jack is hired as their driver and "falls in love" with Charlotte.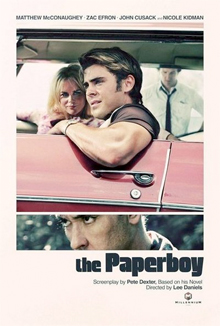 I enjoyed McConaughey and Cusack's battle to see whose hair can look the greasiest and most in need of a brush, but it would be better if they had more of a story. Although a reporter instead of a lawyer, Ward seems to be sort of a parody of the TO KILL A MOCKINGBIRD style white southern civil rights crusader, so it's funny that they hired the same guy from A TIME TO KILL. But it's never clear why he thinks this guy is innocent and he doesn't do that much to prove that he is. From what I've read it sounds like the book is making a satirical point because they're faking innocence to make a good story, but the movie version just seems to be too interested in this story about Jack wanting to fuck Charlotte to bother with filling in the details on all that. If it felt like a complete story it would be a funny idea that they're crusading for this racist misogynist asshole who spends more time complaining about Charlotte wearing pants than talking about his case.
It's easy to connect parts of Daniels' background to his artistic obsessions. He's black, he's gay, he says he saw his mom got beat up alot. But the thing I read that came closest to explaining him is that when he was a teenager he saw PINK FLAMINGOS and it was such a profound experience for him that he went to see it again and made his mom and his aunt come with him. Usually the parts in his movies that are funny don't seem like they're supposed to be funny, so it's weird to think that's his influence, but I don't know. Somehow it makes sense.
What's fun about THE PAPERBOY, to the extent that it is fun, is that the actors seem to be really into it, with Cusack and McConaughey especially enjoying being sweaty and obnoxious. Gray channels her weird, mumbly self into an odd but sort of likable character, and is good with some very naturalistic dialogue full of incomplete thoughts. Kidman is either brave or foolish to play this trashy character who is attracted to a disgusting maniac, then gets totally humiliated by him, then goes to live with him anyway. I'm gonna go with brave. Or maybe she just doesn't give a shit what people think of her at this point. And I don't know much about Efron other than that he was some kind of teen heart throb, but now he has muscles but a boyish head like Speed Racer or somebody. He's pretty good in this, I imagine he'll go on to better movies.
Most importantly these actors always seem to be looking for stupid little things to do in their scenes to make their characters odd. McConaughey does a dialogue scene while doing exaggerated after-a-long-car-trip stretches, Gray mumbles sadly about the Smothers Brothers being cancelled, Efron does 3 or 4 scenes in his tighty whiteys, one in boxers. When he's in the swamp he suddenly has a shirt wrapped around his head with a feather sticking out like an Indian headdress. Or my favorite is when McConaughey does a whole scene perched up on top of a counter: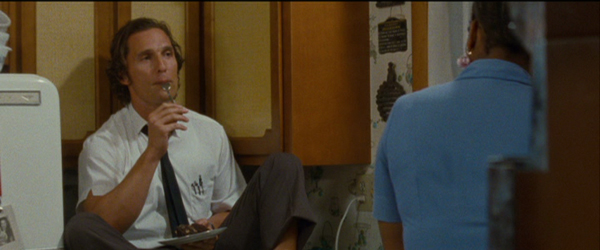 I guess to show how comfortable he is in this house, 'cause he grew up here.
The notorious scene is the one with the peeing, but that at least is done with some humor (he wakes up smelling like piss and Anita tells him casually "that blond lady peed on your face." Other Danielsy sleaze scenes include Kidman nearly cumming just from being in a car outside of the prison where her pen pal lives and McConaughey wanting to be chained up naked and have his face bashed in by black guys so he can wear an eye patch to his dad's wedding. The funniest one is the one from the thumbnail above. They all come to the prison for this important meeting to prove Hillary's innocence, but instead Hillary and Charlotte masturbate while Yardley and Jack sit there looking uncomfortable and Ward tries to use a notebook to hide his boner, junior high style.
There's a weird animal motif. Jack gets stung by a mob of jellyfish. He gets scared by a snake. He gets nauseated by a guy cutting open an alligator. He scares away a dragonfly when he pees. While Charlotte and Hillary are having violent sex against a washing machine it keeps cutting to an alligator, pigs, a bleeding possum.
All this weird shit is why I don't regret seeing the movie, and find it kind of interesting as part of the great mystery that is the works of Lee Daniels, but this is his worst movie so far. Both PRECIOUS and SHADOWBOXER pin all their excesses onto the structure of a fairly compelling story. With THE PAPERBOY it seems like the story is about this crazy asshole convicted killer who some journalists think didn't do it and are trying to free. But instead of focusing on that it makes the main character the little brother who's just sitting there during this, lusting after the killer's fiancee.
I guess Daniels has a thing for younger man/older woman sexual relationships, but I don't agree that this is the interesting part of this story. Young people being dumb and thinking they're in love is relatable, but Charlotte (in part due to a game performance by Kidman) is so dumb and gross that it's not like it's a sweet love story or anything. I'm not sure why Daniels thinks it's so fascinating or what he thinks the story is about.
There is a little bit going on here with the racial and class relations. They have this new step mother who's a real bitch and a few times you see her treating their black servants like shit, for example in a funny moment at the wedding where she makes them pretend to smile. More importantly there's the relationship between Jack and Anita. Jack really likes Anita, maybe almost like a mother figure, but there's always that white-boy/black-maid dynamic hanging over them, she should be able to tell him what to do and not the other way around. And then when he does something blatantly racist in front of her he has to deal with the shame and she has to deal with the hurt and they try to get past that. It's pretty interesting.
But then, back to Jack in his underwear in a sprinkler trying not to get a boner from Charlotte.
But I'm not sure Daniels thinks it's important to know what a movie is about, or for it to stay consistent. When it starts Macy Gray is the narrator because she's being interviewed about this novel. Later on she seems to know she's narrating a movie, because she interrupts a sex scene by saying, "Anyhoo, I think y'all seen enough."
At the end of the movie it not only doesn't return to her being interviewed, but has her telling us that Jack "went on to become a writer of some renown." Why would she say this to the guy interviewing her about the novel Jack wrote? And why wouldn't Daniels notice that his beginning and ending don't match? But also do I even want to know the answers? Would I even want to watch Lee Daniels movies if I understood where they were coming from and they seemed to be made by a reasonable person?
Well the answer to that last one is 'no,' so I guess ultimately I'm coming out semi-positive on THE PAPERBOY. I'd pee on its face any time.