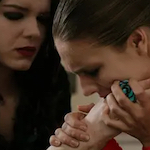 A week or two ago, when I reviewed Lucky McKee's Lifetime thriller KINDRED SPIRITS, I said I'd watch anything by him because of how much I loved THE WOMAN. But after I wrote that I felt like I was a little full of shit because I knew he did a movie that I hadn't gotten around to yet. So I got around to it. I watched ALL CHEERLEADERS DIE (2013) on Shudder, but I think it's also on Tubi, if that helps you to watch along at home.
I know I should've watched it a long time ago. I guess I hestiated because the title sounds like a comedy, and it sounds like it's about a thing that's not all that interesting long before you get to my age. And he's only co-director and I thought it was some previous unfinished thing because I remembered that title being on his IMDb profile a million years ago.
Turns out that's because it's a remake of a no-budget movie he made in 2001, a few years after graduating from USC, shot on hi-def video. In both cases he co-directed with Chris Sivertson, who wrote KINDRED SPIRITS and directed the great Jack Ketchum movie THE LOST. In an Entertainment Weekly interview McKee described the remake as "violently different" from the earlier iteration. Cinematographer Greg Ephraim told the Hollywood Reporter "They refused to show me the original."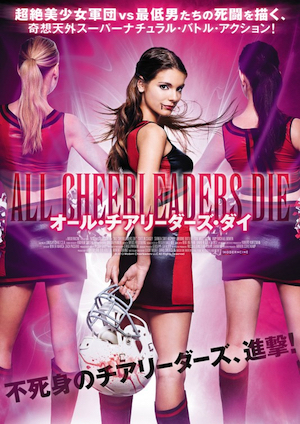 The story starts as high school student Mäddy (Caitlin Stasey, who also had the central role of the stalker aunt in KINDRED SPIRITS) watches a video she made about her more popular cheerleader friend Alexis (Felisha Cooper, LAVALANTULA). Alexis talks to the camera about her life and struts through the halls, introducing the other characters, and then at cheer practice she does a move where they toss her up in the air and then she lands on her head with a loud crunch. Cut to title.
The next year, who should show up for cheer practice but Mäddy, now wearing makeup and turning the boys' heads. The Mean Girls are suspicious, but she explains that she's done gymnastics her whole life and wants to apply it to cheer to honor the late Alexis, who she was friends with since they were little. And she wins them over. They want her to bring it on. Meanwhile she tells her video diary that it's sort of an undercover revenge mission – she wants them to accept her so she can get back at them for various things, for example Tracy (Brooke Butler, CYBER CASE) immediately dating Alexis's football stud boyfriend Terry (Tom Williamson, VFW). Why she gets this on video, I do not understand, but you know these kids and their social viral millennial whatsits and apps or whatever.
There's a weird thing in the school that the boys (or at least the football players) call themselves "dogs," and the girls (or at least the cheerleaders and girlfriends) call themselves "bitches." It comes up often. One character who seems completely separate from these animal related metaphors is Leena (Sianoa Smit-McPhee, an Australian singer and actress who, yes, is the older sister of Kodi Smit-McPhee), a goth girl who keeps trying to talk to Mäddy, but Mäddy brushes her off and acts like she's a weird stalker. She's actually her ex. She doesn't understand why Mäddy is hanging out with these popular jerks, and keeps trying to tell her about her Wiccan rituals.
Mäddy's revenge is worthy of another one of those Lifetime movies. She first convinces Tracy that Terry cheated on her (a lie), then gets it on with Tracy. This leads to a big confrontation at an outdoor hangout where Tracy tells everyone that Terry has a small dick and can't make her cum, but that Mäddy just did.
And Terry punches her.
The overall tone has been serious, but suddenly it gets legitimately upsetting. The other, uh, dogs are clearly horrified by this turn of events, but also don't know how to stand up to him, and the— I'm not gonna say bitches – the girls scream at them for not doing anything, and the scuffle turns into a high speed chase that ends with the cheerleaders rolling over a cliff and the football players going home to pretend they don't know about it.
But Leena goes down to the crash site and does a thing with magic gems that glow in different colors and float in the air and merge with the bodies of the cheerleaders. (Well done visual FX, I thought.)
The next day they wake up, only remembering some of what happened, confused as to why they're at Leena's house, maybe thinking they're hung over. Except that wouldn't explain why sisters Martha (Reanin Jhannink, I SURVIVED A ZOMBIE HOLOCAUST) and Hanna (Amanda Grace Benitez, THE RANGER) have switched bodies. Unless they got really drunk.
So it finally settles in to a premise: they are angry, horny, fed-up undead "bitches" who are gonna go back to school and show those "dogs" what's what. They show up doing one of those slow motion girls-walking-in-formation-and-everone's-heads-turn shots. Not only are we not dead like you fuckers thought also we got hotter and more stylish. Leena is kind of their chaperone, trying to help them understand how to handle it. They learn that they need to drink blood occasionally or they'll turn weak, so they know whose blood they should drink.
And then things get more complicated and more grim and before you know it Terry is murdering them, cutting out the stones and eating them. Jocks are the worst!
I think my favorite part is when Tracy, shortly after becoming a zombie or whatever, decides to walk across the street in her underwear to a random dude's house. It's Michael Bowen (NIGHT OF THE COMET, IRON EAGLE, JACKIE BROWN, MAGNOLIA, KILL BILL, THE LOST, BOBBY Z, THE LAST HOUSE ON THE LEFT, BRAWLER, DJANGO UNCHAINED, etc.) playing Leena's neighbor Larry, so he makes a great scene just out of his combination of reluctance and bewilderment as this half naked stranger just walks into his house making advances at him.
The modern parlance of the term "problematic" fits pretty well for a movie that has one (1) black character and he's a woman puncher and rapist, a genuinely evil person who's the ringleader for a bunch of white kids who seem to at least regret some of the bad things they do. On the other hand, I'm pretty sure it really was "color blind casting" and he happens to be really convincing and scary in the role.
I laughed pretty good at one straight up joke when this doofus Manny (Leigh Parker, THE FUNHOUSE MASSACRE) loses his virginity (to a zombie) and confesses to his friend that he didn't know it was gonna be so cold in there. But I wouldn't call this a comedy. The concept of undead cheerleaders is… not funny, not a joke, exactly, but it seems sort of like short hand for a joke, or like it implies kind of a light cultural satire of some kind? Ha ha, they're the pretty popular girls, and yet they're monsters! If it was the '80s, and I was a kid, it might seem like some kind of statement, and maybe it was supposed to be in the 2001 version of this.
In the aforementioned Entertainment Weekly interview McKee calls the earlier version "something that was fun and light and wasn't taking itself too seriously," and said that, "We got to this place where we'd been making these really dark, heavy movies for about 10 years separately from each other and we felt like, 'Let's shake things up, let's go back to that light place.'" But that "lightness" is relative. I like that they take the premise seriously, and they're not supposed to be irredeemable dummies or jerks, they're the characters you're supposed to sympathize with. And there are shifts and reveals that bring it to an even grimmer, gut-punch tone. It doesn't always work, but I appreciate that it takes you for a ride.
In fact, the story does that too. I didn't know what it was supposed to be about, so in the opening I thought "Uh oh, she's making a documentary, is this gonna be partially found footage?" And then it reveals itself as Mäddy's undercover cheerleader revenge plot. Ah ha, that's what it's about. But then a while after that there starts to be magic involved… huh? And then they die and magically come back to life and it feels like this is happening about 20 minutes further into the movie than you'd think. It feels convoluted, and I suspect it comes from having worked on this story for 15 years or whatever and not being able to let go of parts of it, but that also gives it kind of a nutso, unpredictable quality that I think is worth it.
It's definitely not my favorite movie from these directors, but it's worth seeing if you enjoy their work. If they ever somehow make the part 2 that's teased at the end I won't take so long to get to it.