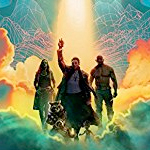 Troma boy made good James Gunn (SUPER) returns as director and this time sole credited writer to bring us GUARDIANS OF THE GALAXY VOL. 2, the continuing adventures of Marvel's literally-colorful team of intergalactic reprobates. Gunn doesn't try to reinvent the wheel, he just coasts on the charm and humor of the world and characters he set up in the first one. But this time they hit the ground running, already a team, and Groot (Vin Diesel, FIND ME GUILTY) is a baby tree man instead of a giant one, so they only have one big enforcer guy instead of two, and they have to take turns babysitting.
Think about it: wouldn't it be weird if in one of the FAST AND FURIOUS movies all the sudden Tyrese was a 2-year-old and they still had to take him with them on their missions? It's a pretty different dynamic.
The team is still earth-born manchild Peter "Star Lord" Quill (Chris Pratt, WANTED), green warrior woman Gamora (Zoe Saldana, THE TERMINAL), wiseass mercenary raccoon Rocket (Academy Award nominee Bradley Cooper, THE MIDNIGHT MEAT TRAIN), and literal-minded berserker-with-a-heart-of-gold Drax (Dave Bautista, WRONG SIDE OF TOWN, HOUSE OF THE RISING SUN, THE SCORPION KING 3: BATTLE FOR REDEMPTION, THE MAN WITH THE IRON FISTS, RIDDICK, KICKBOXER: VENGEANCE). They fly around in a little space cruiser and battle with laser guns, swords, bombs and jumping and what not. This time they do a security job in exchange for Gamora's evil cyborg sister Nebula (Karen Gillan, THE BIG SHORT), who becomes the dangerous-prisoner-who-maybe-they-should-free-as-an-ally character like Riddick, Napoleon Wilson or Desolation Williams. (read the rest of this shit…)
VERN has a new action-horror novel out called WORM ON A HOOK! He has been reviewing movies since 1999 and is the author of the film criticism books Seagalogy: A Study of the Ass-Kicking Films of Steven Seagal and Yippee Ki-Yay Moviegoer!: Writings on Bruce Willis, Badass Cinema and Other Important Topics as well as the crime novel Niketown.