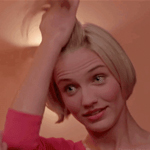 I forgot to mention in the SMALL SOLDIERS and PI reviews that LETHAL WEAPON 4 also came out that week. Then…
July 15, 1998
We all know the studios can be pretty cynical and obvious in the summer time. When you're dumping millions upon millions of dollars into these cinematic behemoths that are gonna battle it out for supremacy of Blockbuster Island, you're usually gonna lean toward easier bets – an old TV show or character people recognize, an easy to explain spectacle. Industrial light and mayhem. Disaster movies seemed like the thing after INDEPENDENCE DAY and TITANIC, so in Summer of '98 we got the comet and the asteroid and the name brand giant monster, and it's not that surprising that ARMAGEDDON would be the #1 grossing movie worldwide, or that GODZILLA would be #3. (That a war drama would be in between them was a little less predictable, but then again it was Steven Spielberg directing Tom Hanks.)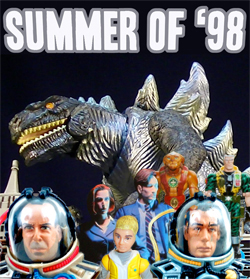 When an original comedy comes in at #4, though, that means something. That's one that has to be earned. THERE'S SOMETHING ABOUT MARY, the Farrelly Brothers' followup to KINGPIN, was an R-rated comedy with dick and semen jokes that somehow seemed a little elevated by their audaciousness, and it fucked up the zeitgeist way harder than Godzilla did New York. Laughs do matter.
Ben Stiller (HIGHWAY TO HELL) plays the hapless male lead Ted Stroehmann, and I mean he is completely devoid of hap. Sure, in the 1985 prologue (adult Stiller playing a 16 year old with a wig and braces is a treat) he does hap into a prom date with radiant babe Mary Jensen (Cameron Diaz [THE COUNSELOR], previously seen in FEAR AND LOATHING IN LAS VEGAS), but before they even leave her house a series of mishaps mishappen, and he misses the actual prom on account of public penis injury.
On paper that must sound dumb, but you've probly seen it, so you know the irresistibility of this escalating gauntlet of absurdly extravagant embarrassments. Stiller was well established as an edgy comedic voice with The Ben Stiller Show, his MTV Movie Awards sketches and THE CABLE GUY, but I think this movie turned him into mainstream comedy movie star by revealing his talent for being a human indignity sponge, a likable doofus with the Christ-like purpose of absorbing all of man's degradations, usually with a look on his face that says "oh, come on, man," or meek words of protest that severely undersell the vast levels of bad luck and injustice he's suffering in our place.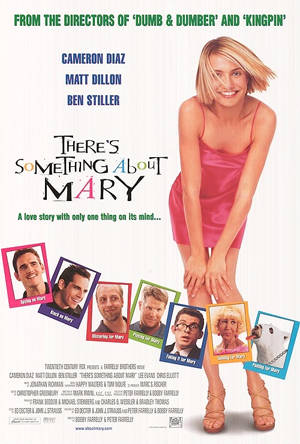 This particular sequence of events begins with dorky Ted peeing in the Jensen family bathroom, glancing out the window to smile at a singing bird, only to be mistaken for peeping into Mary's window as her mother (Markie Post from Night Court – one of only a handful of movies she's in) helps her fix her dress. That misunderstanding seems insignificant after he quickly zips his pants back up and gets… stuff caught in the zipper. Maybe it takes a juvenile mind to build a whole movie around an extended dick mangling sequence, I'm not sure. But only a Farrelly mind knows to stack it with the humiliation of a series of adults coming in and trying to help. There's Mary's dad (Keith David, SAVAGE DOG), whose reaction runs the gamut: skepticism, terror, sympathy, anger. He brings in Mary's mom ("Don't worry, she's a dental hygienist, she'll know exactly what to do"), who can't think of anything better than spraying it with Bactine. Then a cop appears in the window saying, "Neighbors say they heard a lady scream." And then a fireman just barges in the door. When he sees what's going on he laughs and tells "Mike and Eddie" over the walkie-talkie to "bring everybody, bring a camera, you're not gonna believe this!"
The part I remembered most, of course, was the brief shock shot of the so-called "franks and beans." But this scene has like a million little jokes in it that I love: Ted squeaking out "Oh, I wish" when Mr. Jensen asks if he shit himself or something, Mr. Jensen sitting down and putting on his glasses to examine the crotch before he freaks out, Mrs. Jensen's hand gestures as she tries to ascertain "What exactly are we, uh, looking at here?", Mr. Jensen telling the cop "You gotta take a look at this thing" and then asking "Ain't it a beaut?", the cop angrily asking "What. The hell. Were you thinking?," later very seriously rolling his sleeves up after announcing "Look, there's only one thing to do here," Ted pathetically trying to convince them to let him just cover it with his untucked shirt and go to the dance…
Young Mary is a note perfect crush for Ted: pretty, radiant smile, impossibly nice, but not necessarily the head cheerleader or anything with her dorky laugh and fights with mean kids protecting her mentally challenged brother Warren (W. Earl Brown [EXCESSIVE FORCE], previously in DEEP IMPACT). Diaz really sells Mary's overwhelming, non-judgmental positivity and shakes her lanky limbs around in that way that young people do when they have more energy than they know what to do with and aren't self conscious enough to care about being graceful.
In present day 1998, though, Mary becomes kind of a joke about what would be the unattainable dream girl for a Farrelly Brother: more attractive than ever, but very much a dude at heart. She's a big sports fan, loves making off color jokes, prefers hot dogs to other foods, finds gross guys adorable, and considers HAROLD AND MAUDE "the greatest love story of our time."
Mary moved away immediately after the incident, which honestly seems merciful for Ted. But grown up and single he starts remembering it as unfinished business, and his dumbass married friend Dom (Chris Elliott, MANHUNTER) convinces him that it's okay to hire a detective to find her. Matt Dillon had a hell of a summer between his straight-faced (but two-faced) role in WILD THINGS and the playfully sleazy p.i. Pat Healy. He locates Mary in Florida, stakes her out, falls for her himself, talks Ted out of pursuing her and does it himself. Overhearing a conversation with girlfriends about her ideal man he pretends to be a self-employed architect, love HAROLD AND MAUDE, etc.
I have a hard time reviewing comedies, because I end up just listing things I think are funny. I think Healy is really funny. He's an idiot – "a mook" Mary says, lovingly – and he goes all out trying to pull off these lies. Like, when he reports back to Ted he could just say she's married, but instead he pretends to be giving good news but includes lies he thinks will scare Ted away like that she has a bunch of kids, she's in a wheelchair, she's overweight.
"Oh she's a little, a little chubby?" Ted asks with a painfully forced non-judgmental expression.
"I'd say about a deuce, deuce and a half. Not bad!"
And I always laugh at the clueless awfulness of trying to paint himself as a saint by talking about his passion for working with people he calls "retards."
I've really only had a few of these in my life – comedies that I saw in the theater and the mob-laughter of that audience is such a strong part of the experience of the movie that it's hard for me to separate them in my mind. There was a sold out opening night showing of BORAT where I laughed harder than I've ever laughed at anything before or since, and it was made all the funnier by the discomfort of the stranger in the seat next to me never laughing once. There was a been-out-for-a-while-but-there-are-some-people-here showing of the first JACKASS movie that I remember for the camaraderie of laughing and cringing and covering our eyes together.
THERE'S SOMETHING ABOUT MARY was something a little different, a sort of symphonic approach, with funny shit spread throughout but with three major set pieces that built to crescendoes of laughter: the ludicrously building "franks and beans" sequence and the two drugged dog slapstick sequences.
And maybe the biggest laugh was the hair gel semen joke, which I found to be the only big one that didn't really hold up on this viewing, not through any fault of the joke but just because it became so famous and associated with the movie (including having the silly hair do in some of the promo art) that it went from something you can't believe someone came up with, can't believe you're seeing in a movie, to an oversaturated pop culture thing. An Austin Powers catch phrase.
The dog jokes might've suffered a similar fate (they kicked off a period when all comedies had to have some sort of animal injury joke) except they're so full of ridiculous details (Pat exposing wires to jolt the dog's heart, Ted doing a WWF style elbow drop on the little guy) that they don't really wear out. And as much as the key art inoculated us to the image of Puffy in a full body cast, I still laugh at Ted hiding that he accidentally left him on top of the car.
We like to think things have changed so much, hopefully in a progressive direction, and in many ways they have. Remember, back then "Don't ask, don't tell" seemed like an improvement on "don't be in the military at all," and same sex marriage was out of the question! Much to the chagrin of some, we've gotten more sensitive about portrayals and representations of different minority groups in movies. Standards are higher. But trying to decide if THERE'S SOMETHING ABOUT MARY is "problematic" now, as they say, I come to almost the same standstill I did twenty years ago.
There's only one arguably homophobic gag, but it's a big one, where Ted is mistakenly swept up in a sting operation of dudes cruising for sex at a rest stop. He's honestly just going to the bathroom and he literally falls into a huge orgy. It's a perfectly set up joke about the ridiculousness of him getting placed in this world he knows nothing about and other related misunderstandings, but I felt then and now that there's something gross about the only gay characters in the movie being treated as weirdos in the bushes running from police floodlights.
There's also the matter of the character of Warren and all the jokes about him yelling out "he was masturbating!" or throwing Ted through a table or whatever. Alot of the humor is about Ted getting blamed for everything – when Warren lifts him up and airplane spins him, Warren's mom yells "Ted, you get down from there!" Is laughing at the social situations he causes the same as laughing at his disability? A quick search shows many excoriations of the movie, from 1998 and later, for promoting stereotypes about disability. And I imagine it would all be worse if they'd gone with an earlier idea of having Chris Farley play the character.
On the other hand we see Mary being so non-condescendingly loving of her brother and other characters played by actual developmentally disabled actors who I believe the Farrellys knew from their own volunteer work. Freddy is played by Warren Tashjian, the older brother of one of their childhood friends, who inspired the character of Warren. Mary's friendship with these people is a central part of her life, while Healy's accidental insensitivity toward them is a key reason why he's a total goon.
There's also the matter of Mary's friend Tucker (Lee Evans, THE MEDALLION), who walks on crutches, and in one scene the Farrellys create great discomfort with a scene where he insists on Mary not helping him pick up something he dropped, though it's very hard for him to pick up. It's clearly not appropriate to laugh, and they test you by making it comically exaggerated, something that reads differently when (SPOILER) you know that he's a faker.
Here's a piece from Ability Magazine that holds the Farrellys and their work in a very high regard, for what that's worth.
The one aspect that makes me slightly more uncomfortable now than it did twenty years ago is that it makes comedy out of Chris Elliott as crazed, hives-faced, shoe-stealing Woogie ambushing Mary, against his restraining order. Then again, it's important to the theme of the movie to have a character who is undeniably a stalker by strict definition.
See, I actually think the movie is very of-the-moment in its fascination with turning the tropes of normal romantic comedies on their heads. Much of the premise here is pretty standard for a movie that could've starred Hugh Grant/Tom Hanks/Richard Gere/John Cusack and Julia Roberts/Meg Ryan/Sandra Bullock/Drew Barrymore/Minnie Driver/Jennifer Aniston or somebody, including the married friend who gives him the bad idea, the structure of meeting up and falling for each other and then the devastation of the false pretenses coming out and then realizing he was wrong and trying to do the right thing, therefore proving his worth to her.
And of course there's got to be some competition for her heart, but the twist that changes everything is that Mary is so desirable that every male involved ends up trying to trick her into love – the private detective, the close male friend who she introduces the private detective to, the best friend Dom, even the froggy-voiced old man she brings sandwiches to. There's not some snooty rich guy she's dating who if she only knew the truth she would see he's bad for her, allowing us to root for their relationship to go bad so Ted can get in there. No, she's somehow, miraculously, unattached, and all these shitheads are pathetic phonies and although Ted is not nearly as brazen (like, he doesn't fake a job, a nationality or a disability), the obvious parallels between what they're all doing make it plain how wrong he is to deceive her like this. He and Dom even joked about whether hiring a detective constituted being a stalker, Ted not realizing that Dom literally was a stalker.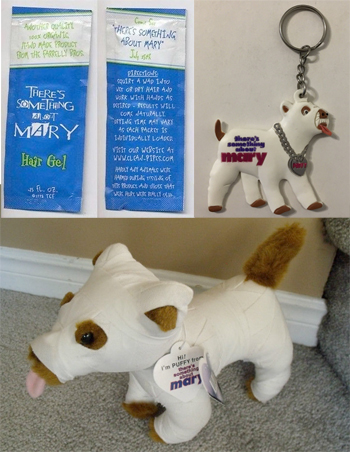 Though KINGPIN is definitely my favorite Farrelly Brothers film, THERE'S SOMETHING ABOUT MARY remains one of the funniest movies of its era. I just Googled "funniest movies of the 90s" and it came up next to DUMB AND DUMBER, CLERKS, THE BIG LEBOWSKI, WAYNE'S WORLD, GROUNDHOG DAY, TOMMY BOY and DAZED AND CONFUSED. It was #17 on a Guardian "best comedy films of all time" list, #13 on a Rolling Stone "25 Funniest Movies" readers poll  . At the time, Diaz was nominated for a Golden Globe, and they won a bunch of MTV Movie Awards. And the movie got great reviews. Gene Siskel chose it as the #8 film of 1998, his last top ten list. (He had ANTZ at #6 though!?)
After that, the Farrelly Brothers' powers dropped off a little. ME, MYSELF & IRENE was a hit, but seems kinda forgotten. SHALLOW HAL really pushed their penchant for button-pushing that's well intentioned but not taken as such by many. THE THREE STOOGES is funny, I swear, and did okay enough that they're supposedly doing a sequel now, but the Farrellys don't seem to be involved. Stiller, however, was catapulted into mainstream movie star status and acted out more severe humiliation in the MEET THE PARENTS series, and did whatever he does in the NIGHT AT THE MUSEUM and MADAGASCAR movies. He was still able to have a strong comedic voice as writer/director/star of ZOOLANDER and TROPIC THUNDER. Diaz brought joy to the two CHARLIE'S ANGELS, made lots of money with the SHREK series, was in some interesting movies like BEING JOHN MALKOVICH, GANGS OF NEW YORK, THE BOX and THE COUNSELOR, and in 2013 was reported to be Hollywood's highest-paid actress over 40. But she hasn't been in anything since 2014 and referred to herself as retired in an Entertainment Weekly interview this year. Dillon was nominated for a supporting actor Oscar for CRASH (2005) and did the voice of "Trey" in ROCK DOG.
1998 shit: I was thinking it wouldn't really happen now, because he could probly just find Mary on Facebook and wouldn't need a private investigator. Then I realized that she might avoid an internet presence because of her experience being stalked by Woogie. If so, Ted hiring someone to track her down would be even more creepy and wrong.
The soundtrack is identifiably '90s because of songs by The Dandy Warhols, The Lemonheads, etc. But there's an emphasis on more retro kind of songs, especially in the scenes with the landlord Magda (Lin Shaye, A NIGHTMARE ON ELM STREET), and the memorable end credits for some reason have the whole cast lip-synching "Build Me Up Buttercup" by The Foundations. (Diaz in particular is so clearly into it that it's hard not to be left with a real joyful feeling at the end of the movie.) The scenes with Jonathan Richman as a singing narrator are also fairly timeless, as he's been performing since the '70s and solo since the early '80s.
Like the heroes of FEAR AND LOATHING IN LAS VEGAS, MR. JEALOUSY and HENRY FOOL, Ted is said to be a writer. But we never see him writing or hear any specifics about what he writes.
This entry was posted on Wednesday, August 1st, 2018 at 12:14 pm and is filed under
Comedy/Laffs
,
Reviews
. You can follow any responses to this entry through the
RSS 2.0
feed. You can skip to the end and leave a response. Pinging is currently not allowed.