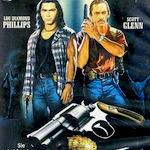 EXTREME JUSTICE is a 1993 cop movie by director Mark L. Lester (STEEL ARENA, FIRESTARTER, COMMANDO, SHOWDOWN IN LITTLE TOKYO) that you can find on DVD, VHS or streaming on Prime. Lester has done a pretty broad range of b-movie types, but one thing some of them have in common is a great sense of exaggeration. In CLASS OF 1984, for example, he presents a world where juvenile delinquency is so severe that a previously mild-mannered music teacher has no better choice than to do battle with one of his students and dump him through a skylight into the school gym during the big recital. In its sci-fi sequel CLASS OF 1999, such out-of-control kids have led to an overreaction that includes militarized robot teachers.
So I wasn't sure which way he would go in his movie starring Lou Diamond Phillips (RENEGADES, UNDERTOW, THE BIG HIT) as an LAPD detective who rather than getting in trouble for his police brutality gets promoted to a secret unit where "what useta get you in trouble'll get you a round of beers." I guess the reason I wasn't familiar with this one is that they were worried about releasing it a year after the L.A. riots/uprising and dumped it to HBO. But I'm happy to report it doesn't have to be a guilty pleasure – the movie is very clearly saying that this extreme justice is too extreme and not justice. It's not the good kind of Paul Verhoeven "you have to be really thick to not understand this satire" clear, unfortunately, but right now I'll settle for the more accessible "he has a girlfriend who's the conscience of the movie and convinces him that this is all wrong" type. (read the rest of this shit…)
VERN has a new action-horror novel out called WORM ON A HOOK! He has been reviewing movies since 1999 and is the author of the film criticism books Seagalogy: A Study of the Ass-Kicking Films of Steven Seagal and Yippee Ki-Yay Moviegoer!: Writings on Bruce Willis, Badass Cinema and Other Important Topics as well as the crime novel Niketown.