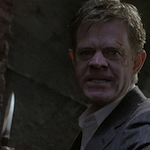 When we lost the great Stuart Gordon recently, I realized there were a few of his films I still hadn't seen. It's kind of nice, actually, to still have something left to discover. There's a particular one that happens in space that involves truckers that I honestly have wanted to see since before it even came out, and somehow never have. It'll be a few weeks before I can finally change that, because I decided to order a UK Blu-Ray instead of pay Amazon to stream it in standard def. But I wanted to watch this one first anyway – the one based on the David Mamet play.
Gordon and Mamet, if you don't know, go way back. Long before RE-ANIMATOR, Gordon was doing envelope-pushing theater work in Chicago. He directed, at his Organic Theater Company, the production of Sexual Perversity in Chicago credited with establishing Mamet as a playwright, although there was an earlier one starring William H. Macy, who also stars in this movie.
Here he plays Edmond Burke, a dude who works for some kind of financial firm called Stearns & Harrington. He's apparently had a bad day (his meeting on Monday got pushed back to 1:15 – WHAT IN THE LIVING GOD DAMN FUCK!?) when he heads home and, on a whim, stops to get a tarot reading. She tells him "You don't belong here." (read the rest of this shit…)
VERN has a new action-horror novel out called WORM ON A HOOK! He has been reviewing movies since 1999 and is the author of the film criticism books Seagalogy: A Study of the Ass-Kicking Films of Steven Seagal and Yippee Ki-Yay Moviegoer!: Writings on Bruce Willis, Badass Cinema and Other Important Topics as well as the crime novel Niketown.