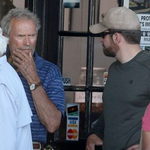 AMERICAN SNIPER is a pretty good movie. I wouldn't rank it too high in the pantheon of Clint Eastwood directorial works, and it's definitely not one of the all time great war movies, or even the best movie about the Iraq war. It has some overlap with THE HURT LOCKER without being as effective, in my opinion, either as a thriller or as a character study. And obviously we gotta deduct points for it not being a story about a very old sniper played by Clint. But it's a very good performance by Bradley Cooper (THE MIDNIGHT MEAT TRAIN), it looks into an interesting world (that of the Navy SEAL sniper), it has several tense battle sequences, and it speaks about the experiences of soldiers with some of the quiet simplicity and understatedness I appreciate in an Eastwood picture. That last part is causing a problem.
In many ways it feels different from the rest of Clint's filmography, but it returns him to one of his favorite themes: the man who has lived a life of violence having a hard time doing something else. Instead of an old outlaw it's "most lethal sniper in U.S. military history" Chris Kyle (played by Cooper with some extra muscle, facial scruff and Texan drawl), who goes through four tours of duty in Iraq, more than his share, but every time he tries to live a peaceful life with his family he starts itching to be back in combat. It also reminds me a little bit of Clint's movie J. EDGAR, another biopic of an extreme character that refuses to condemn him. It just presents him, tries to give him a fair shake, shows him as a human, for better or worse.
With most of Clint's directing-not-acting movies these days (JERSEY BOYS, HEREAFTER, CHANGELING, LETTERS FROM IWO JIMA, etc.) it's the same routine: a bunch of people say they suck, I see them and like them, but don't really know many people who bothered to see them, and the world moves on. Even when he does what seems like a crowd-pleasing awards-bait type movie, like INVICTUS, the academies and what not don't give much of a shit, and Clint doesn't care that they don't. Why would he? Who needs another trophy when you wake up every morning and you're still Clint fucking Eastwood?
But AMERICAN SNIPER is different. It was nominated for 6 Oscars including best picture, and when it went into wide release last weekend it immediately became a smash hit, the biggest opening of Clint's career. Also, it's one of those movies that not only sells tickets, but that people apparently like. It has an A+ Cinemascore and an 89% audience rating on Rotten Tomatoes. (His previous three movies as director rated 65%, 45% and 38%). (read the rest of this shit…)