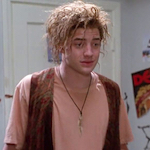 "We found him. We can do whatever we want with him."

ENCINO MAN is I guess a landmark in 1990s American cinema because it introduced "the Pauly Shore movie." Then in his mid-twenties, Shore was the son of The Comedy Store owners Sammy and Mitzi Shore, so he had started doing standup and hanging out with Sam Kinison as a teenager, developing his surfer dude/stoner/Valley Boy persona "The Weasel" – one of those characters who has a certain way of talking and catalog of slang and catch phrases that seem to be beloved by somebody somewhere, but to those of us who came in late it's unclear whether you had to be there to get it or if there even was a joke in the first place.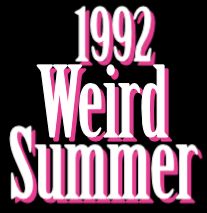 He had been in a few movies, including 18 AGAIN! and PHANTOM OF THE MALL: ERIC'S REVENGE, but his big break was in 1989 when he became an MTV VJ, in character. A year later they gave him his own very popular show called Totally Pauly. When ENCINO MAN was in development at Disney, the head of Hollywood Records got Jeffrey Katzenberg to watch Totally Pauly and then put Shore in the movie. He didn't want to play the caveman, so the filmmakers worked with him to rewrite the protagonist's best friend character to be a weird guy who says "nugs" and "weez" and stuff in such a way that it's clear that it must be funny.
By the time the movie was finished, Shore was the main selling point. One of the promotional items they released was a "Weasel Wheel" to translate the "hardcore vocabulary" of "the stoniest, mop-haired weasel you will ever witness." For example, "GRINDAGE" means "FOOD." Fun stuff! The video poster says, "Starring MTV's Ma-jor Dude, Pauly Shore!"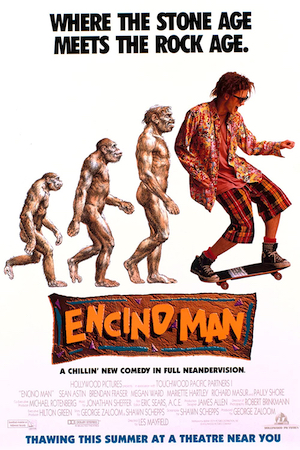 Since I had never seen this before I was surprised to find that the actual lead is Sean Astin (between TOY SOLDIERS and RUDY), who does not appear on the movie poster or any version of the video cover. He plays Dave, a high school senior who often mentions being from Encino to other people also from Encino while they are in Encino. "I'm not going down as this geek kid from Encino," he vows. He dreams of being the prom king and dating Robyn (Megan Ward, CRASH AND BURN, TRANCERS II), who he grew up with but who has always rejected him. Like Mary Jane in SPIDER-MAN and so many others, she's an angelic nice girl despite having a jock asshole douchebag boyfriend, this time named Matt (Michael DeLuise from 21 Jump Street). One of Matt's bullying achievements is to write "EAT ME" on Dave's head, lift him up off the ground and and staple him by his clothes to a bulletin board. Impressive.
Dave also wants to have a swimming pool, like all the families surrounding his, so he's trying to dig one in the backyard when he hits a piece of clear plastic representing a chunk of ice. We know from a prologue that during the ice age a caveman (Brendan Fraser in his first released theatrical movie, though he'd already filmed SCHOOL TIES) was buried in an earthquake while hanging with his lady friend (Sandra Hess, also in her first movie – she was later in BEASTMASTER III and NICK FURY: AGENT OF S.H.I.E.L.D. and played Sonya Blade in MORTAL KOMBAT: ANNIHILATION).
Dave's response to finding a frozen prehistoric man in his backyard, and the premise of the movie, are puzzling to me. He insists to his unlikely best friend Stoney (Shore) that "This could be fame, or money, or popularity." But instead of trying to contact anyone about what to do with their archaeological discovery, they secretly dig up the ice and leave it to melt in the garage while they're at school. When they come home they learn that he's alive, and has trashed the house and tried to start a fire. They calm him using a lighter, give him a makeover and clothes, and name him Link. So, yeah, it's sort of a TEEN WOLF "what if we took a thing, but put sunglasses on it?" type of concept.
I don't believe there's any discussion of whether they should contact scientists or anything. There's no claim that they need to protect him. But they keep him as their secret friend, like E.T. They convince Dave's mom (Mariette Hartley, THE MAGNIFICENT SEVEN RIDE!") and dad (Richard Masur, MY SCIENCE PROJECT) and the school that he's a foreign exchange student from Estonia.
Their assumption is that if they have a caveman, but pretend he's just a guy they know, they will become popular. And it works! All the cool girls, including Robyn and her friend Ella (Robin Tunney in her first movie, to be followed by EMPIRE RECORDS and then THE CRAFT), immediately think Link is cool, and start hanging out with him, and therefore Dave and Stoney. But of course it backfires because they still don't like Dave and are more attracted to the literal neanderthal, who's way more fun to be around.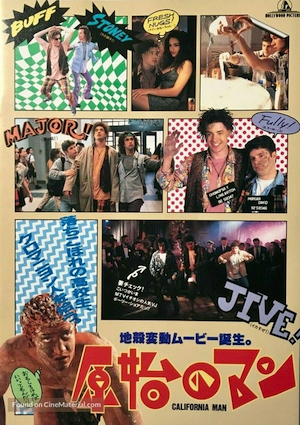 I wonder what I would think of Stoney if I had no other exposure to or pre-conceived notion of Pauly Shore. I mostly find him annoying and inexplicable, but there are a few of his non-sequiturs that did make me laugh, and though it's mostly just a hippie/stoner kind of archetype, he has a better attitude than Dave. For example Stoney doesn't think it's a problem that Link (for some reason) doesn't fight back when Matt punches him in the face, saying that he's a pacifist. (Dave insists on showing him wrestling and kung fu videos as fight training. Doesn't seem to have helped Dave, but it works for Link.) I also gotta respect Stoney for how many pink outfits his wears to a high school in 1992. I think that's just a Pauly Shore thing, but it's also a theme throughout the movie that Dave is overly concerned with what other people think of him, while it doesn't even occur to Stoney to care about that.
They go to a bar called "El Crib" where we see that common '80s/'90s comedy trope of the menacing-people-of-color-who-become-unlikely-friends-to-the-suburban-white-kids. In this case it's members of the Latino-American performance group Culture Clash (Richard Montoya, Ric Salinas and Herbert Siguenza) who make Stoney drink a bunch of tequila and threaten to kill Link for fondling one of their "muchachas" (Sicily Rossomando), but then decide Link is funny and give them all a ride home in a lowrider.
Matt sees Robyn get out of the car and says, "Nice element you're hanging out with." Racist!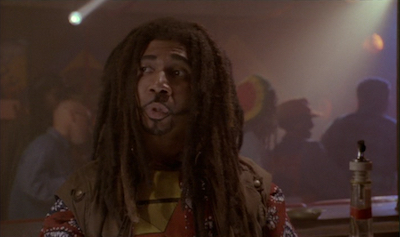 By the way, the bartender at El Crib is Jeffrey Anderson-Gunter, a.k.a. the guy who was in MARKED FOR DEATH who was also one of the morphing people in the "Black or White" video.
Fraser is very dedicated to the role, leaping, crouching and grunting, getting all smeared in mud, eating gross things. A nonsensical detail is that he sees dancing on TV and starts imitating it, so any time there's music he lets loose, and Fraser does a good job of seemingly un-self-conscious goofy dancing. And it's crucial to the plot because Dave refuses to dance even with Robyn so once again she doesn't want to go to the prom with him, and instead goes with Link.
Of course Matt is jealous too so he comes up with an evil plot, breaking into school files and then Dave's bedroom and stealing Polaroids that prove Link is a caveman. The funny thing is that his response isn't some sort of, "Wait a minute… what in the—?" Instead he says, "Gotcha!" He runs to the prom and gets up on stage to make an announcement that they've been lying, Link is not from Estonia, he's a caveman!
I assume in the real world everyone would laugh and he would get nowhere. Or in a movie even worse than this one, his ploy would work and Link would be humiliated. To the movie's credit, I guess, everybody just cheers. But then, moments after the plan has failed, Dave runs in in a panic saying "Give me those pictures!" Then Link (after being called a homophobic slur) airplane spins Matt and throws him into a cake. Then Robyn looks at the photos and looks upset.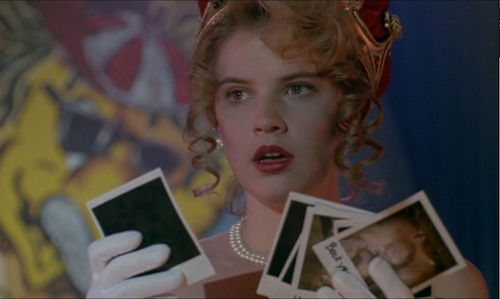 But Link dances so Robyn doesn't care anymore and somehow everybody, including Dave, somehow do a choreographed dance with Link. So at a party afterwards Robyn says "What you did was pretty cool" and kisses Dave. I guess because he danced one time? That was all you've been waiting for all these years?
Astin's fellow Goonie Ke Huy Quan shows up in a very small role. It was his followup to BREATHING FIRE and he wouldn't have another credit until the Taiwanese martial arts movie RED PIRATE five years later. Rose McGowan only has a couple lines as Nora, one of the cool girls at school, but it was her first movie character with a name. She was apparently in Seattle's own CLASS OF 1999, but uncredited. Four years later she was in Shore's BIO-DOME.
As you know, I pay attention to bedroom posters in these vintage teen movies for time capsule type purposes. Dave has two items I think I might've had too: promos for the Red Hot Chili Peppers' Blood Sugar Sex Magik and the Brand New Heavies' self-titled first album. I'm surprised Dave would be into the latter, but I guess he got a deal from Delicious Vinyl, because he also has Tone Loc and Def Jef posters. My vote for most believable poster is the one for "Best Video of the Year Finalists." I can make out C+C Music Factory, Deee-Lite, DiVinyls and R.E.M. album covers on it. It's ugly but it's the kind of random thing you would find in a free poster bin at a music store and take it if you were into a couple of the bands.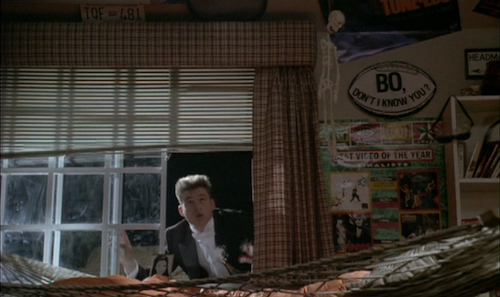 The soundtrack is a good illustration of either the transitional place we were at in popular music or the random mix and match of songs movies used to have back then. I talked about Check Your Head and Lollapalooza at the beginning of this review series, but ENCINO MAN is a little behind all that. Vince Neil's theme song "You're Invited (But Your Friend Can't Come)" was released as a single and touted on some of the advertising. The singer had recently been fired from Mötley Crüe for drinking too much to contribute to the band (though in a statement they blamed his focus on race car driving). Weirdly, the movie also has a song by The Scream, whose singer John Corabi was Neil's replacement in Mötley Crüe.
In a similar vein, we have songs by Steve Vai, Def Leppard and Queen. Then in a certain other category we have Cheap Trick doing a cover of "Wild Thing" and The Smithereens doing "Wooly Bully." We have some very California-in-the-'90s representation with Infectious Grooves (a slap-bass-heavy "funk metal" outfit I forgot about featuring members of Suicidal Tendencies and Jane's Addiction) performing at the prom.
But we also have a Tone Loc song and Compton rapper Hi-C's tribute to jheri curls, "Leave My Curl Alone." And also the Jesus and Mary Chain. And in the El Crib scene (but not on the soundtrack) there's a dance song called "Rhythm Is A Mystery" that just keeps saying "Move your body / Move your body to the rhythm" over and over again. It's cheesy and generic enough I thought it might be one of those ones put together by the score composer (J. Peter Robinson, HIGHLANDER: THE FINAL DIMENSION, RUMBLE IN THE BRONX). Turns out it was by a real group called K-Klass who had released the song in 1991 and it had reached number 3 on the UK singles chart.
You've also got the whole makeover montage set to Right Said Fred's "I'm Too Sexy," a little PM Dawn, and most annoyingly the fight training montage set to a cover of "Mama Said Knock You Out" by "American eclectic thrash metal band" (source: Wikipedia) Scatterbrain.
I don't expect these lowbrow comedies to have consistent musical curation. What if they did, though? Would that improve them? I think it would. Or at least make you say, "Great soundtrack, though!"
ENCINO MAN is the feature directorial debut of Les Mayfield, who, along with producer/story provider George Zaloom, had stumbled into becoming Steven Spielberg's go-to behind-the-scenes-footage shooters while they were roommates at USC. They produced numerous making-of TV specials as well as HEARTS OF DARKNESS: A FILMMAKER'S APOCALYPSE and PSYCHO IV: THE BEGINNING. According to a recent oral history on Inverse, they pitched ENCINO MAN to Hollywood Pictures executive Dan Halsted, because he was their former agent, and he said "That's the stupidest thing I've ever heard," but two hours later had sold Katzenberg on it. It was the first test of an idea Katzenberg had been preaching post-DICK TRACY that they needed to make smaller, cheaper movies that wouldn't need to beat BATMAN to be considered successes. It worked, opening modestly at #4 but playing long enough to almost sextuple its $7 million budget in theaters, before being a hit on video. (The reviews, of course, were terrible.)
The screenplay is credited to Shawn Schepps, the actress who played Sarah Connor's co-worker Nancy in THE TERMINATOR – the one who told her about the other Sarah Connor being killed. The article on Inverse doesn't mention that detail during a story about Katzenberg calling Schwarzenegger to get permission to use a clip of the "I'll be back" scene in the movie. I wonder if Schepps was the one who wrote that joke in the first place?
Shore must've liked Schepps, because she soon wrote SON IN LAW for him. To me her most notable work is DRUMLINE. In 1996 she wrote, directed and acted in a TV movie called ENCINO WOMAN, that took a different spin on the unfrozen cave-person premise. An intern at a marketing firm (Corey Parker) finds a prehistoric woman (Katherine Kousi) and has success after recruiting her to be a spokesmodel for a cosmetics company. Shore is not in it but Bobcat Goldthwait appears as a character named "Yogi Paxil." Variety's review describes "a midshow outtake featuring Disney chief Michael Eisner" discussing with "a Ripley's Believe It or Not demeanor" a newspaper article about a frozen prehistoric man found in a glacier in the Alps. (By that point Katzenberg had left and formed Dreamworks.)
Fraser of course got alot of attention for the role and subsequently worked his way up with some dramas interspersed between more comedies. He cameod as Link in Shore's movies SON IN LAW and IN THE ARMY NOW. He is best known for MONKEYBONE and LOONEY TUNES: BACK IN ACTION.
Mayfield went on to direct MIRACLE ON 34TH STREET, FLUBBER, BLUE STREAK, AMERICAN OUTLAWS, THE MAN and CODE NAME: THE CLEANER. Ward became a TV star on shows including Party of 5, Melrose Place, Boomtown and Sleeper Cell. But Astin topped all of them by becoming a Hobbit.
Tie-ins: Disney's Hyperion publishing arm released a tie-in book (advertised in the credits) called Stoney's Encino High Notebook. I thought it would be funny to get a copy and check it out but the ones currently on ebay are listed for $150-$200, so I will pass! Luckily one includes pictures, so I can see that it's made to look like a lined notebook with handwritten text and collage with "Stoney" writing about the story of the movie in his Weas-speak or whatever. There was also a Scholastic kid's novelization by Nicholas Edwards, who also did ones for STAND AND DELIVER, ARACHNOPHOBIA and KAZAAM.
This entry was posted on Wednesday, June 15th, 2022 at 2:01 pm and is filed under
Comedy/Laffs
,
Reviews
. You can follow any responses to this entry through the
RSS 2.0
feed. You can skip to the end and leave a response. Pinging is currently not allowed.