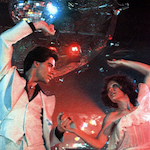 1983: SUMMER OF NUB supplement: SATURDAY NIGHT FEVER (1977)
I was born in the '70s. Between you and me, it was a week after JAWS came out. So I don't remember the release of SATURDAY NIGHT FEVER, or Disco Demolition Night, I was busy with other shit. Mister Rogers, STAR WARS, Popeye cartoons, learning to tie my shoes, etc.
So growing up there was this idea of "the seventies" that was really funny. Ha ha, they had bellbottoms, they listened to disco, the movies had wah wah guitars. A big joke. The high-pitched Bee Gee vocals, white polyester suits, light up floors and dance moves of SATURDAY NIGHT FEVER, as parodied in AIRPLANE!, on Sesame Street and elsewhere, were part of that impression.
But when I was a teenager, hip hop samples opened a path to P-Funk, and 99 cent records at Goodwill introduced me to Innervisions and Headhunters. Film appreciation led me to SHAFT, SUPER FLY, DOLEMITE and THE MACK (with a side order of TAXI DRIVER and all that). Suddenly "the seventies" weren't as much of a joke in my mind, they were becoming a legendary period. But disco still seemed like some bullshit. As smooth jazz was to jazz, disco was to funk, I thought. Still kind of do, to some extent.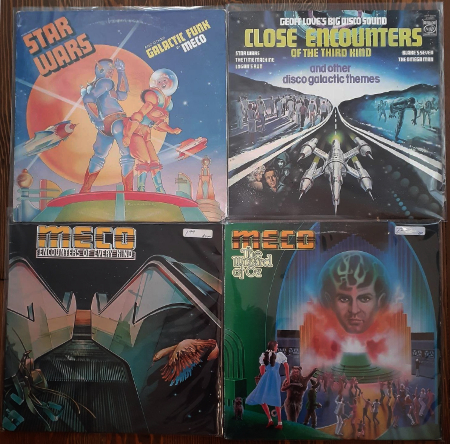 At some point, though, I stumbled across and bought the record Star Wars and Other Galactic Funk by Meco. I still have it, along with his Wizard of Oz record, competing disco versions of the CLOSE ENCOUNTERS theme by Gene Page and Geoff Love's Big Disco Sound, and other stuff along those lines. It made me  (and still makes me) laugh to hear these familiar theme songs about space adventures and alien contact merged with thumping disco beats and overproduced strings. Especially when I was that age I had a tendency to get into something ironically, then start to gain a sincere appreciation for it until I realized I actually liked it, like Romy and Michele "making fun of" PRETTY WOMAN. These are corny novelty records for sure, they're fad chasers. But the overblown studio polish of the genre becomes a benefit when applied to an idea as goofy as "the Imperial March, but danceable." Skilled studio musicians applying their hard-earned craft to an absurd idea that make me smile. I have to admit I like it (though funk or jazz versions of movie themes are almost always better, I collect those too).
Somewhere in there I got a little more interested in understanding disco. I saw some documentary on cable that talked about it as an underground movement, and a largely gay subculture, birthed in private dance parties, with music primarily by Black artists. I finally got that disco was not SATURDAY NIGHT FEVER and the Bee Gees – SATURDAY NIGHT FEVER and the Bee Gees were an offshoot of disco as it exploded in popularity, started to seep into places it was never designed for, and grew into a different thing. (And the massive success of the movie and its soundtrack – the most successful album in pre-Thriller music history, and biggest soundtrack until The Bodyguard – propelled it so far it burned out.) In terms I could relate to, it was that point when Vanilla Ice was on the top of the charts and Barney Rubble was rapping on Fruity Pebbles commercials. Or at least that's how I understood it.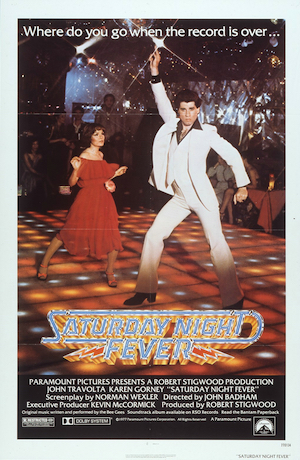 So I watched SATURDAY NIGHT FEVER with some skepticism, but also surprise. First of all, I thought it was good. Not a joke – a gritty, sweaty, working class New York City character drama that had some dancing in it because that's what the one thing the protagonist knows how to shine at. The Bee Gees songs were still a joke to me, but how can you really deny them? I mean, what would the movie be without them? Also they got chumps like me by including Walter Murphy's "A Fifth of Beethoven" and David Shire's "Night on Disco Mountain" – classical music gone disco is just as goofy as movie themes. I love it.
(Note: Typing that inspired me to put on the "Fifth of Beethoven" album, and I noticed my copy still has a price tag for 80 cents from the Goodwill Bric-a-brac section.)
Director John Badham has already come up twice in my summer of 1983 retrospective, having directed both BLUE THUNDER and WARGAMES. The very definition of a journeyman director – he prefers to credit his films as "A John Badham Movie" – but this seems to have been made with some passion. It's is his second film (following THE BINGO LONG TRAVELING ALL-STARS & MOTOR KINGS), a job he picked up after producer Robert Stigwood dumped John G. Avildsen (ROCKY), reportedly the same day he got his Oscar nominations.
In 2019 Badham was on Mick Garris' podcast Post-Mortem (because his followup to this was the 1979 version of DRACULA), and his explanation of how the movie came about really surprised me. John Travolta was a sitcom star, not a movie star, but he had starred in Grease on stage, and Stigwood wanted to make a movie of that. But they couldn't start filming for a while because they had to wait for a window in Olivia Newton-John's touring schedule. They thought it would be smart to find another movie for Travolta to star in first, "to introduce him to the world of movies," and decided to option a New York magazine article about a disco dancer from Brooklyn. (More on that later.)
If this was just supposed to be a quickie practice run killing time before GREASE then it's funny how undeniable Travolta's movie star juice is the moment you see him, just walking down the street. Well, you can't really call it walking. It can only be called strutting. But it's a preposterous amount of swag.
One of the articles I read said that Badham originally shot the feet walking with a double, and Travolta was furious and made him redo it with him. So he knew what the fuck he was doing. So many things about the character of Tony Manero are encapsulated in this famous strut: his rhythm, his physical grace, his charisma, his arrogance, his self seriousness, his obsession with his self image (confirmed by the attention he pays to shoes and shirts in the store windows he passes). He swings his black-leather-jacket-clad shoulders and arms to and fro, bouncing along that sidewalk, eyes narrowed like he expects to be worshipped but wants to stay casual about it. Every movement of every muscle, every chest hair popping out under his gold chain, between the triangular points of his red polyester collar, seem to say "What the fuck are you looking at?"
The only sign of weakness is the two times he tries to follow women and they ignore him or roll their eyes. But the more interesting detail is the can of paint he's carrying the whole time because he's on the clock at the hardware store, sent out to get a particular color they ran out of for a demanding customer.
The movie is really not as much about the disco lifestyle as later movies like 54 or even THE LAST DAYS OF DISCO. I didn't even notice any cocaine in it. It's more about the shitty life of this 19-year-old joe blow and his dipshit friends, and how on Saturday nights they escape into the magical fantasy world of the club, where they are gods. Well, really most of them are the entourage of a god, or at least Moses. It's pointed out that the dance floor parts for Tony like the Red Sea. His buddies don't even dance that much, they mostly sit at a table, or take turns bringing girls to the backseat of the car they all came together in.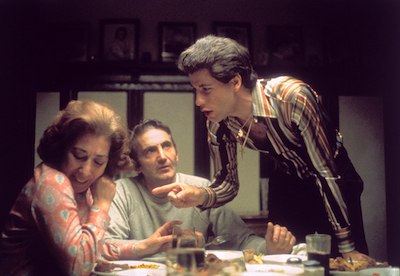 The rest of the week Tony is stressing about his family – his dad Frank Sr. (Val Bisoglio, LINDA LOVELACE FOR PRESIDENT) thinks he's a loser piece of shit, everyone in the family is always sniping at each other and smacking each other. There's a scene where Tony comes to dinner wrapped in a sheet to protect his shirt from spaghetti spillage and is deeply offended that his dad hits him in the hair. It's funny but also sad that this family seem incapable of spending a few minutes together without arguing and fighting over every stupid little thing.
Dad and Mom (Julie Bovasso, MOONSTRUCK) are always telling Tony he should be more like his older brother Frank Jr. (Martin Shakar, INVASION U.S.A., FRESH), the pride of the family because he's a Roman Catholic priest. So it's a little satisfying when Frank Jr. comes home to tell them he quit the priesthood.
The relationship between the brothers is about the warmest thing in the movie. Tony is the only one in the family who's accepting of Frank Jr.'s choice, and Frank Jr. is the only one to respect Tony's talent as a dancer. He goes to the club with him, a night that includes fielding religious queries from Tony's nerdiest friend Bobby C (Barry Miller, PEGGY SUE GOT MARRIED), who wants permission from the Pope for an abortion so he can get out of marrying his pregnant girlfriend. Frank makes it clear to Tony that he's sincerely impressed by his dancing, but it's in the sad context of cutting out early because this just isn't his scene.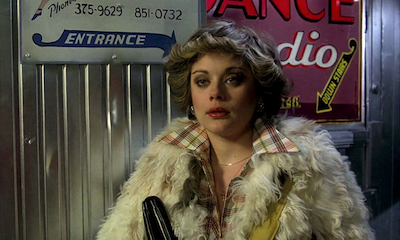 One of the most interesting characters is Annette (Donna Pescow, JAKE SPEED), who seems to have known and had a crush on Tony forever, but he tries to avoid dancing with her and barely gives her the time of day. She makes me think of the minor PURPLE RAIN character Jill, who is tragically ignored by The Kid. Annette does convince Tony to be her partner in an upcoming dance contest, but at the rehearsal space he sees this older woman Stephanie (Karen Lynn Gorney, All My Children) he's been amazed by at the club but who ignores him worse than he ignores Annette. It's one of those cinematic situations where the dude is aggressively bothering a woman and you think, "That's right, you tell him" every time she tells him to go fuck himself but then he wears her down and they start dating. Movie women can only fend off creeps for so long before they become charmed by them.
The scenes where Tony and Stephanie get to know each other, like when they go out for coffee, are pretty funny. They're from different generations and worlds and he's not very good at seeming like he ever knows what she's talking about. She works at a talent agency and is always mentioning the celebrities she's met, and he tries to make fun of her for name-dropping but half the time he doesn't even know who the people are.
Practicing for the dance contest gives some structure to the movie, but it's more episodic than plot-driven. Lots of odd little encounters and minor characters in this world. There are scenes with Fran Drescher as a dancer named Connie (actually having a less extreme accent than the other characters) and DIE HARD 2's Robert Costanzo as a customer at the hardware store. The DJ at the club is Monti Rock III of Disco-Tex & His Sex-O-Lettes, who do not have any songs on the soundtrack.
Though the movie seems built around the six Bee Gee songs, Badham hadn't even heard of the band until postproduction, when Stigman gave him the demos and told him to use them. Travolta said he was dancing to Stevie Wonder and Boz Scaggs. So "Stayin' Alive" fitting together with "Superstition" in mashups might not be a coincidence.
Just like THE FAST AND THE FURIOUS, BIKER BOYZ, BLUE CRUSH, COYOTE UGLY, and URBAN COWBOY, SATURDAY NIGHT FEVER was based on a magazine article purporting to document an exciting new subculture. "Tribal Rites of the New Saturday Night" was written by British rock journalist Nik Cohn and published in New York magazine in June of '76. "Over the past few months," it begins, "much of my time has been spent in watching this new generation. Moving from neighborhood to neighborhood, from disco to disco, an explorer out of my depth, I have tried to learn the patterns, the old/new tribal rites. In the present article, I have focused on one club and one tight-knit group which seem to sum up the experience as a whole." It's about someone named Vincent, but he's basically Tony – an Italian-American hardware store employee and "the very best dancer in Bay Ridge."
Mostly the movie just takes this idea of a meathead nobody who becomes something else at the dance club on Saturday nights. The article doesn't have a dance contest, a Stephanie character, the trouble on the bridge, or any of the family stuff that's in the movie. Vincent's dad is in jail, his brothers are dead, in the hospital, or moved out, so he just takes care of his mother and two younger sisters. There doesn't seem to be yelling and hitting.
But there are lots of little incidents that made it into the movie. The article includes the scene where a random dancer asks him to kiss her, and turns out to believe he's Al Pacino. It has part of the Annette story in a character named Donna who pines for Vincent, dances with him once, is taken to his car but abandoned when he finds out she's not "fixed," later approaches him with condoms but is ignored. It has the part where Double J gets jumped by Puerto Rican gangsters on the way home from the grocery store and is hospitalized. It ends with them out looking for "those greaseball bastards" because "somebody's going to pay" after a not-in-the-movie incident where they failed to find a guy they were going to possibly kill for molesting Gus's sister. So, it's not the same as the movie, but the whole "Brooklyn tough guys who love to dance" is there.
It would be interesting to know what became of Vincent and what he thought of the movie. One problem: he doesn't exist. Although Cohn wrote in the introduction that "everything described in this article is factual and was either witnessed by me or told to me directly by the people involved," he admitted twenty years later that it was all bullshit. He was new in New York and didn't really know much about the scene or the neighborhoods, and wasn't good at interviewing. So he made up characters based on Mods he knew in London in the '60s and teen gang members he grew up with in Derry. Vincent was also inspired by what Cohn imagined about a dude he saw standing outside the real 2001 Odyssey club when he went there for the first time… but didn't go inside because some guy involved in a drunken brawl puked on his pant leg right when he got out of the cab.
So maybe it made more sense than we realized for the movie to be directed by a guy born in England and raised in Alabama, with a soundtrack by white British guys who were pretty new to disco. These are all outsiders reaching for authenticity in their portrayal of this specific subset of "this new generation" that it turns out a guy made up. Of course, that's not so different from Cannon Films making BREAKIN' and RAPPIN'. And the ritual of poor people saving up for fancy clothes and trying to show off during a night on the town is timeless and universal, whether or not it happened exactly this way in that neighborhood.
In a 2016 piece in The Guardian, a New York editor from a later era speculated that her predecessor must not have known the piece was fabricated. "Remember that '70s Brooklyn was a foreign country to most New York magazine editors," she said. "It wasn't cool, and some of them had probably never been there – even to Brooklyn Heights, which was Norman Mailer territory. So they may not have had good radar for credibility."
Luckily, the movie adaptation had a screenwriter who according to The Independent "had a flair for creating realistic down-to-earth characters with rough edges and a degree of grit." Norman Wexler had received Academy Award nominations for his first two movies, JOE and SERPICO (the latter of which Tony has a poster of on his bedroom wall). By this point he'd also written MANDINGO and DRUM, had witnessed the assassination of Robert F. Kennedy, and been arrested by the FBI after an American Airlines flight where he blocked the aisle with tennis rackets, yelled that the other passengers were "whores, latent homosexuals and members of the Mafia," and announced that he was going to shoot Nixon.
If you're like me though you know of him as the infamous "Mr. X" mythologized in the book Andy Kaufman Revealed by Bob Zmuda. Though I'm pretty sure the longtime Kaufman collaborator and friend has greatly embellished his stories about working as Wexler's assistant for three weeks, they probly have a basis in truth. He claims Wexler would go around in a limo, barefoot and looking homeless, and find random people to provoke with bizarre and extreme behavior. Zmuda would smooth things over by handing out piles of cash from a briefcase or, in an emergency, playing a recording of the real Serpico vouching for Wexler. And these encounters would be recorded and transcribed to inspire the "real street dialogue" Wexler was know for in his lucrative career as a script doctor.
Obviously with Wexler behind the typewriter it was never gonna be the goofy movie we of the younger generations pictured from hearing "Stayin' Alive" and seeing Travolta's pose on the video box. Over the years when I've talked about it to people who hadn't seen it I've warned that it's not a big laugh, it's pretty dark and depressing. I thought of Tony's family life, the scene where Bobby goes crazy climbing around on a bridge and falls to his death, and I vaguely remembered something rapey in a car, not remembering there were two separate backseat sexual assault incidents. Poor Annette finally gives up on Tony and decides to hang out with his friends. He seems to be some kind of slut shaming asshole when he tries to talk her out of it but it turns out he knows they're gonna take turns with her. Should've warned her in more specifics, dickhead, and/or intervened. He just sits there disgusted and then blames her for it, only offering comfort after she seems ready to jump off the bridge.
That's not really dated, it's a case where depiction definitely doesn't equal endorsement. The part that does seem problematic™ by today's standards is the ending where Stephanie agrees to still be friends with Tony after he tried to rape her. Fictional characters are allowed to make terrible choices, but that one is just such a bummer because it seems like it's supposed to be an optimistic ending. At least that's how it played to me this time around. Maybe that was how it wanted me to feel.
It's certainly not an accident how systematically it depicts every macho attitude ingrained in Tony's family and friends and how it makes them all miserable. But if you require movies to put you in the company of pleasant people, never, ever watch this. Almost everybody who's not a victim is horrible. Any shitty attitude toward women that has ever existed, Tony probly expresses it in this movie. It's constant misogyny from Tony and the boys, and they loosely use the worst slurs for at least two different minorities. There's a scene where a gay couple looks terrified to come across them – either they've been menaced by them before or they can correctly judge their character by looking at them. There is a 100% guarantee that one or more of this crew are guilty of hate crimes. This sort of casual bigotry is common in '70s movies trying to be unflinching portraits of white people from the streets, but I wonder if it's an intentional irony that these devotees of disco have such disrespect for the minorities that created it? Doesn't matter – it works.
The thing that challenges those of us raised on movies from a more modern era is that they don't give Tony many redeeming qualities to make him better than the world he comes from. We would be more comfortable if he was smarter than his friends and yearning to break out, or if he had a sweet side that he was just afraid to show until Stephanie brings it out of him, or something like that. But there's very little of that. He's a dumb guy. He doesn't know shit about shit. He doesn't think about things. He can rarely figure out how to be nice to anybody except his brother, who he doesn't see very often. He doesn't know how to stop from saying hurtful things to people who make the mistake of liking him. Just about the only positive things you can say about him are that his boss (Sam Coppola, BLUE STEEL) seems to think he's a good employee, and that he's definitely a good dancer.
I mean, it really is something. I like dance movies and I prefer other types of dance and dance sequences. I'm a BREAKIN' and STEP UP man. But it's so striking to see the way Travolta moves in this. It doesn't seem like they had this actor and he trained really hard to learn to dance and do the choreography. It's more like this guy was born a dancer, has lived his life as a dancer, is a dancer. You know, they have good dancers around him, sometimes they're even doing synchronized moves, but he blows everybody else out of the water. They tell us he stands out but they don't have to. It's magical.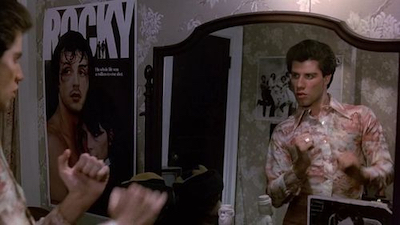 It could've happened to a more interesting guy, though. Before Frank Jr. leaves he tells Tony, "The only way you'll survive is to do what you think is right. Not what they try to jam you into." But there's little sign of him having the interior life of an artist. I'm not sure there's anything behind his movements, that he's some poetic soul yearning to be freed from the prison of toxic masculinity. At least not at this age. I don't think he objects to spending hours combing his hair and looking in the mirror, shadowboxing, trying to mold himself into the image of the idols on his bedroom wall – Serpico, Bruce Lee, Rocky Balboa. (He also has Farrah Fawcett and Wonder Woman.)
There are exactly two major scenes where I wanted to be behind him. One is when he tells off his dad for making fun of his excitement over a raise. "I knew you'd piss on it. Go on, piss on it! A raise means you're good. How many times has somebody told me I was good? Two times. This raise and dancing at the disco. You sure as fuck never did. Asshole!"
The second is more important – it's when he's won the dance contest, but is enraged about it because it's so obvious that the actual best couple were given second place for being Puerto Rican. Nobody else seems to think anything of it, even the other couple, but he goes over and gives them the first place trophy and prize money (and they keep the runner up money!) and storms out. He doesn't act like some hero, he kind of seems like a grumpy asshole when he does it. I admire the honesty. I don't think he's suddenly become enlightened about racism, I think it's only the pride in his dancing that brings out this unrelenting sense of fairness. He knows what it feels like to be the best, doesn't want to be a phony. So that led him to being righteous in this one situation. Minutes later he assaults his dance partner.
I still wouldn't say I fully understand disco, or SATURDAY NIGHT FEVER. I think it's a good movie but can't wrap around why it was Gene Siskel's very favorite movie, or how it became such a huge hit while being so gloomy. I don't know if that's what people liked about it, or if they just get swept away with the music. I think you had to be there, but that's okay. The view from here is interesting enough.
up next: summer of '83's SATURDAY NIGHT FEVER sequel STAYING ALIVE, which I have not seen before.