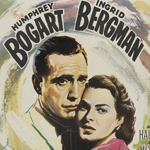 You guys know about this CASABLANCA? 1942, hill of beans, they don't really say "Play it again, Sam," etc.? Yeah, well, until recently I'd never seen it. And that's always intimidating, trying out an iconic classic way after the fact. You don't want to find yourself very respectfully trying to enjoy it. But that wasn't a problem here – I loved it. I won't have to research why it was considered good at the time.
If you haven't seen it either, it's a story about love, heartbreak and duty in a limited, colorful location: Rick's Cafe Americain, a popular "gin joint" in Casablanca, Morocco, the next-to-last stop on the trail of European refugees trying to flee the war and get to the Americas. It's based on an unproduced play by Murray Burnett and Joan Alison called Everybody Comes to Rick's, and that title is accurate: Rick's is a hangout for people of all backgrounds and proclivities. Club owner Rick (Humphrey Bogart) is a disillusioned ex-mercenary from the U.S. whose alleged neutrality makes him the perfect person to welcome Moroccans, French occupiers, immigrants, police, criminals, Nazis, the Resistance. They all come to this place where Rick discourages political arguments and police overlook (and enjoy) gambling.
The opening establishes the cafe's proximity to the airport, with crowds of refugees watching planes come in and out, dreaming of getting their visas so they can be on one of them. Of course, the world famous "hill of beans" scene will take place at the airport, but 95% of the movie takes place in the cafe.
Just because Rick welcomes everybody doesn't mean he has to like them. When a sleazy small time criminal named Ugarte (Peter Lorre, who in real life fled Germany when the Nazis came to power) tries to talk to him, Rick obviously thinks he's a piece of shit. But Ugarte has valuable letters of transit he needs to hide until he sells them to someone in the cafe at night, and Rick reluctantly takes them. That gets him into a big mess for two reasons: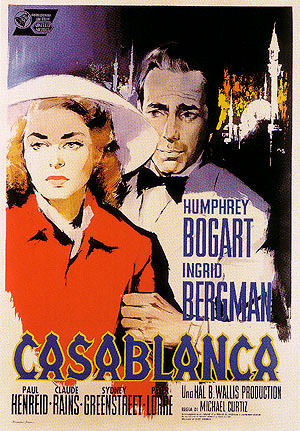 1. Ugarte is arrested by corrupt French Captain Renault (Claude Rains) and ends up "mysteriously" dead. I mean who knows what could've happened.
2. The guy who was supposed to buy the papers was Victor Laszlo (Paul Henreid, EXORCIST II: THE HERETIC), a leader of the Czech Resistance, who shows up with his wife Ilsa (Ingrid Bergman), which is bad because Rick has… history with her.
For such a tough guy, Rick is real sensitive about this one song, "As Time Goes By," which he has specifically banned from the club. Not because he thinks it sucks or it gets stuck in his head or something, but because it reminds him of his heartbreak over Ilsa. This is kind of like how I used to feel about the song "Can You Feel The Love Tonight" because it was playing on a radio while I got a catheter put in. (Long story.) So Rick gets pissed when he hears the in-house pianist Sam (Dooley Wilson) playing that song, but then he comes over and sees Ilsa standing there, having requested it. Poor Sam knew it was gonna get him into trouble but she pressed him on it. Awkward social situation there.
Later Rick and Sam are alone in the darkened club, Rick trying to find a mix of liquor, conversation and music to help him stew in his blues. This is when it skips back to show us Rick and Ilsa's brief romance in Paris, before she ditched him without explanation. Sam tries his best to talk Rick down. He doesn't think Rick should talk to Ilsa, so he suggests taking the car and driving all night, getting drunk and going fishing. I wonder if this is something they've done before, or if it's just the best he come up with to try to save his buddy from jumping in this hole? Actually, that would be a good idea for a prequel. A dialogue-driven two-hander about Rick and Sam's drunken fishing road trip. Probly some good adventures along the way.
I like the friendship between Rick and Sam, which seems genuine, but you can't help but cringe a little at the racial politics of the time. A black man could only be in this movie as the entertainment. I read that the only other black man on the set was Elliot Carpenter, who was the one actually playing the piano. The worst part is when Ilsa, intending no offense, refers to Sam as a "boy." The man was in his mid-'50s! Not cool.
Another loyal staffer and friend to Rick is his head waiter, Carl, played by S.Z. Sakall, who was Jewish and had himself fled Germany a few years earlier. It's easy to get swept away in the slick Hollywood romance of it all and forget that it was made in the thick of it. This shit was real.
Anyway, poor weepy Rick is stuck in a situation where he could give or sell the papers to Laszlo and get it over with, but he wants to know why Ilsa left him, and obviously part of him thinks he can get her back. Meanwhile German Major Strasser (Conrad Veidt, THE CABINET OF DR. CALIGARI, who had also fled the Nazis; he was one of Germany's biggest movie stars but could not work there because he wouldn't swear allegiance to the regime or leave his Jewish wife) is snooping around looking for these papers and this Resistance leader and whoever else he can torment.
Like in INGLOURIOUS BASTERDS they have to play nice with Nazi officers, sit in restaurants with them and pretend to be polite. Act like it's normal, just a little political disagreement. This is not a real conversation, it's a chess match. The Nazis must be outmaneuvered. The stakes are life or death.
Bogart is Bogart. A granite shell of weathered masculinity with a little crack in it where the glow of his sensitive center is shining out like a floodlight. I'm no scholar of romance tropes, but there's something really effective and beautiful about this we-used-to-have-something-and-we-still-kinda-do-but-life-has-changed-and-we-gotta-just-go-our-separate-ways-and-remember-the-good-times type of unrequited (or no-longer-requited) love story, in fact it was used very well in one of this year's most acclaimed movies, LA LA LAND. But of course it requires a strong chemistry between two really powerful leads, and they have that here. I guess it's hard to reconcile Bogart with our modern idea of a dreamboat, because they don't really make men like that anymore, but I assume since his appeal as a male role model still works that he must've been attractive to women at the time. And I definitely believe he'd moon over Bergman.
One thing I read about the making of CASABLANCA sounds like an ancient cliche about diva ingenues: they always had to shoot Bergman from her "good side," and they shot her in soft focus not for the idealized dreamy quality it gives her, but to hide her flaws. Well, shit, it worked. And Ilsa is a strong character, it's not all about her being pretty. She does much of the emotional heavy-lifting with her wordless reactions to the situations, showing her pain over having betrayed Rick, and at not being able to be with him again. And I'm glad it turns out she was just hiding a marriage to a guy she thought was dead at the time but went back to when it turn out he wasn't. I thought she was a Nazi double agent like the Ilsa in INDIANA JONES AND THE LAST CRUSADE. Don't worry, everybody. Not a Nazi! We can still love her!
As much as this is about love, an even stronger undercurrent is the duty to stand up for what's right. The stronger the love is, the more profound it is for Rick to sacrifice it for the greater good.
I always think it's weird when people proudly say they have no politics. Rick keeps saying that, but he's full of shit. As people keep pointing out to him, in his badass mercenary past he couldn't have really been doing it just for the money like he says, because he was always fighting for the underdogs. He has beliefs, he just doesn't want to admit it. Here he is trying his damndest to be a scoundrel, but he can't be pure about it. His conscience is still in there. So how the fuck is he not gonna help these people that fight Nazis?
He actually gets his chance to get back together with Ilsa, but on the other hand he could fight evil and save lives. To be honest, what he's giving up is not a guaranteed happy ending, it's an exciting relationship with a woman who is already married, and if you think about it Paris was a short rendezvous where they weren't even telling each other about their lives. Once they move in together who knows what little things will grate on each other. Is she still gonna be charmed by "here's lookin at you kid" after a couple years of living together? And anyway they'd feel like such dicks for choosing each other over helping the leader of the Czech resistance escape. I think Rick was making the hard, moral decision, without realizing that it was really the sensible one too. Very likely it's better to just "have Paris".
Still, we can take a lesson from Rick that is clearly very relevant today. There are times when staying neutral, staying out of it, minding your own business, is shameful cowardice. It's good to care about the world, about other people, and to try to figure out what you can do to help and then do it. I watched and started writing about this last month, and didn't realize how many of these things I'd be thinking about while reading the news in the coming weeks: the loud voices of isolationism, the hateful monsters being treated as legitimate elements of society, the callous disregard of people desperately fleeing war zones. I couldn't believe it when some Twitter dude spammed me with an article in defense of Trumps' sickening Muslim refugee ban and the banner on his profile was a still from CASABLANCA! In the scene where he helps refugees get on a plane to America, where he knows they'll be safe.
This is not only a great movie, it should also be a reminder of lessons we've already learned, and values we hold dear. Good job director Michael Curtiz and Don Siegel who did the montages.