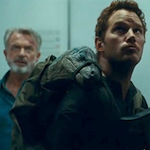 JURASSIC WORLD DOMINION* is not exactly the "dinosaurs running loose in the world" story I expected from the ending of JURASSIC WORLD: FALLEN KINGDOM – it ends up centering on yet another dinosaur park – but it does indeed take place at a time when dinosaurs have been running loose in the world long enough to proliferate, and for humans to respond with new governmental agencies, black market industries, etc. Which is an interesting world to spend time in.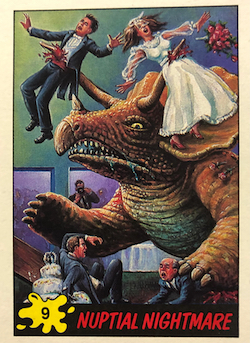 Maybe that's why some of the best stuff is before the plot really gets going – that part of a sequel that's a loose set of scenes catching us up with the old characters and their new situations. First we get a nice web video about the state of things, featuring fun clips like a wedding where the bride and groom release doves and a pterodactyl swoops down and eats them. It's in a joyful Dinosaurs Attack! spirit (though admittedly the cards themselves had an even better dinosaur wedding crasher – see right). Then we join JURASSIC WORLD co-lead Claire Dearing (Bryce Dallas Howard, HEREAFTER) and her FALLEN KINGDOM dinosaur rights associates Franklin (Justice Smith, The Get Down) and Zia (Daniella Pineda, MERCY BLACK) raiding an illegal breeding facility and rescuing a caged baby triceratops. The chaotic shots of adult triceratopses ramming Jeeps as they escape are a total joy.
*I dig the lack of a colon!
And Owen Grady (Chris Pratt, THE MAGNIFICENT SEVEN) is out there being rugged, lassoing a stray long-necked such-and-such-asaurus and dino-whispering him to safety. Turns out Owen and Claire live off the grid in a remote cabin in the Sierra Nevada mountains, trying to hide their adopted daughter Maisie Lockwood (Isabella Sermon), who was the most questionable plot point of FALLEN KINGDOM (a clone of the deceased daughter of the business partner of Jurassic Park founder John Hammond?). She works better as a teen protagonist than as a surprise twist, despite a questionable retcon about her origins.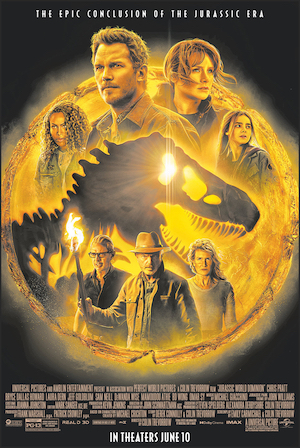 As far as these characters are concerned, the plot kicks in when poachers kidnap not only Maisie but Beta, the newborn offspring of Owen's favorite raptor Blue. Blue lives in the woods near the cabin, more like a bear that hasn't felt like attacking them yet than a pet. Maisie and Beta are sought by pioneering bio-tech firm BioSyn and its CEO Lewis Dodgson (Campbell Scott, DEAD AGAIN) to be studied by former Jurassic Park chief geneticist Dr. Henry Wu (BD Wong, MYSTERY DATE).
I didn't know this, but I learned from research that BioSyn were the chief competitor of InGen in the Crichton books, and Dodgson wasn't the CEO then, but he was the character (played by Cameron Thor in JURASSIC PARK) who gave Dennis Nedry the device to transport the stolen embryos. Well, all these years later those motherfuckers are still up to no good. Not only this kidnapping business, but they're also at the center of a separate plot that reunites the three leads of JURASSIC PARK.
Dr. Ellie Sattler (Laura Dern, A PERFECT WORLD) is investigating a plague of prehistoric locusts about the size of ferrets that are destroying crops and threatening to collapse the entire food chain. She believes they were created by BioSyn, and convinces her old friend/fellow dinosaur survivor Dr. Alan Grant (Sam Neill, POSSESSION) to help her find proof during a visit to BioSyn's headquarters. The rat soup eatin insecure mothafuckas have an underground lab and (you guessed it) dinosaur sanctuary in Italy's Dolomite mountain range. Luckily Ellie gets an invite from the company's "in-house philosopher," Ian Malcolm (Jeff Goldblum, DEATH WISH).
Of course Owen & Claire's rescue mission and Ellie & Alan & Ian's whistleblower scheme eventually intersect – in the last act. Until then it's sort of a shaggy (or feathery?) cross-breed of these two sequels, the wilder, more action-packed one with the new kids and the Crichtony faux-science-thriller with the oldsters. It's definitely unwieldy, and I do suspect it could've been improved with trimming and streamlining, but I found it way more fun than what I remember of the previous chapter or (I'm gonna get it for saying this) the underwhelming Spielberg-Lite of Joe Johnston's part III. (I could stand to rewatch that one though. It's been a long time.)
JURASSIC WORLD director Colin Trevorrow has returned, having skipped the sequel to direct BOOK OF HENRY and to not direct THE RISE OF SKYWALKER. In my opinion he is, like all directors with the exception of Steven Spielberg, not Steven Spielberg. I don't think I've seen enough of a sampling to have a handle on what kind of filmmaker he is exactly, but I think he deserves at least a little credit for not trying to be bootleg Spielberg (though the late-in-the-game sequence that's more in the mode of those sneaking-away-from-t-rex scenes is surprisingly effective). There are tons of cleverly shot sequences: the camera that tips over with the boat, the one that stays on Claire's face as she ejects from a plane (how did they make that look so real?) or on her head as it pokes out of water, then loses her when she ducks under but shifts to a cross section of her underwater as dinosaur breath ripples the surface. And of course there are many beautiful shots treating dinosaurs as wildlife, that may not have any live action elements at all – I'm not sure. (The director of photography is John Schwartzman [ROCKULA, THE ROCK]).
I found DOMINION to be less stupid than FALLEN KINGDOM, but that's not to say it's missing that element of overpriced b-movie outlandishness that I personally believe is preferable for an ongoing series about dinosaurs eating people. To my delight, there's a good 20 minute stretch that feels like a later FAST & FURIOUS sequel, with Owen and Claire traveling to Malta, meeting with new and old connections, infiltrating a sleazy underground dinosaur fighting ring, and even having a rooftop chase. I swear they exactly redo the famous BOURNE ULTIMATUM window jump, but with a raptor. And it just happens really quick and keeps moving like that was normal. I almost did a double take.
Dichen Lachman (TYRANNOSAURUS AZTECA) plays a sexy illegal dino trade queenpin named Soyana Santos who, yes, uses laser pointers to make her trained raptors attack people, but otherwise seems more like a FAST & FURIOUS villain than a character that would be in this movie for any reason. And then she's gone. I hope she's the character who finally bridges JURASSIC PARK and THE FAST AND THE FURIOUS and births the Universalverse.
There have been some complaints that huge prehistoric locusts are not dinosaurs but in fact a related new cool thing that has been added in addition to the dinosaurs. I do not find this argument compelling. My only complaint about the locusts is that I don't think they should be an evil corporate scheme – I think it would be more meaningful to our times if reviving the dinosaurs had unforeseen consequences and chain reactions, other things they didn't think through in addition to "it would suck to get your head bit off by a t-rex."
The locusts are mostly a McMuffin, but they get at least three memorable scenes: two kids on a farm running from a swarm of them, a bunch of seemingly dead ones jerking back to life when the lights come on, scaring the shit out of our heroes, and (spoiler) a swarm of them flying while on fire, simultaneously creating a nightmarish atmosphere and a delightful snack for the dinosaurs.
I have not ever/yet rewatched the two JURASSIC WORLD movies, so I felt a little bit behind when they brought back some of the supporting characters for cameos, but that's fine. There's an odd idea that many of the Jurassic World employees were recruited by the CIA – I guess because they need dinosaur experts these days? I like the bit where Franklin is watching a dinosaur video and blurts out something about what a crazy year it's been. It's relatable to these times and also what we would definitely be saying the year the dinosaurs took over the world.
Of course the JURASSIC movies that mean something to me are the two Spielberg ones, so I was most excited to see Ellie for the first time since 1 and Alan for the first time since 3 and have them together with Ian Malcolm, seeming more like Ian Malcolm this time and not just a Goldblum cameo. He even gets to do a lecture in his leather jacket!
I guess having them on this whistleblower mission with a major chunk taking place inside a secret lab instead of out in nature isn't the coolest possible idea. But I appreciate having some out-of-left-field stuff mixed in with the expected stuff.
Part of the reason the BioSyn portion mostly works for me is the very good performances by Scott as evil CEO Dodgson and Mamoudou Athie (UNDERWATER, Grandmaster Flash on The Get Down) as his communications director Ramsay Cole, who gives Ellie and Alan a tour of the place. Scott perfectly modulates his catalog of oddball tics and lack of sincerity to never be too cartoonish, always balanced between funny and offputting. Athie keeps me on my toes about what Ramsay's deal is, and repeatedly steals scenes without leaving marks on any scenery. I think he has the acting highlight of the movie in a scene where (SPOILER) he makes Dodgson completely fall apart just with his expressions, not saying a word until he's done blabbering.
As far as the others, it's admittedly more of a case of "it's fun to see these characters together again" than "this has something important to say about where they're at in their lives." I guess they've done something with Dr. Wu, making him seek redemption after turning straight up mad scientist in the last one. I like that Ellie seems to have found herself after a divorce; Alan doesn't seem to have changed or done much in the decades since we've seen him. Owen and Claire mostly just get to be protective parents. There's a scene where Claire realizes the computer system at BioSyn headquarters is the same as what they used at Jurassic World, and she gets really excited – I think because she finally has something useful to do! I felt bad for her. She must seem like a chump when her husband's running around with Kayla Watts (DeWanda Wise, THE HARDER THEY FALL), the badass ex-Air Force pilot she recruited to fly them to BioSynLand.
And there are so many characters it's hard not to short all of them, including the dinosaurs. But there is a subplot about some dinosaurs getting into some shit over a previous incident involving a deer. These guys hold grudges I guess. I love that it gets resolved with violence right after our heroes escape, though obviously the way to make this movie great would be to have the prehistoric savagery continue a good 15+ minutes after all humans have fled. They can stay out of this. This is dinosaur business.
I like the idea that Owen has learned how to make the dinosaurs respect him, though it seems to have gotten way easier since the raptors. It still always feels like he's on the verge of becoming a cautionary tale. He never lets his guard down. I'm a sucker for man and animal mutual respect in movies, and that goes double for man and dinosaur mutual respect. At the end when they (happy ending spoiler) return baby Beta to mama Blue in Nevada, the baby happily runs off into the woods but then she turns and gives a look to Maisie, the girl who saved her. And Blue does the same for Owen, for bringing the baby back to her. I'm positive that the looks those two gave are the raptor equivalent of a badass nod. So that's a good ending.
I do have two SPOILER mild complaints about deaths, though. First of all, Dodgson compares himself to Prometheus and Ian says something like "Prometheus was gored, and you will be too." But then when he dies he is not gored. Nor does a pterodactyl eat his liver. Worse than that, apparently when evil redneck poacher Rainn Delacourt (Scott Haze, ONLY THE BRAVE, VENOM, ANTLERS) died I didn't realize it was him! (Updated from saying he didn't die. Thanks for the correction.)
I know that many people are saying this is a garbage movie for garbage people, so I'm some people will be disappointed in me for enjoying it, and say that I've lowered my standards, as they said when I thought JURASSIC WORLD was a fun time 7 years ago, and before that when they found out I've loved THE LOST WORLD since it came out 25 years ago. In case I haven't already made it clear with my description, I am not saying JURASSIC PARK DOMINION must be welcomed into the pantheon of great blockbuster entertainments. I'm saying that I enjoyed its mix of top shelf special effects, monster mayhem and absurdity. It depicts an interesting alternate reality and I smiled big every time some fucker got snatched up by a wild beast. Honestly I don't get enough of that in my life, especially at this level of production value and technical craftsmanship, so I appreciate the opportunity.
But they're cowards for not bringing back Ian Malcolm's gymnast daughter Kelly. So fuck 'em.
This entry was posted on Tuesday, June 14th, 2022 at 7:12 am and is filed under
Reviews
,
Science Fiction and Space Shit
. You can follow any responses to this entry through the
RSS 2.0
feed. You can skip to the end and leave a response. Pinging is currently not allowed.