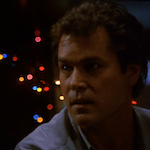 TURBULENCE is kind of an also-ran in the world of '90s studio thrillers. They used to put pretty big budgets into these mainstream action/thriller hybrids, especially if they starred Harrison Ford and/or Tommy Lee Jones. I guess psycho Ray Liotta is a little more low rent than that, and heroine Lauren Holly wasn't exactly a Jodie-Foster-sized marquee name (she was known for Picket Fences and DUMB AND DUMBER). But if Wikipedia is correct, the budget for this one was bigger than THE FUGITIVE, IN THE LINE OF FIRE, PATRIOT GAMES, THE NET or SPEED! So although most of the story is confined to one 747 it has plenty of scope. It feels like a big DIE HARD type production.
Or maybe I should say DIE HARD 2 – that's the movie I thought of when it was at the airport, with its attention to the pomp and circumstance of a law enforcement caravan arriving to search the plane before bringing prisoners aboard. It even takes place at Christmas, with Christmas music. Anyway, I have a soft spot for this type of movie. Any stupidity that may or may not be involved did not get in the way of my enjoyment of this one.
Liotta plays one of the prisoners, Ryan Weaver, accused Lonely Hearts Killer. Holly plays Teri Halloran, who's in the flight crew ("She's only a stewardess, for chrissakes." "Flight attendent.") Her co-workers, including Maggie (Catherine Hicks, STAR TREK IV: THE VOYAGE HOME) warn her to be impersonal when serving drinks to the prisoners, but she tries to act normal when Weaver forces small talk. And then he turns and smiles at her from across the plane. Not good.
See, she's just been dumped, so she's emotionally vulnerable. In the opening, when Weaver was introduced buying a teddy bear for a woman, it was intercut with Teri waiting for a romantic evening with her fiancee, giving us the illusion of a relationship between them. Weaver acts like a sweetheart (especially compared to fellow prisoner Stubbs [Brendan Gleeson, JOHN WOO'S MISSION: IMPOSSIBLE II]), claims to be innocent, and in fact was arrested on the basis of planted evidence. So it really seems like they're either setting him up to be complicated or (this is what I figured) for her to be tricked into thinking he's complicated, and going Stockholm on us. But really there's just a little bit where she tries to be polite to him and then it quickly proceeds to the part where he's openly a maniac and not trying to fool anybody. She does offer him sex at one point, but it's in bad faith.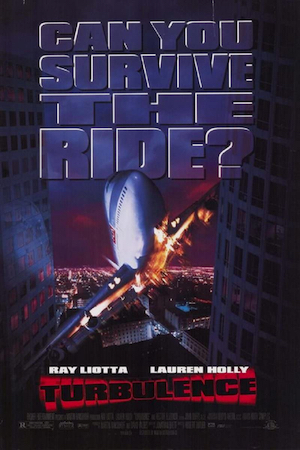 Basically the shit hits the fan because Stubbs attempts to escape, a hole gets shot in the plane and the pilot is killed. Weaver pretends to be trying to do the right thing at first, but it's a relief when he just unleashes the mega and starts chasing Teri around the plane.
He might be some kind of criminal supergenius, but he's not your typical one. There's a part where Teri discovers he's murdered like half of the passengers off screen. That takes skill. But if it was, say, John Lithgow in RICOCHET, Stubbs' failed escape would've been something he'd manipulated as part of a larger plan to escape. No such luck for Weaver. He assumes he'll be executed if they land the plane safely so he's just on a suicide mission to terrorize everybody and have evil fun until it's over. OUT FOR JUSTICE on a plane.
Probly the best setpiece involves the titular air turmoil. The plane is on autopilot, spinning out of control in "a level 6 storm," and Weaver chases Teri through the cabin. The lights keep going on and off, creating an eerie strobe, and the chaotic-flight-at-night atmosphere is strong, with the oxygen masks dropping down, plus an occasional dead body out of the overhead storage compartment.
I liked that better than the later section all about Teri having to land the plane with help from a pilot on the radio (Ben Cross,

) before the authorities direct Wing Commander W. Hadfield "Moondog" Hammer (Cooper Huckabee, THE FUNHOUSE, SPACE COWBOYS) to shoot them down. But that's part of what makes this a Big Movie. The best part that would not be in the DTV version is when she flies too low over Vegas and the landing gear chops through a fancy karaoke lounge. Then they buzz a parking garage and a truck gets stuck on the wheel like toilet paper on a shoe.
There's a gross cliche that movies often mention Ted Bundy (in relation to charming people being killers), but I like that this one specifically refers to the TV movie starring Mark Harmon. In a more obvious pop culture reference the cops are said to "watch too many DIRTY HARRY movies." I'm torn because I agree with the underlying sentiment but I don't think there's such a thing as watching too many DIRTY HARRY movies. Just taking the wrong things out of them.
Hector Elizondo (who gets an "and" credit) plays Lt. Aldo Hines, the guy who busted Weaver. He gets to do a bunch of show-offy profiler talk at the beginning, but isn't much use after that. Whatever they're trying to explore about his moral failing in planting evidence doesn't really work for a movie where the joy is in how cartoonishly evil the villain is.
I guess Weaver is supposed to really have an effect on women. Maggie doesn't trust him, but blabs to him about Teri having relationship problems. Teri knows he's a psycho, but answers questions about her pets and shit. He has this thing about asking people's favorite movie and book and stuff like that. I think the idea is that "The Lonely Hearts Killer" makes first date small talk all the time. Maggie's favorite book is "I like… Stephen King" and Teri's favorite movie is GONE WITH THE WIND. It's kind of funny that in those "let's all refer to '70s TV shows and shit like Quentin does" years there was a movie where the protagonists were so, as they say now, "basic."
I'd prefer a heroine with more personality. Weaver is so evil, but he's so much more fun. He's drinking champagne, chopping up the plane with a fire ax, making larger-than-life facial expressions, and saying some funny shit. Here are the lines I wrote down in my notes:
"You're gonna be the first cop to die with a plane up his ass!"
"I'm never flyin this airline again."
"Ha ha ha! You gotta love 'er!"
"Well I didn't like Gone With the Wind. HA HA HA! It's all subjective!"
For the record, this is not a movie specifically about Christmas, but it has plenty of the trappings: Christmas trees and lights all over the plane, IT'S A WONDERFUL LIFE projected as an in-flight movie and "Buffalo Gals" referenced, garland used to tie something, Weaver using "Fa la la la la la la la la" for intimidation.
Director Robert Butler was a prolific TV director from 1960 to the early '90s. He also directed NIGHT OF THE JUGGLER and created Remington Steele. Screenwriter Jonathan Brett wrote DYLAN THOMAS (starring Gary Oldman), NANCY & FRANK – A MANHATTAN LOVE STORY and OCCUPANT. I'm not sure how these guys got to do a big studio thriller, but it turned out okay – I mean, in the sense that it's kinda fun. But at the time it lost the studio tens of millions of dollars. The #1 movie that week, THE RELIC, is also somewhat forgotten these days, but made more that week than TURBULENCE did total. The opening was also crushed by EVITA, MICHAEL, SCREAM, JERRY MAGUIRE, JACKIE CHAN'S FIRST STRIKE and THE PEOPLE VS. LARRY FLYNT.
Furthermore, the reviews were terrible. Holly was even nominated for a "Worst Actress" Razzie, which she lost to Demi Moore in G.I. JANE. So that's Chapter 2,468 in the ongoing saga of how fucking stupid are those dumb motherfuckers at the Razzies if they thought that fucking barnburner of a performance by Moore was bad just because she was married to Bruce Willis or whatever. I hate those fucking people. I hope they wake up every morning regretting that they tried to use their bad taste to make other people's lives worse.
Anyway, TURBULENCE got the last laugh: it did well enough on video and/or was a well-known-enough title to warrant unrelated DTV sequels in 1999 and 2001. HA HA HA! It's all subjective!
Merry Christmas, friends. Hang on tight. We can land this.